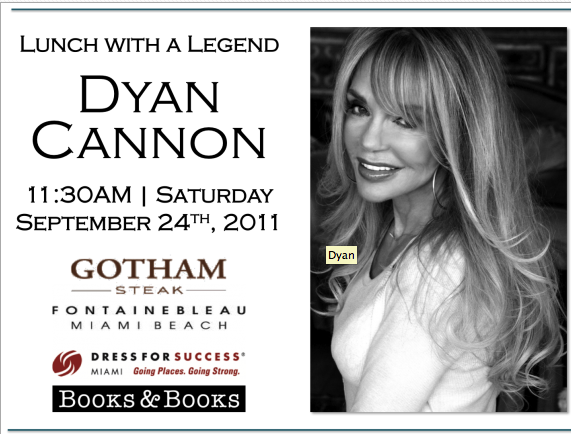 Hollywood's golden age returns to Miami, as Dress for Success Miami welcomes actress and filmmaker Dyan Cannon to the Lunch With A Legend Event at Gotham Steak, Fontainebleau Hotel on September  24, 2011, at 11:30am. Dyan will meet with fans and present attendees with a signed copy of her new book Dear Cary, a narrative that "tells the story of her topsy-turvy relationship with Hollywood legend Cary Grant."
While the event may focus on the glamour of Hollywood, its purpose is to raise funds for Dress for Success Miami, a nonprofit organization that empowers at-risk women with professional training and clothing to aid in securing employment.
Dress for Success Miami, which has been helping Miami's disadvantaged women since 1994, is dedicated to improving the lives of these women by helping them become economically self-sufficient and thrive in work and in life.
While known for providing business attire to women, Dress for Success Miami focuses on teaching lifelong skills – recognizing that finding work is only one step in a woman's journey towards economic independence. Remaining employed and building a rewarding career are essential if a woman is to become and stay self-sufficient. Dress for Success Miami has provided services to more than 30,000 women in Miami-Dade County.
"We are excited to welcome Dyan to Miami and honored that she has chosen to support our initiatives at Dress for Success Miami while promoting her book," says Sonia Jacobson, Founder and Executive Director of Dress for Success Miami.
Tickets are available for the luncheon for $95.00. The lunch event gives fans an intimate experience with the actress and an opportunity to learn more about the Hollywood romance of Dyan and Cary while supporting a worthy cause.  Exclusive sponsor of the event is Royal Caribbean Cruise Lines.
To learn more about the Lunch with A Legend event, or to purchase VIP tickets, please visit www.dfsmiami.org.