A|X Bolthouse Carnival at Coachella
If you are from L.A., chances are you saw at least one high school crush at the annual Armani Exchange Carnival brought to you by Brent Bolthouse. Famous friends and local celebrities spotted on the ferris wheel at the invite only 11 p.m. – 6 a.m. party last Saturday night in the desert include Usher, Rihanna, Leonardo DiCaprio, Emma Roberts, Alessandra Ambrosio, Ashley Greene, Diane Kruger & Joshua Jackon, and more!
Lacoste x HTC Pool Party at Coachella 2011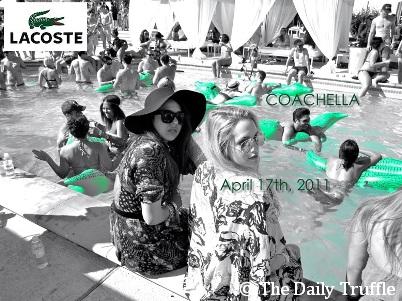 Lacoste returned to Coachella this year with their annual two day pool party at a rented desert estate. This year the crocodile-bearing brand teamed with HTC to provide guests with a photo booth, dunk tanks, Patron popsicles and a lagoon with toy boat races. Mark Hunter (aka the Cobra Snake) was first in the dunk tank; Mark is a favorite for the Lacoste brand which targets the hipster market. Other hipsters at the party: Marc Edouard Leon, A.J. English and DJ Ana Calderon. Bloggers Jared Eng of Just Jared and Rumi Neely of I'm not Addicted made cameos as well. Even Cameron & Tyler Winklevoss showed up; the twins were at the Bolthouse Carnival the night before at Coachella as well.
And speaking of Facebook, Sean Parker, for whom Justin Timberlake played the part in the Social Network, had a three day party in the desert this year. Not surprising given his party boy reputation and on-screen portrayal. Sean was battling Jeremy Scott for the crowds on Saturday night.  Jeremy, the off-beat designer known for his Flintstone-themed ready-to-wear, teamed up with Kanon Vodka to throw his annual Coachella party.
Philip Lim x Kanon Vodka Coachella Party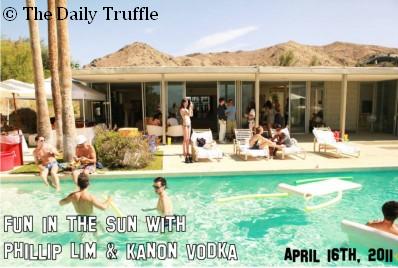 Earlier in the day Kanon Vodka co-hosted a pool party with designer Philip Lim of 3.1 Philip Lim high atop the hills of Palm Springs in Joan Collin's former abode. Friends of Philip and Kanon came by via shuttle to beat the heat and have lunch. Spotted: Merlin Bronques, Chris O'Neil, Myles Hendrik, Leah Adicoff, Kate Mulling, Garance Dore, Binki Shapiro, Harley Viera-Newton, Elin Kling, and more!
Mulberry Coachella BBQ at the Parker in Palm Springs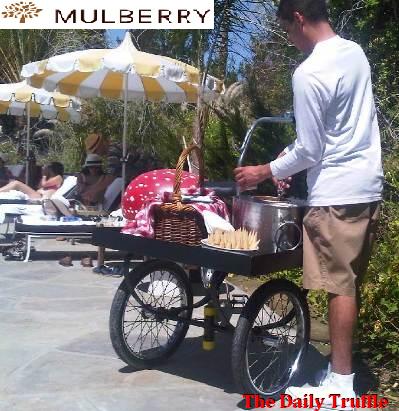 Mulberry shared the love with uber-chic ladies of the festival including Nicole Richie, Camilla Belle, Harley Viera-Newton, Gia Coppola, Jazzy de Lisser and Alexa Chung…each carried a Mulberry bag from their spring 2011 collection, courtesy of the brand. Mulberry creative director Emma Hill was on hand with her toddler son to welcome guests that also included Teen Vouge's Andrew Bevan (who also DJed the party), WhoWhatWear's Hillary Kerr, publicist Tracy Pendleton, Nathalie & Laura Love (daughter's of Vogue editor Lisa Love from The Hills), and more! Mulberry had miniature ice cream cones and French fries, ping pong and an over-sized chess board for guests to play. Mulberry gave Fuji Instant cameras to their guests, a tradition since they gave the same cameras at a dinner party held last year at Chateau Marmont in Hollywood.
See more pictures from Coachella parties at The Daily Truffle.