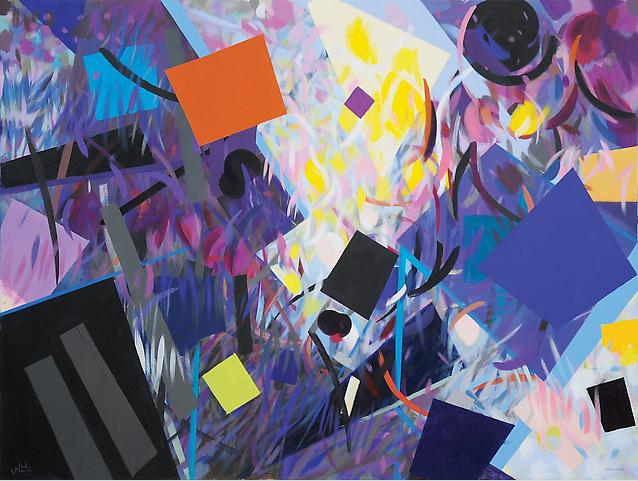 Opening tonight at Ayyam Gallery in DIFC is "Trees and High Rising City", a solo show by Palestinian artist Samia Halaby. The exhibit coincides with the opening of Art Dubai and features several new works by the artist. Halaby's canvases probe the world around her through colorful architectonic forms and textures. In these works the artist captures the energy of bodies and masses in motion and the relationships between them as they intersect and unfold before the spectator.
Throughout her career Halaby has consistently search for new ways in which to portray the world around her. Her solo show at Ayyam Gallery's Beirut space this past September presented over a dozen of her canvases from pivotal points in her career. In these works she reflects upon her earlier technique but tries to further dismantle the picture frame so as to create works that are intellectual in subject and form without the interference of necessary emotion.
"I have taken a new direction in both subject and form. They were difficult paintings to create and they are hard ones to contemplate- devoid of sentiment, softness, or ornament. I painted with a combination of intuition and intellect, bold, impulsiveness combined with careful deliberation. I combined soft and hard and I broke many of my own rules. I felt that I had no historical precedent and it was the first time in a long time that I proceeded with a fear of failure," said the artist in a statement.
Samia Halaby is a renowned Palestinian scholar and painter. She was born in Jerusalem in 1936 and immigrated to the US via Lebanon in 1951. She became the first full-time female professor at the renowned Yale School of Art. Her work has been exhibited at major museum spaces and private galleries throughout the world including The Jordan National Gallery of Fine Arts, The British Museum, The Guggenheim Museum, The Art Institute of Chicago, and The Detroit Institute of Art.
"Trees and High Rising City" by Samia Halaby at Ayyam Gallery from March 14th- April 28th, 2011
Ayyam Gallery, DIFC 04 439 2395
Subscribe to discover the best kept secrets in your city