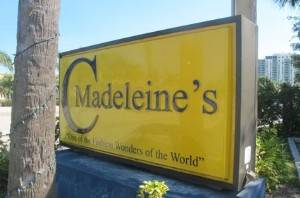 Attention all stylists, fashionistas, photographers, and socialites, if you are looking for a vintage shop or shall I say a 10,000-square-foot space filled with beautiful vintage clothing, shoes, and accessories spanning from the 1900s, C Madeleine's is where its at! Trust me there's a lot to choose from. This vintage heaven is located in North Miami and is considered the grande dame of them all.
I discovered C Madeleine's in 2003 while attending Florida International University, which is just a few miles north of the vintage dynasty. When I walked in, I was completely speechless! I was in awe of not only the large space, but the staff and of course the designs such as vintage Chanel, Emilio Pucci, Lacoste, Ungaro, Versace, Givenchy, Fendi, Lanvin, Pierre Cardin, and the list goes on… From that moment on, I knew this was a place that I was not only lucky to find but that it was something special.
According to C Madeleine's owner Madeleine Kirsh, she opened her first store in Palm Beach County  in 1998. Madeleine's following and reputation had been built on her impressive skills as an interior designer which she learned much from her mom and her own experience. It wasn't long after that Madeleine would get the bright idea to combine her interior designer skills with her inevitable knowledge of fashion.  As this progressed,  she  quickly developed a loyal following and the store was an  instant success. With the business thriving and a fast growing  international clientele, Madeleine decided the next step would  be a move to Miami.
Along with Madeleine's loyal following, international clientele, and rampant advertising, and publicity, the store not only quickly became a huge success but it was the center for the worldwide fashion community.  It is normal on any given day to spot a celebrity like Lenny Kravitz, Naomi Campbell, or the Olsen twins shopping for their next vintage piece.  Its also a "go-to" spot for stylist to shop and pull clothes for shoots. VOGUE called it "Miami's best kept secret," and ELLE describes the store as "A 10,000-square-foot vintage paradise."
If you are visiting South Florida or are a Miami local and just haven't discovered this vintage gem, be sure to set aside some time to explore the location and celebrate a 100 years of fashion. It like a museum in its own.
C Madeleine's located at 13702 Biscayne Boulevard, North Miami. For more information and to shop C Madeleine's call 305.945-.7770 or visit the website at www.cmadeleines.com.
For fashion, styling, and tips on where to shop, contact Eric Christian at eric@styleconciergemiami.com and visit the website at www.styleconciergemiami.com.
Like Haute Living South Florida? Join our Facebook page or follow us on Twitter @HauteLivingFL. Want Haute Living South Florida delivered to your inbox once a week? Sign up for our newsletter.