Dining doesn't really get any better than a seat on the Chef's Table. Out with the menu in and in personal preferences, what's fresh that day and what the chef feels like preparing. For that extra personal and special dining occasion, Marie Teather tracks down some the best Chef's Table in London.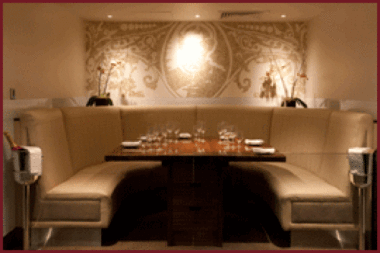 Petrus
Gordon Ramsey has recently re-launched Petrus and just like the original where a group of bankers once spent £44,000 in a single sitting, the decadence lives on. This intimate French restaurant seats just over 40 guests around a stunning floor-to-ceiling glass tower. There are two private dining rooms: the Chef's Table for up to six and the Pomerol Room for up to 14 guests, both with exclusive menus to be enjoyed within opulent red and silver surroundings.
1 Kinnerton Street, Knightsbridge, SW1 8EA
020 7592 1373
http://www.gordonramsay.com/petrus/chefstable/
Benares
Benares is an Indian restaurant unlike any other. From the gleaming black stone floor to the indoor pond, this restaurant boasts a ritzy, minimalist interior. Chef Atul Kochha is one of a very small number of Indian chefs to have won a Michelin Star and his efforts have been proclaimed a roaring success by the press and pubic alike. The newly opened Chef's Table allows up to six guests to watch the kitchen through sleek glass walls, while relaxing on beautiful Indian furniture.
12a Berkeley Square House, W1J 6BS
020 7629 8886
The Dorchester
Over in prestigious Mayfair, The Dorchester hotel has been attracting celebrities, world leaders, and the well connected of British society since the 1930s. London's original private chef's room, The Krug Room, is however a surprisingly modern hideaway of red leather and floor-to-ceiling glass screens. The view of the kitchen shows Chef Henry Brosi preparing tailor-made menus but with a flick of a switch, the screen becomes opaque, transforming The Krug Room into a totally private setting.
The Dorchester, Park Lane, London, W1 1QA
020 7319 7071
http://www.thedorchester.com/the-krug-room
Claridge's
With three private dining rooms to choose from and all with a private entrance, Gordon Ramsay at Claridge's promises an exclusive and discrete dining experience. In keeping with the rest of this elegant hotel, the Art Deco furnishings exude 1930s sophistication. For those wanting to experience the most exquisite of world-renowned cuisine, private dining menus are available on request. This could easily be private dining in London's most luxurious restaurant.
Brook Street, London, W1 4HR
020 7499 0099
http://www.gordonramsay.com/claridges/chefstable/
Automat
Automat has been  somewhat off the radar of late but this American Brasserie, described as 'the cultural exchange between the world's two greatest cities' has a loyal following. Serving breakfast, brunch, lunch, and dinner in an attractive dining room, Automat brings up-market New York dining and lands it in the heart of Mayfair. From burgers to crab cake the menu is jam-packed with US-dinner staples and the air is filled with the voice of Frank Sinatra. Large parties stakeout the prized chef's table, located in the open kitchen at the rear of the restaurant, offering a tasting menu with stove-front seating and plenty of hot cooks to surround.
33 Dover Street
, Mayfair, London
, W1S 4NF
020 7499 3033
Subscribe to discover the best kept secrets in your city