Of all the cultural discussions — music, fashion, art, etc. — the culinary debate proves the most widely argued. Some would cite ethnicity, others stand behind socio-economics and regional influences but the answer for why food critique is so varied is simple: emotional connection.
Of course a seafood restaurant cannot be found that serves lobster as delicious as the ones caught outside your Maine summer home. It's little wonder that finding a coq au vin as good as grandmere's is next to impossible. On a personal note, despite having traveled to numerous countries including Asia, I have never experienced a Gochujang Bulgoki (Korean spicy pork) more savory than my own mother's.
George Bernard Shaw once said, "There is no love sincerer than the love of food," and that is why this Haute 5 is about local dining favorites. This isn't a list of the newest hot spots or cherished staples or best dining with a view. Our editorial team selected these top five establishments based on one simple question: What is your favorite restaurant in Orange County? I hope this entry makes for some wonderful dinner conversation.
Le Cordon Bleu trained chef? Check. Farm-to-table fresh ingredients? Definite. An inviting atmosphere where conversation is plentiful and not loud? Always. Haven Gastropub is the brainchild of Executive Chef Greg Daniels and his name should sound familiar for multiple reasons. Daniels perfected his culinary skills under the tutelage of Pascal Olhats and Andrew Sutton and has since become renowned in his own right for "fusing Old World European fare with a modern American twist." Diners can't get enough of the award-winning Haven Burger that includes roasted red bell peppers, wild arugula, pickled red onions and St. Agur blue cheese. Pair this mouthwatering dish with truffle fries served with garlic aioli or housemade ketchup and a taste explosion is guaranteed. Another reason for making the list? With more than 14 beers on draft, 60 bottled craft beers and 50 specialty single-malt whiskeys, scotches and bourbons, every dish can be paired with a spirited and unique libation. Haute Tip: Readers should check out Haven's happy hour menu that debuted on Fourth of July weekend.
Haven Gastropub is located at 190 S. Glassell St., Orange, Calif., 714.221.0680.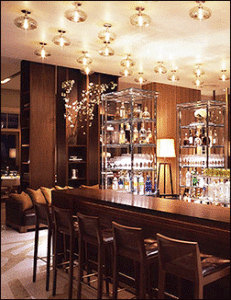 One can't mention fine dining in Orange County and not mention Stonehill Tavern. Located in the St. Regis Monarch Beach Resort, this prestigious ocean view restaurant is luxurious and inviting without being stiff and pretentious. Chef Brian Black has taken the same chic yet comfortable restaurant vibe and carried it over to his modern American cuisine. Diners can expect innovative cuisine (whole fried poussin with truffled mac and cheese), farmers' market fare (the burrata mozzarella melts in your mouth) and only the freshest shellfish, caviar and fish (the sashimi trio is coveted). Haute Tip: Michael Mina is unveiling new menus with such notable standouts as San Francisco Cioppino and braised Kurobuta pork ribs.
Stonehill Tavern is located at 1 Monarch Beach Resort, Dana Point, Calif., 949.234.3318.
Sushi Shibucho
For those wanting California rolls or anything stuffed with cream cheese, this is not the proper sushi establishment. The master of sushi Shibutani serves the finest omakase in this quaint establishment that feels more East Coast than Costa Mesa. From fish cheek with daikon to sinfully silky Toro and mirugai, the selection is a culinary cornucopia of vivid colors, precise fish cuts and tradition. Other notable items include the unagi with seasalt, shad and Spanish mackerel that are so fresh, one is easily convinced the fish are caught the moment the order is placed. Haute Tip: The wasabi is placed between the fish and rice underneath of each sushi piece, so use caution when adding more.
Sushi Shibucho is located at 590 W. 19th St., Costa Mesa, Calif., 949.642.2677.
I can assure readers that this establishment wasn't chosen for the name alone. Andrea, located inside the Resort at Pelican Hill, has sweeping coastline views and rustic yet sophisticated Tuscan-influenced menu. Executive Chef Jean Pierre Dubray oversees the fresh pasta made in the temperature-controlled Pasta Room, the handmade gelato, in addition to creating and implementing the various menus that diners have come to respect and request. The 18-month cured San Dinele prosciutto and fresh fig salad is heavenly while the Chianti-braised duck and hand-rolled spaghetti make one want to do nothing but sit back, relax and enjoy a glass of wine. Haute Tip: For those leading a power lunch and/or those simply wanting a succulent mid-day meal, Andrea is now serving lunch.
Andrea is located at 22701 S. Pelican Hill Rd., Newport Coast, Calif., 949.467.6800.
One could argue that everything the Patina Group touches turns to gold and Pinot Provence housed in Westin South Coast Plaza is a testament to that notion. Guests are enamored with the Southern French cuisine that showcases classic and contemporary favorites, including their newest seasonal menu Summer in Provence. With menu items including petite bouillabaisse, artichoke barigoule and Herbs de Provence lamb chops, it's little wonder that the dining room is always bustling with patrons. Requesting the wine list is a must as the restaurant has been awarded the Wine Spectator Award yearly since 2003. Haute Tip: Be sure to make a reservation for Bastille Day (July 14); they're nearly booked solid with guests vying to sample the one-day menu.
Pinot Provence is located at 686 Anton Blvd., Costa Mesa, Calif., 714.444.5900.
Subscribe to discover the best kept secrets in your city