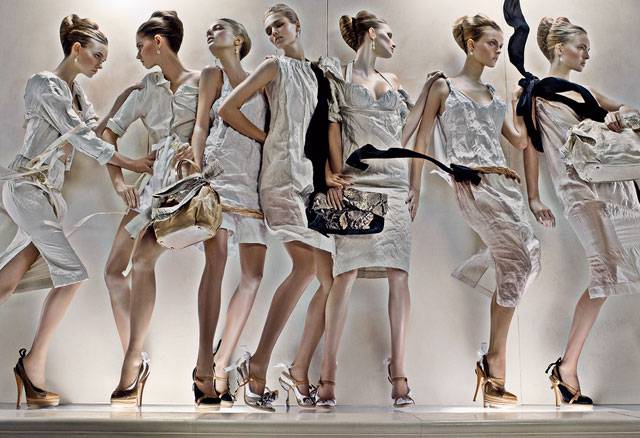 Buy buy, birdie.
Finding a great shop in the Big D isn't difficult, it's choosing your faves that can cramp your style. While I highly suggest you spend some time discovering the perfect trove  in which to spend your dough, here's a few excellent places to begin, all located in the heart of various shopping havens in the city.
Elements|Lovers Lane
West Lovers Lane is home to lots of local boutiques, salons and restaurants. Elements is a cut above the rest, however, because of their hand-picked gorgeous collections and constant helpful service. M Missoni, Alice+Olivia and Diane von Furstenberg as well as some small European lines exclusive to Elements are some of the hot labels you'll find at this boutique. Don't forget to shop around for some great jewelry to add to that new outfit.
Elements, 4400 Lovers Lane, 214.987.0837, www.elementsclothing.com
E.61st|Highland Park Village
For 80 years, Highland Park Village has boasted the creme de la creme of upscale stores, like the region's only Christian Louboutin boutique (coming Fall of this year), as well as Hermes, Chanel and Harry Winston, just to name a few. But my favorite jewel nestled inside the center is E. 61st, a shoe and accessory oasis that is home to some really unique finds. A wealthy selection of Stuart Weitzman heels, Donald J. Pliner slingbacks, leather or animal print purses and some great earrings from California line Double Happiness are just a few of the gems you'll get here.
E. 61st., 61 Highland Park Village, 214.521.0828, www.e61st.com
Blues Jean Bar|Snider Plaza
The idea of walking up to a bar and ordering yourself some jeans like you would a martini is definitely interesting, and the method allows for some serious individuality. Offering over 40 blue jean brands like 7 For All Mankind, True Religion and Fidelity Denim, The Blues Jean Bar stylists will find the perfect wash, size, fit and brand that will go perfectly with your style.
The Blues Jean Bar, 6810 Snider Plaza, 214.368.5326, www.thebluesjeanbar.com

Benji's Collezioni|Downtown
Viva Italia. Where would we be without the quality fabrics and fashions that cities like Milan give us? Without Benji's, that's for sure. The owner makes annual trips to Milano, actually, to hand-select the pieces you'll find in the store, from gowns by Sfarzo and Prada to a slew of sunglasses by Yves St. Laurent, Dior and Gucci, as well as fine leather men's shoes by Benji's Italia.
Benji's Collezioni, 1511 Main Street, 469.547.0223, www.benjiscollezioni.com
Stanley Korshak|Uptown
Known for its superior collection of the hippest labels like Giuseppe Zanotti, Lanvin and Valentino, Korshak is the Uptown hotspot for shopping. Strategically located close to The Crescent Hotel, Hotel Zaza, and the Ritz Carlton, you can be sure any discerning visitor to town will check out the boutique. Add to their clothing selection the incredible bath and body items (you've got to try Me! Bath Bath Ice Cream) and luxurious handbags, and Korshak's a one-stop-shop for a night on the town.
Stanley Korshak, 500 Crescent Court Suite 100, 214.871.3600, www.stanleykorshak.com
Subscribe to discover the best kept secrets in your city