Queen Elizabeth returned to Wimbledon today for the first time in 33 years with bookmakers offering odds of 12-1 that she would be confronted by a streaker on Centre Court.
The Queen, who was wearing a mid-blue and white coat and a matching hat, was greeted on her arrival by officials from the All England Club.
The last time the Queen visited Wimbledon in her Silver Jubilee year of 1977, Virginia Wade won the women's singles title for Britain.
Scot Andy Murray, the fourth seed, is hoping that he can produce an equally regal performance against Finland's Jarkko Nieminen on the most hallowed court in tennis where Queen Elizabeth will take her place in the Royal Box.
Murray will have to watch his tongue in the heat of battle and Ladbrokes also quoted odds of 12-1 that someone could be warned for bad language. Spokesman Nick Weinberg said: "You would imagine that everyone will be on their best behavior. But excitement could get the better of someone."
Current champions Serena Williams and Roger Federer will be introduced to Her Majesty, who will also meet Venus Williams, Rafa Nadal, Andy Roddick, Martina Navratilova and Billie-Jean King before dining with champions past and present.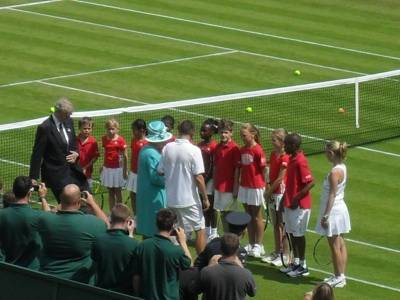 Among the guests for lunch, where the menu comprises a salmon millefeuille starter, a main course of orange and honey marinated chicken followed by strawberries and cream with a mint syrup, will be Federer and his wife Mirka, as well as Wade, the last British singles champion at the All England Club.
The Queen will be missing out on some historic action that everyone wants to see—John Isner and Frenchman Nicolas Mahut resume the longest match tennis has ever seen at 59-59 in the final set of their epic marathon on Court 18.
As always, each summer the nation's eyes, and those of the rest of the world, are firmly planted on the action at Wimbledon. Today, we're joined some Royal spectators too—let' hope she gives the crowd her famous wave.
For more information on the 2010 Wimbledon Championship: www.wimbledon.org
Subscribe to discover the best kept secrets in your city