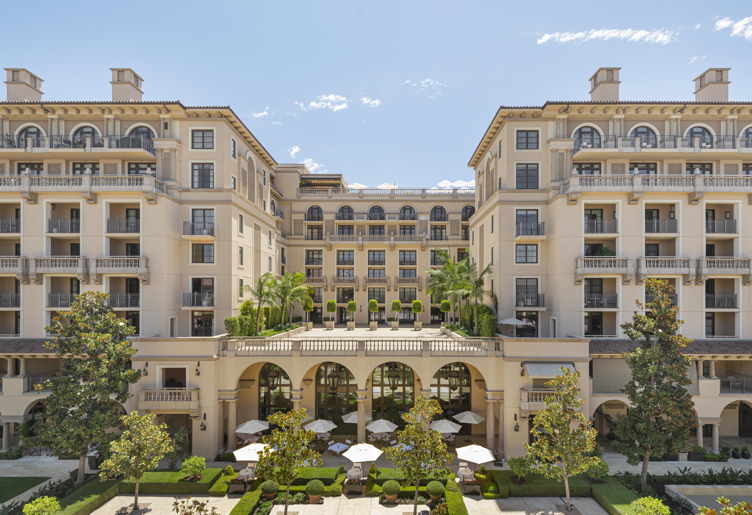 Photo Credit: The Maybourne Beverly Hills
With a stellar spa, a cigar bar, one of the most romantic restaurants in Los Angeles, and now, one of the newly opened best bars in the world, the Maybourne Beverly Hills is truly one to beat. Here's all you need to know about a stay at the 5-star retreat from the British hotel group behind Claridge's, The Connaught, and. The Berkeley (as well as well as The Maybourne Riviera, recently opened on France's Côte d'Azur).
THE STAY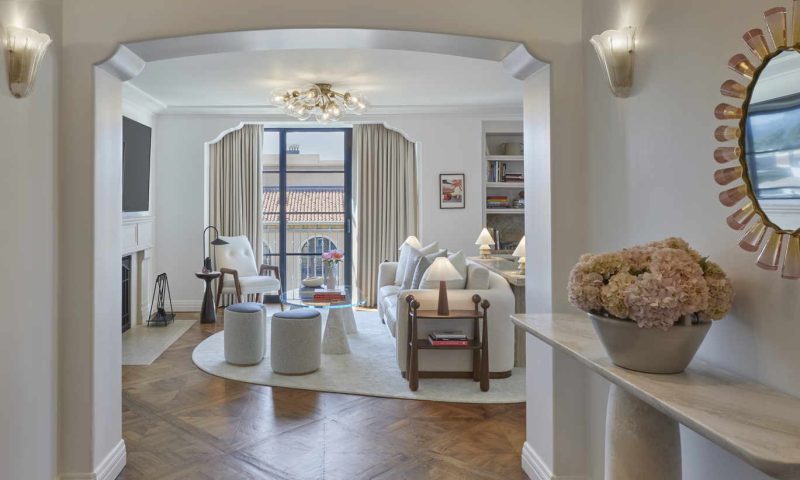 Photo Credit: The Maybourne Beverly Hills
This haute hotel is situated within Beverly Hills' famous Golden Triangle. It's an oasis from the hustle and bustle of Beverly Hills with Beverly Cañon Gardens adjacent, lending a luxurious and uber-exclusive vibe to the surroundings.
The Maybourne Group's first appearance in America is a winner, a mix of distinctive Art Deco Beverly Hills glam and refined British sensibilities, breathing new life into what was formerly the Montage Beverly Hills. The property, which spans nine floors of (ostensibly given the mercurial weather conditions in L.A. of late) sun-soaked balconies, does have beautiful, light-filled guestrooms and suites, all of which have been conceived by award-winning designer Bryan O'Sullivan, resulting in bright, spacious interiors with bespoke furniture
and a Californian cool pastel palette.
The spaces feature touches so indicative of Maybourne, from curated library collections in every suite, to custom vases by Belgian glassware purveyor Henry Dean and one-of-a-kind artworks. The bespoke furniture includes softly curving couches, table tops and chairs, architectural lighting, and marble accents.
As with every Maybourne property, art is central to the design. Here, that means a celebration of the Californian artist, with key works by
Alex Israel, Kort Havens, Jennifer Guidi, Ed Ruscha, Aaron Young, and more. In addition, several international names can be found including works by Damien Hirst, Petra Rös-Nickel, Nelson Makamo, Brian Clarke, JR, and Harmony Korine.
The result is cool, glam, and very modern which, in my book, is a big time win.
DINING & DRINKING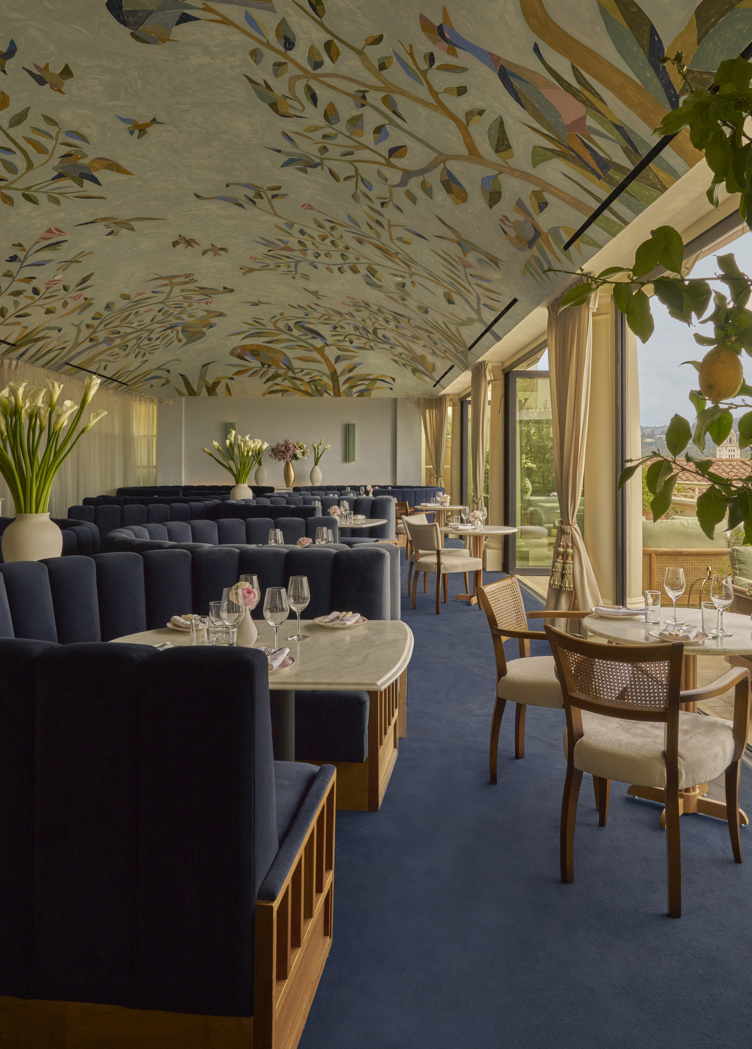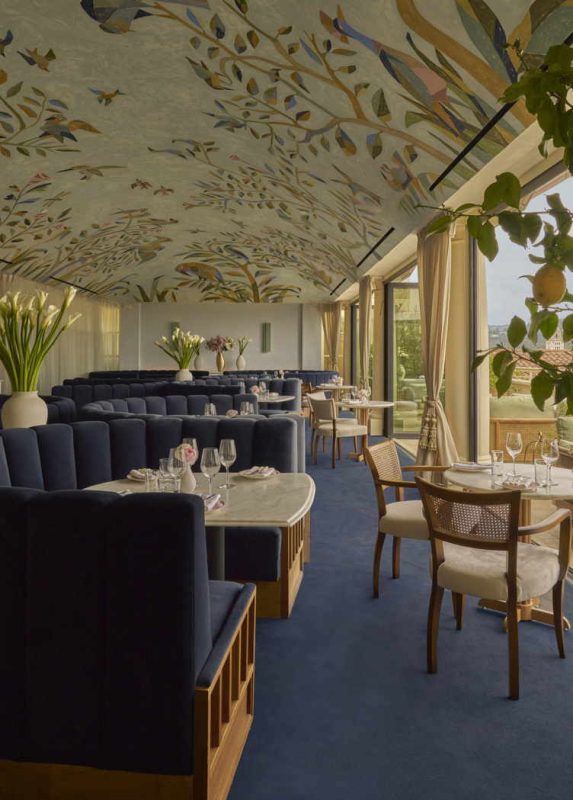 Photo Credit: Giada Paoloni
The most exciting news to come arrived just before July 4th weekend with the emergence of beloved  restaurant & aperitivo bar Dante, the #1 named Best Bar in North America, 2019 & 2020). The Maybourne Beverly Hills is the lauded bar's first location outside of NYC and it's opening is significant in that it's bringing a much-needed nightlife scene to the 90210 (because, as we all know, Beverly Hills shuts down way early). 
Set on the hotel's recently-renovated rooftop, and encompassing indoor and alfresco dining in addition to the rooftop pool, Dante Beverly Hills t
Open for lunch and dinner, this new location offers Dante's signature, aperitivo-style cocktails paired with an Italian and Mediterranean-inspired menu centered around a wood-fired oven delicacies — Dante 's signature favorites alongside new dishes that pay homage to Southern California cuisine (a.k.a. seasonal, locally-sourced ingredients, and farmer's market fare). Fan favorites include  crudo del pescatore with caper leaves, Calabrian chili, citrus, and olive oil; fregola ai frutti di mare with Baja shrimp, scallops, and calamari; and Pizza Rosa with whipped mortadella, Stracciatella, pistachio, and rosemary.
And while the food is great, Dante is best known for its bar program, apertivo-style drinks like a Negroni or Aperol Spritz, highlighting
ingredients from small, local brands and producers. There is also a menu exclusive to Beverly Hills, celebrating California cocktail culture with a focus on agave forward drinks, alongside new signature creations.
Must-try cocktails include Dante's Garibaldi (Campari and fluffy orange juice); the Seville Spritz (Tanqueray Flor de Sevilla, dry curaçao, Neroli, orange wine, orange bitters, vanilla,, and Prosecco); the earthy Celery Paloma (blanco tequila, green chartreuse, St Germaine, celery bitters, Verjus, and lime); and The Tequila Martini (Casa Dragones blanco, Sipsmith lemon drizzle, Lo-Fi sweet vermouth, Cocchi americano, and crème de cacao).
DANTE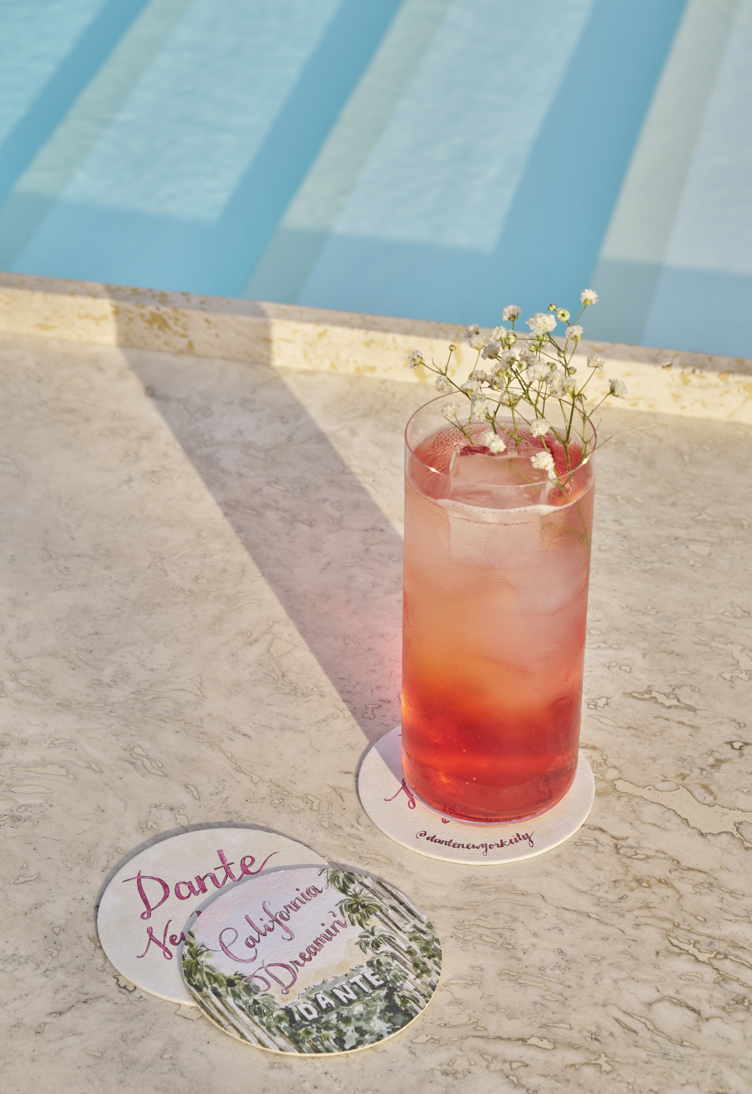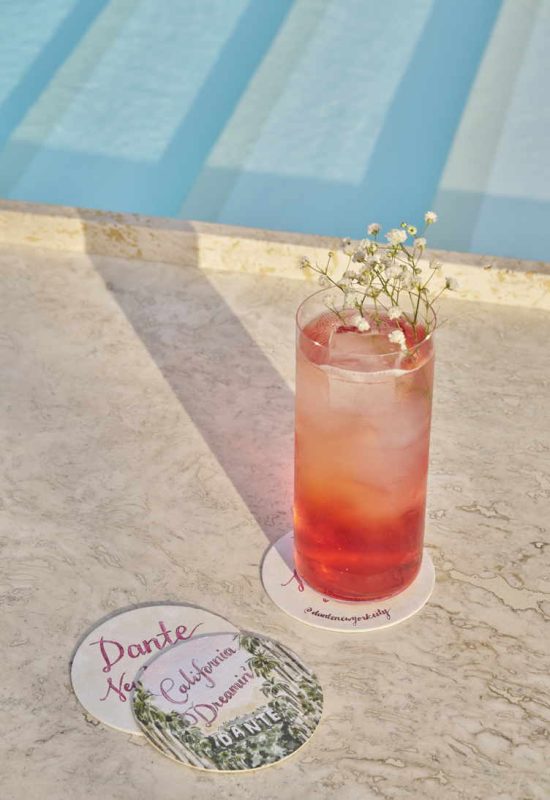 Photo Credit: Giada Paoloni
The space is as stylish as the menu. Overseen by creative director Nathalie Hudson, the design of Dante Beverly Hills seamlessly blends European elegance with a light and fresh Californian touch, creating a perfect foil to The Maybourne's overall vibe. Pulling inspiration from all corners of the City of Angels — from the Hollywood Hills to the snowy peaks of the San Gabriel mountains to the glittering blue Pacific — Dante Beverly Hills is a beautiful expression of place that celebrates its Italian inspiration while incorporating the "Dante touches" that patrons know and love.
In the dining room, a cove ceiling features a colorful fresco by Los Angeles-based artist Abel Macias. The fresco, which pulls in the colors from surrounding topography and depicts the local birdlife and plants of Southern California, nods to the great eateries of Northern Italy. A grand piano sits in the corner, surrounded by plush blue banquets and white marble tables all softly lit by tapestry-covered lamps.
There's also an alfresco dining patio and bar, flanked by the live wood-fired oven, a stunning pool with the art installation, 'Hopes & Dreams' by Joel Mesler, views of the Hollywood Hills, and plentiful trees and flowers emulating the verdant gardens of Milan – lush, green and surrounded by local plants, wate,r and white marble tables.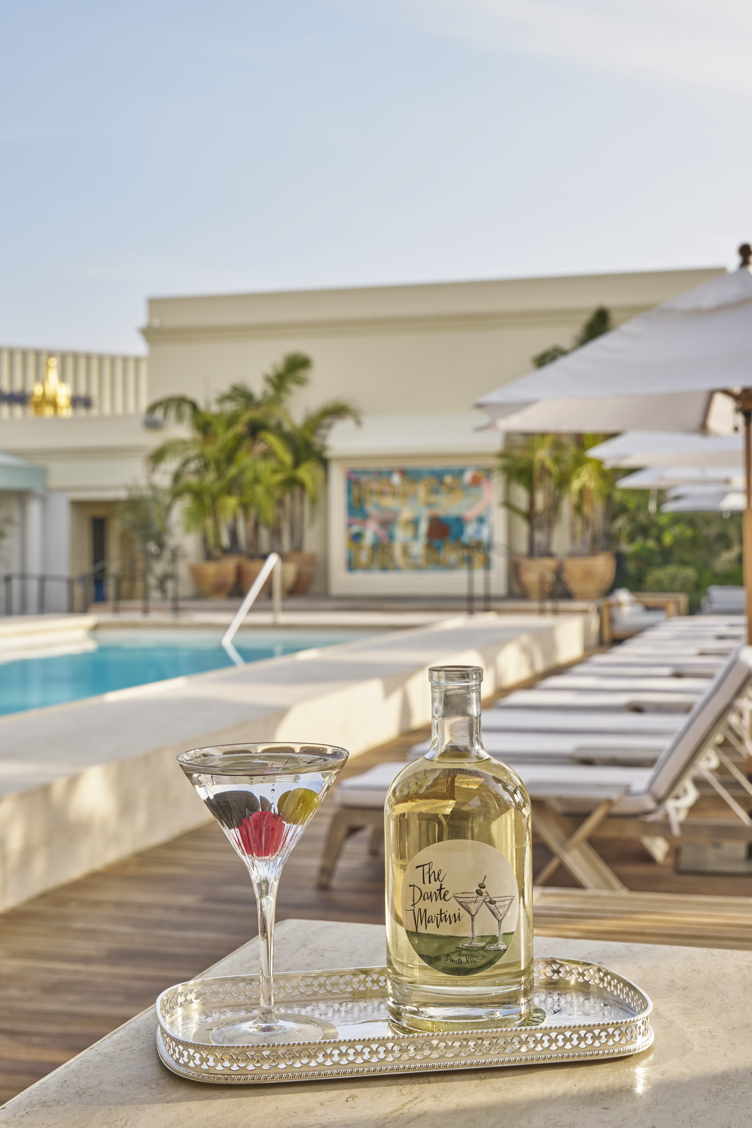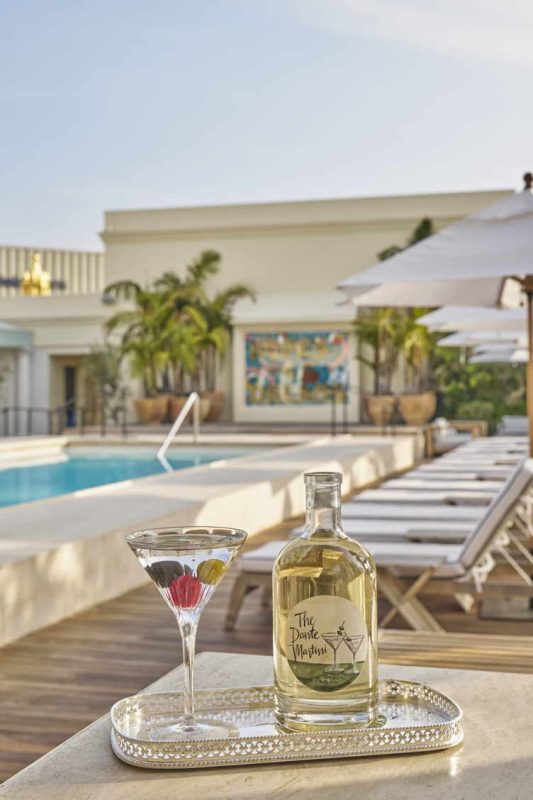 THE MAYBOURNE BAR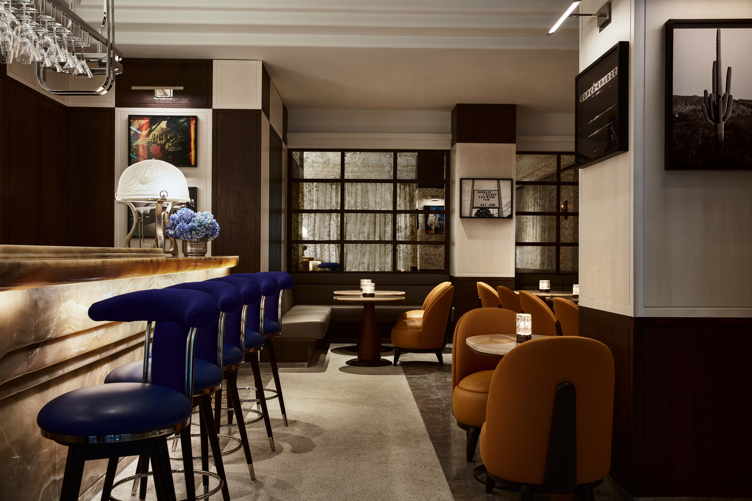 Photo Credit: The Maybourne Beverly Hills
The small but mighty Maybourne Bar, located just off the lobby, is an intimate gathering space for happy hour and beyond. Designed by world-renowned interior designer André Fu and helmed by mixologist Chris Amirault, the bar is inspired by the idea of creating a 'hidden jewel' within the heart of the property, the intimate space is anchored by a spectacular bar carved from solid Turkish silver onyx surrounded by high bar stools in Yves Klein blue and photography by Mary McCartney. The menu showcases both innovative and classic cocktails, wines, and signature bar snacks..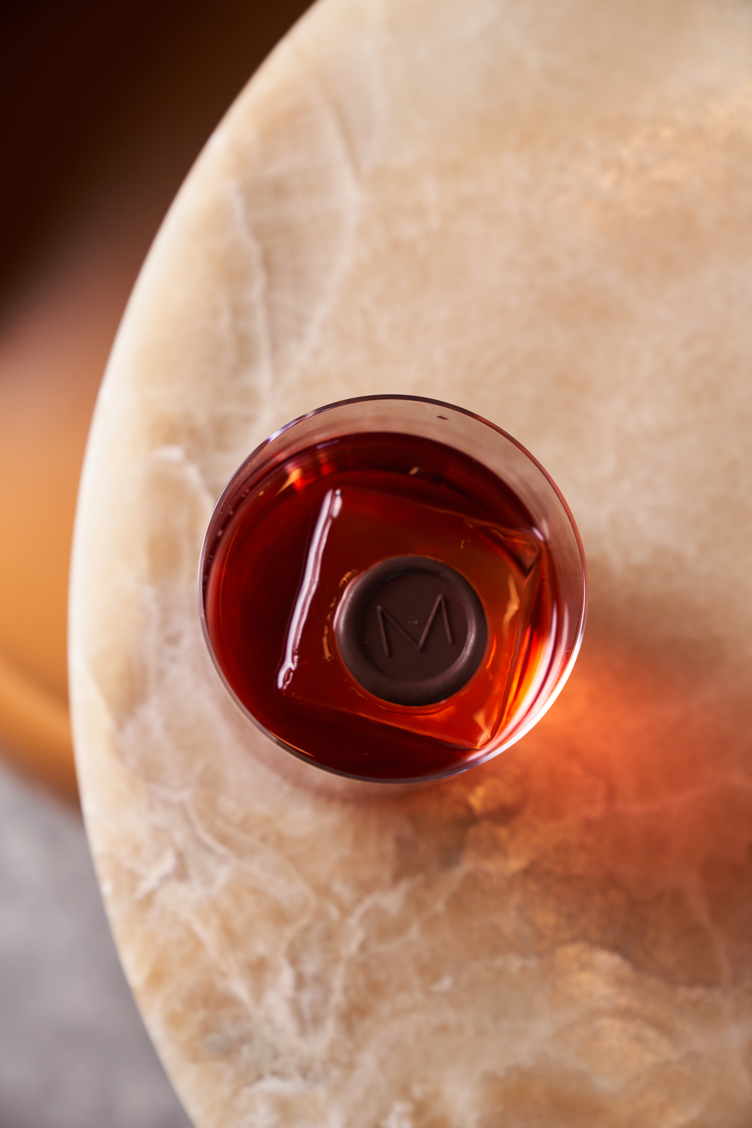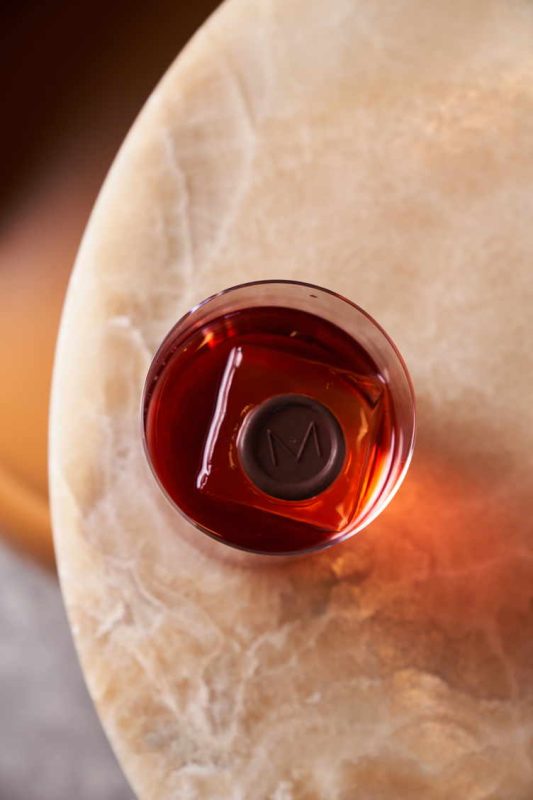 Photo Credit: The Maybourne Beverly Hills
THE MAYBOURNE TERRACE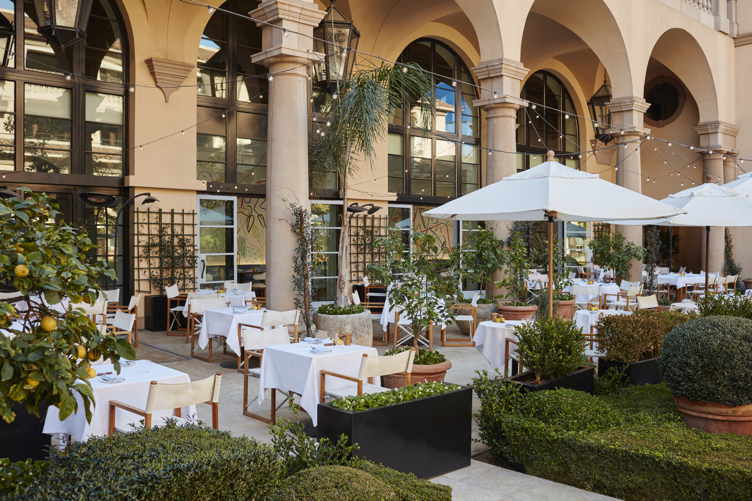 Photo Credit: The Maybourne Beverly Hills
The Terrace, the property's all-day restaurant, is a contender. This is a spot for power breakfasts and lunches, and dinners that feel like one is in a magical, private garden (the al fresco setting overlooks the Beverly Cañon Gardens). The fare, like most of the hotel's F&B, is focused on seasonal, California-inspired cuisine and cocktail.
The Terrace recently unveiled an extension of its dining space; a light filled room of smoky blue circular banquettes and a bright, large scale mural by local Los Angeles artist Jessalyn Brooks adorning the wall along the entire interior. The floor to ceiling windows and doors extending the length of the room flood Californian sunshine into the space, lending it an airy indoor-outdoor atmosphere. Meanwhile, the newly debuted Maybourne Café, located just off the Terrace, serves homemade pastries, small plates crafted from the farmer's market produce, and an assortment of teas from The Rare Tea Co. In addition, as a commitment to working with and supporting local businesses, The Maybourne Beverly Hills offers specialty items authentic to the LA area including Maru Coffee, Bub & Grandma's bread, and Sqirl jam.
THE CIGAR & WHISKEY BAR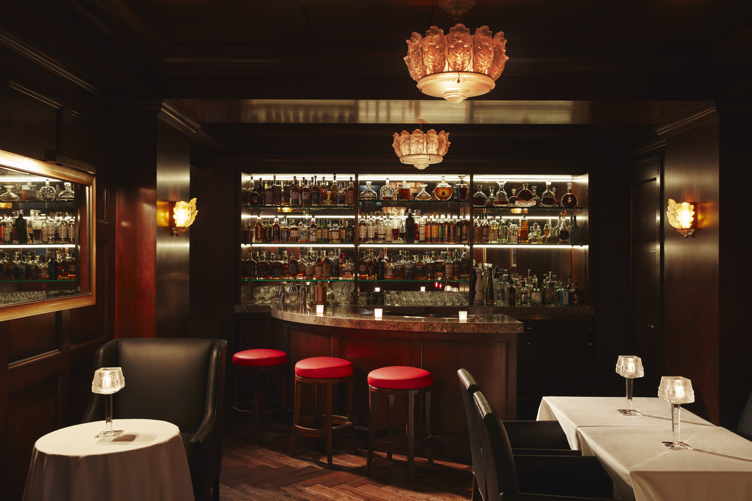 Photo Credit: The Maybourne Beverly Hills
The Cigar and Whiskey Bar is home to one of the world's most exclusive whiskey and cigar collections.
It is one of just three destinations in the city of Beverly Hills where smoking is permitted.Guests can choose to sit in a dimly lit, wood-wrapped bar or sip in style on the outdoor terrace, overlooking the gardens. The high-end whiskey is complemented by a custom-made humidor holding over 1,000 cigars with 64 stick variations featuring premium brands from the Caribbean to Central America.
SPA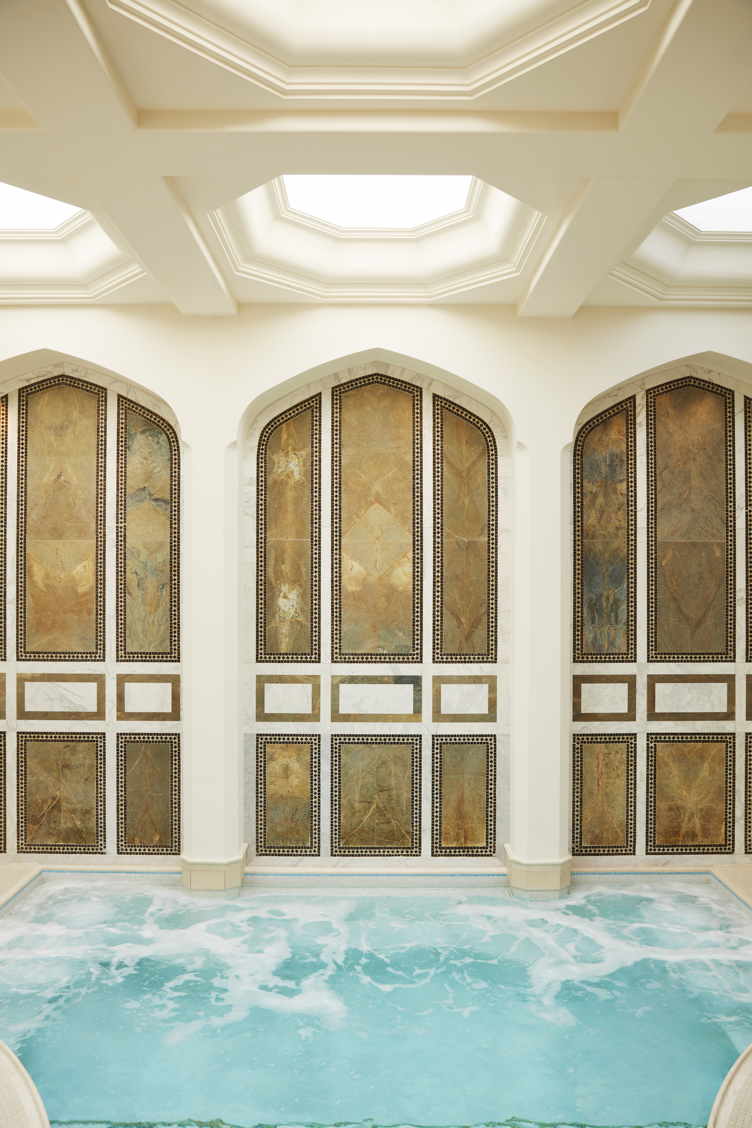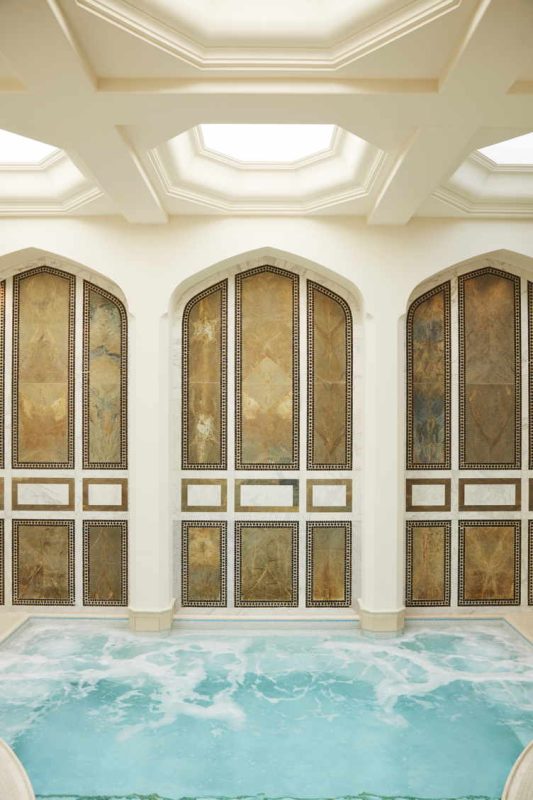 Photo Credit: The Maybourne Beverly Hills
The Spa at The Maybourne Beverly Hills is exceptional. The menu is comprehensive, full of uniquely
customized treatments including massages, facials, and body treatments.Each massage combines breath work, bespoke essential oils and fragrances, the use of sound bowls, hot stones, stretching and customized pressure. There's also that the spa utilizes only the purest of ingredients, inclusive of products from EviDenS de Beauté, the French Japanese cosmetic brand and ila, the organic skin and body brand which focuses on the remedial power of plants, flowers, and herbs to produce hand-blended products with minimal processing. The Spa at The Maybourne Beverly Hills is the only destination in the United States to carry the Ila brand.
There's also a mineral pool for relaxation, as well as a newly renovated 24-hour state-of-the-art gym complete with PENT luxury fitness equipment, Hydrow rowing machines, Woodway treadmills, and Wattbikes.
JUST IN TIME FOR SUMMER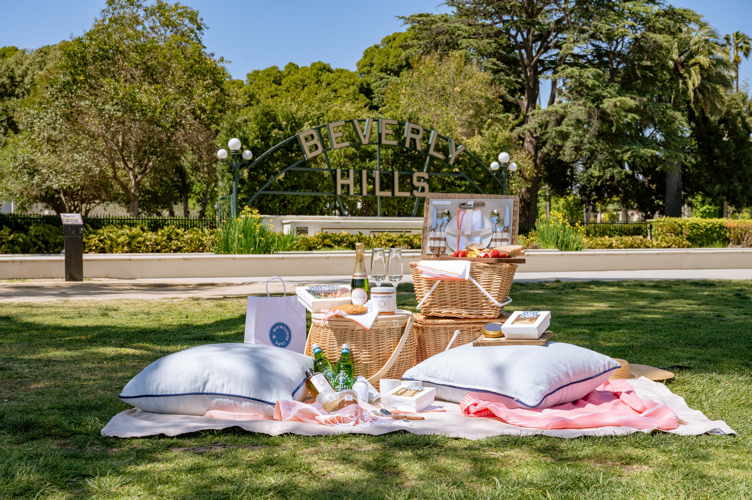 Photo Credit: Bei Bei Wei/The Maybourne Beverly Hills
This summer, there are a variety of packages on offer here.A carefully curated collection of offerings and experiences provides an immersive escape in the heart of Beverly Hills.
These include:
The Maybourne Bar Cocktail Masterclass, learning the creative art of cocktail making alongside head mixologist Chris
Amirault and his team.
The Terrace Pasta Making Masterclass, learning how to make squisito tagliarini and The Terrace's signature corn agnolotti, before sitting down to savor your creations with a perfectly paired wine in hand. As a memento of your masterclass, you'll take home a monogrammed apron, recipe, and wine notes to recreate your time at The Terrace.
The Perfect California Picnic. Whether guests are looking to snack on sweets beside the Beverly Hills sign, sip on bubbles in the lush Beverly Cañon Gardens, or enjoy a taste of caviar along the California coastline, The Maybourne Beverly Hills will design the perfect picnic suited for every guest's needs. Each detail is covered, from creating a
bespoke basket right through to delivery at the local picnic spot – featuring a hand-picked selection of
bites from The Maybourne Café, small plates that give a flavor of local farmers' markets, caviar and a
glass of champagne for the grown-ups. And for those that prefer venturing out of the 90210, picnics can
also be arranged beneath the shade of a parasol beside the waves or amongst The Hollywood Bowl with
a musical medley as your backdrop.
Sound Bath Healing. A powerful, immersive sound journey, guests are guided into a deep meditation using crystal alchemy bowls, gongs, and chimes. Set intentions, manifest new beginnings, and enjoy a truly revitalizing experience.
Pilates Training. Recharge your mind and body with a privately guided top-to-toe workout using cardio-inspired endurance to strengthen, sculpt and leave you feeling supple and balanced.
Hiking Tour. A must-do in Los Angeles; see the city from a different angle on an invigorating privately guided hike
through Runyon Canyon, Franklin Canyon or Griffith Park with breath-taking views across the city.
Yoga, Find the perfect setting for LA sun salutations from the comfort of the rooftop with the Hollywood Hills as your backdrop to the hotel's blissful garden terrace, for a private al fresco yoga session to unplug and reset.
The Maybourne Beverly Hills is located at 225 N Canon Dr, Beverly Hills, 90210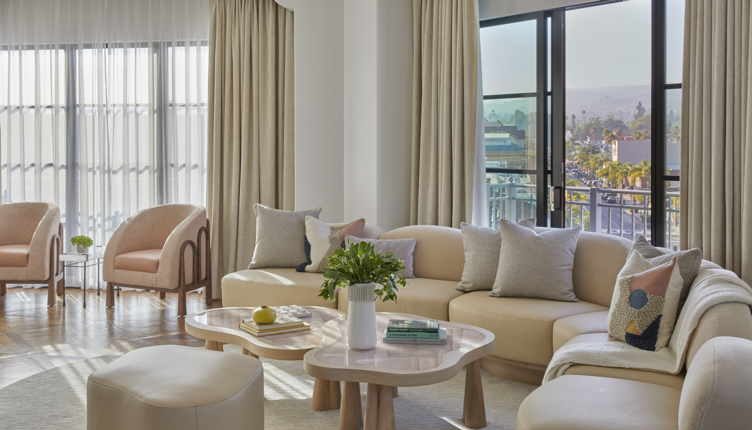 The Maybourne Beverly Hills
Hollywood Suite
Photo Credit: The Maybourne Beverly Hills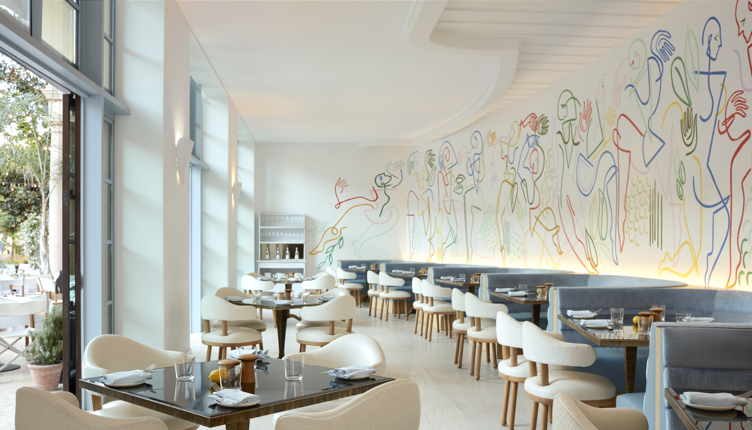 The Maybourne Beverly Hills
Maybourne Terrace
Photo Credit: The Maybourne Beverly Hills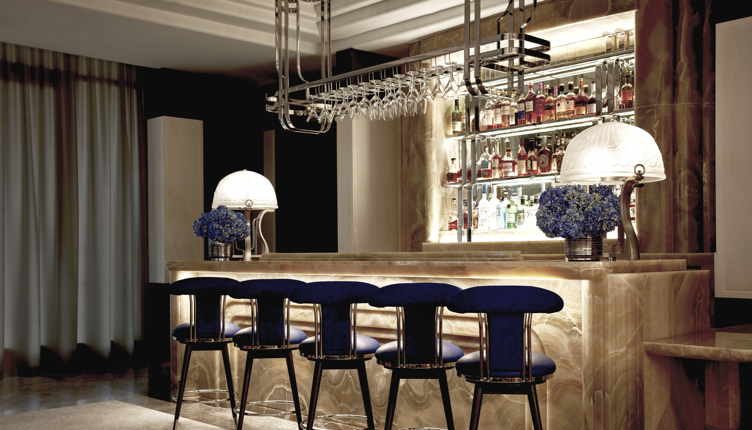 The Maybourne Beverly Hills
The Maybourne Bar
Photo Credit: Andre Fu Studio/The Maybourne Beverly Hills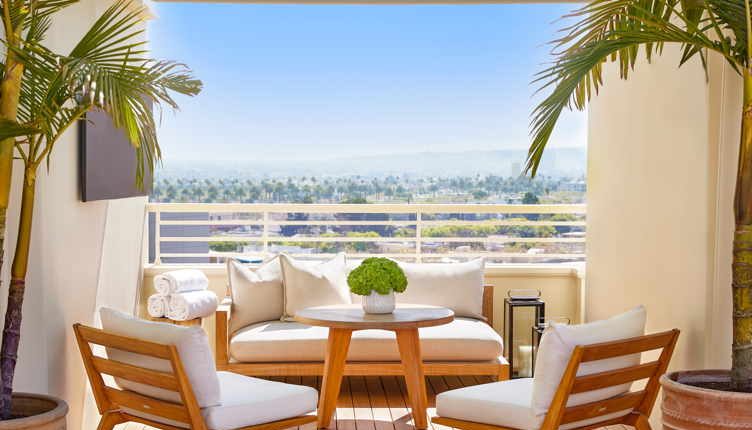 The Maybourne Beverly Hills
The Maybourne Beverly Hills pool
Photo Credit: The Maybourne Beverly Hills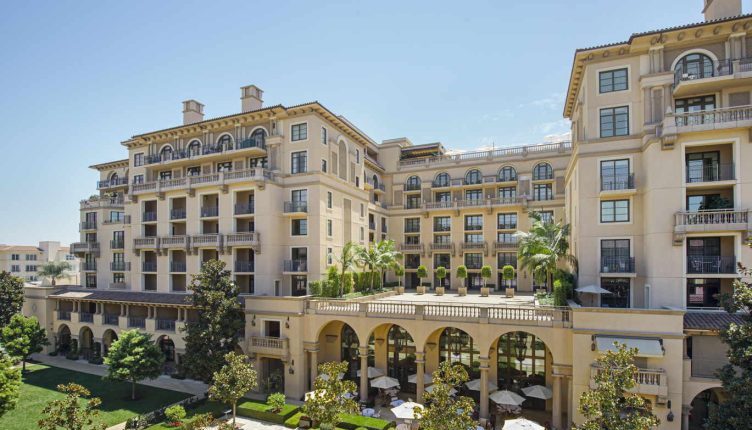 The Maybourne Beverly Hills
The Maybourne Beverly Hills exterior
Photo Credit: The Maybourne Beverly Hills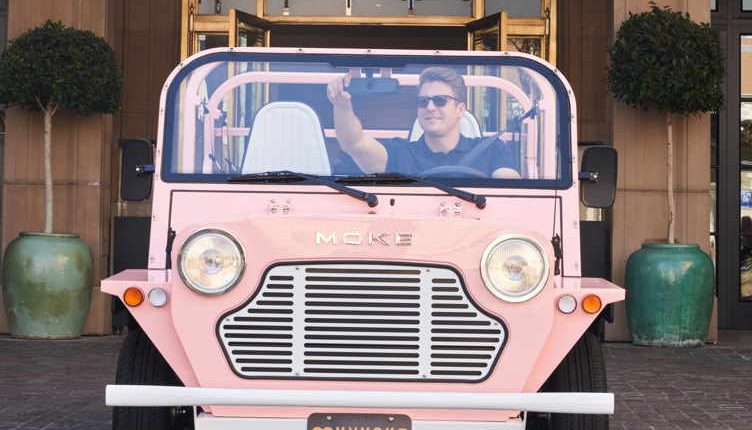 The Maybourne Beverly Hills
The Maybourne Beverly Hills moke
Photo Credit: The Maybourne Beverly Hills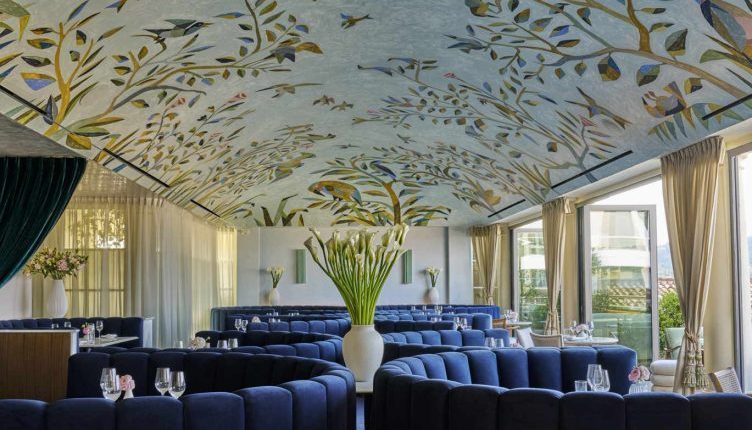 Dante Beverly Hills
Dante Beverly Hills
Photo Credit: Giada Paoloni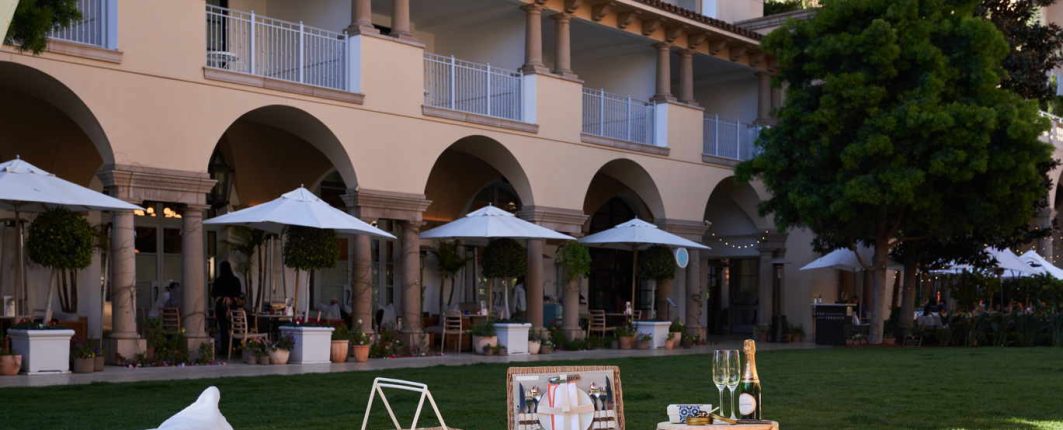 The Maybourne Beverly Hills
The Maybourne Beverly Hills picnic package
Photo Credit: The Maybourne Beverly Hills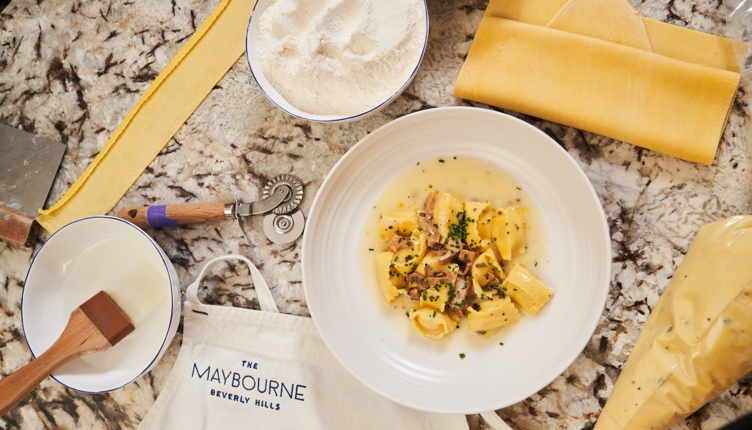 Dante Beverly Hills
The cuisine of Dante Beverly Hills
Photo Credit: Giada Paoloni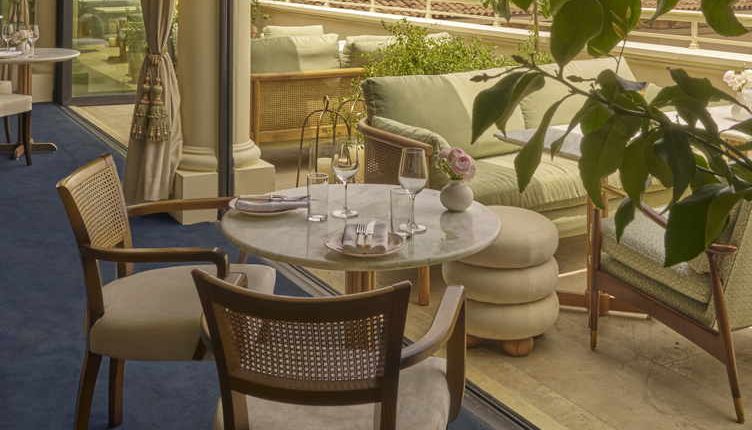 Dante Beverly Hills
Dante Beverly Hills
Photo Credit: Giada Paoloni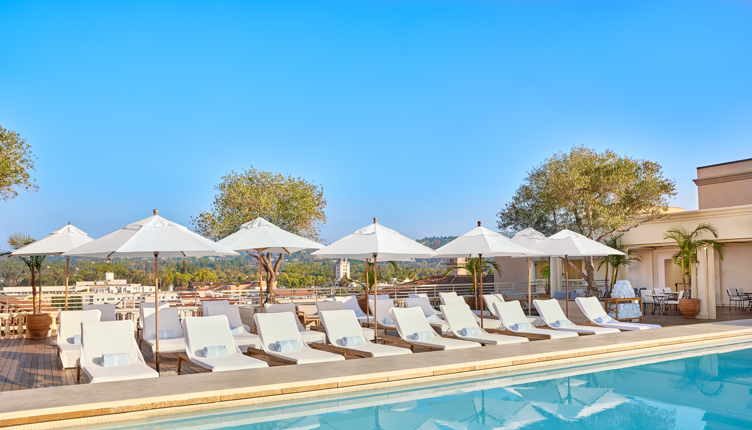 The Maybourne Beverly Hills
The Maybourne Beverly Hills pool
Photo Credit: The Maybourne Beverly Hills
Subscribe to discover the best kept secrets in your city