If you are looking for some fun ways to spoil your valentine in Boston this year, we have got you covered. From a helicopter ride to an overnight stay in the city's most exclusive (and expensive) presidential suite, here's a look at some of the best ways to overindulge your sweetheart this holiday.
On Valentine's Day, The Ritz-Carlton, Boston's Avery Bar is inviting couples to "Name that love song in five courses." Starting at 7 p.m., you can participate in the five-act interactive champagne, cocktail, oyster shucking, cooking and dessert class. The event, in partnership with Veuve Clicquot, starts off with a blindfolded taste test of canapes paired with Veuve followed by a class on how to make specialty Veuve Clicquot cocktails. From there, you can learn how to shuck local oysters before dining on an 1855 filet mignon and finishing the night off with a red berry flambe.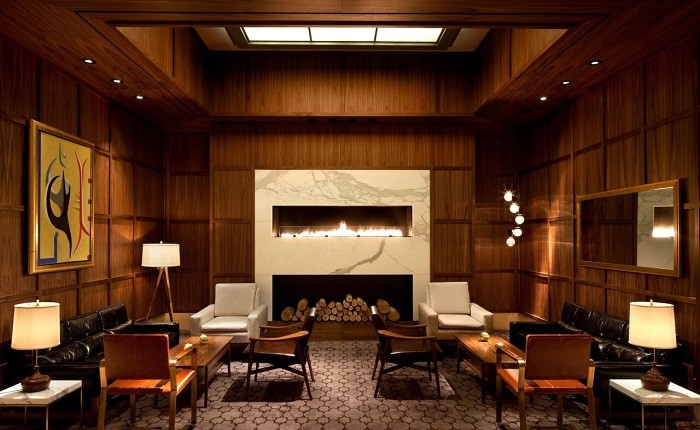 Photo Credit: Ritz-Carlton
When it comes to a haute dinner, Fleming's Prime Steakhouse is rolling out the red carpet this year. They are offering three tiers for this extravagant dining option ranging from $350 to $1,000 per couple, which includes a three-course prix fixe menu featuring an amuse-bouche of seared scallops with creamy goat cheese grits, caviar, prosciutto, roasted red pepper and lime-butter sauce, and an optional wine pairing.
Start off with a choice of mushroom bisque with truffle cream and thyme or beet salad with red onion, pistachios, Campari tomato, goat cheese and honey-lime vinaigrette. Move onto an entrée duo of filet mignon plus a choice of North Atlantic lobster tail or colossal shrimp with herb-lemon butter sauce. Finish off the experience with a sampling of white chocolate bread pudding served with dark chocolate and raspberry infused whipped cream topped with warm raspberry champagne sauce. Each dinner will also feature a bottle of champagne (think Moët & Chandon Brut Imperial Champagne or Dom Pérignon Brut) and an exquisite gift from a local jeweler (for him or her). The dinner is available now through February 17.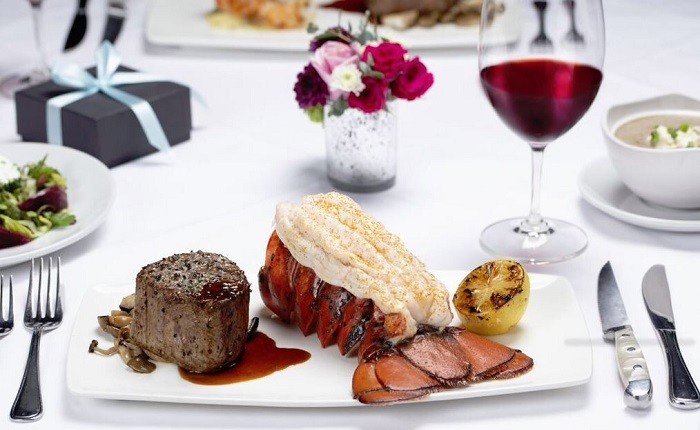 Photo Credit: Fleming's Steakhouse
Prefer to charter a yacht for the night or a private aircraft, romantic helicopter ride throughout the city or adventurous hot air balloon ride to show that special someone just how much they mean to you? Leave the planning to someone else. The folks at Tillinger's know how to get it done. When it comes to planning a memorable night out, they are the go-to experts.
Photo Credit: Tuckamore Aviation
If you want tickets to the best shows in town, just call the folks over at The Best Seats VIP and they can arrange everything for you from a pre-show party to a backstage meet and greet to even on-stage access and a ride in a fancy car. If you want a behind-the-scenes tour of a dressing room, all you have to do is ask. Front row seats? No problem. The folks here can customize any experience so you feel like a true VIP for a day. There isn't a personal entertainment concierge in Boston quite like them.
Photo Credit: The Best Seats VIP
If you want to book an exclusive stay, the Boston Harbor Hotel's John Adams Presidential Suite is the ultimate indulgence. For $15,000 a night, you can relax in the 4,800 square foot waterfront suite that has a 1,000 square foot outdoor terrace for one of the best views of Boston Harbor. Inside, the suite has its own media room, enormous living area, separate dining room, modern kitchen and its own private elevator.
Photo Credit: Boston Harbor Hotel
For her, you won't want to miss one of the latest haute fragrances from Tiziana Terenzi available at Barney's, including their latest fragrance launches Sirrah and Mirach. The new look features a "spiral construction" designed to open up the notes of the fragrance allowing the notes in the fragrances to continually release over time. Perfect for a long lasting Valentine's Day.
Photo Credit: The Fragrance Group