Photo Credit: Dylan + Jeni
Dream team Ori Menashe, Genevieve Gergis and Leah Bunch, from the beloved Los Angeles eatery Bestia, have opened their second culinary destination, Bavel, located in Downtown Los Angeles. The Middle Eastern-inspired establishment pays homage to its roots in the Mediterranean with its name Bavel, stemming from the story of Babel in the Old Testament. Representing a time when everything was one and there was no designation, owners Menashe and Gergis found it the perfect representation of the restaurant—not pinned down to any one region but representing a handful of the best flavors of the Middle East.
Photo Credit: Nicole Franzen
Blending together the flavors and dishes that the owners grew up eating and adding their own signature, modern flair to each dish, the menu is a diverse and powerful compilation of aromatic herbs, spices and smoke paired with clean and fresh ingredients. Transport yourself to the Mediterranean sea as you munch on fresh, signature dishes like the homemade Hummus made with creamy and chunky garbanzo bean puree, green and red chili paste with perfectly toasted pita; Baba Ghanoush—smoked eggplant with charred bell peppers, red walnuts, lemon chili salt and a crunchy, fried pita; Marinated Beets with whipped feta and turmeric pickled cauliflower; or the Fried Quail with cardamom date sauce, pickled celery and smoked yogurt.
Photo Credit: Nicole Franzen
Make your way down the menu to the mouth-watering flatbread selection where guests can choose from meat or veggie-based breads including the Lamb Flatbread with spicy fermented sausage, grated tomato, red onion, pine nuts and sumac, or the colorful Butternut Squash flatbread highlighted with feta, Baharat, pepitas, fried sage and wildflower honey. On the mains, guests will find large-format meat and fish dishes highlighted with spices and flavorful Mediterranean ingredients including the Braised Pork Tagine with prunes, serrano chile, couscous and cashews, or the whole-grilled, herb-stuffed Dorade with red chermoula, preserved orange and smoked anchovy. For those looking to satisfy their sweet tooth, treats like the Strawberry Sumac & Sweet Cheese Pastry, authentic Paglava or the Rose Clove Chocolate Donuts decorate the dessert menu.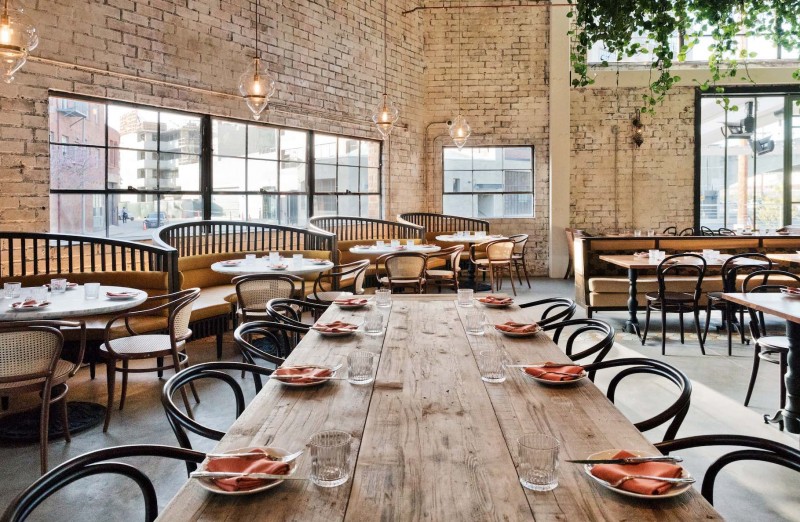 Photo Credit: Dylan + Jeni
To complete the entire experience, the interior design is just as awe-inspiring as the decadent flavors of the menu. Contrasting with the typical Middle Eastern interior design one may find in other restaurants with dark, heavily patterned accents, Bavel leans toward bright, natural light, soaring skylights, interior brick walls treated with a whitewash and delicate greenery falling from the ceiling area. The colors were drawn from Casa Blanca, featuring vibrant turquoise, saffron and turmeric as well as brass highlights. The space expertly merges its Middle Eastern roots with the history of its location in the Downtown Los Angeles Arts District, where the cuisine is just as beautiful and expertly perfected as the restaurant itself.
Photo Credit: Nicole Franzen
Bavel is open Sunday-Thursday, 5 p.m.-11 p.m., and Friday-Saturday, 5 p.m.-12 a.m., located at 500 Mateo St. Los Angeles, CA 90013. For more information, please head to www.baveldtla.com
Subscribe to discover the best kept secrets in your city