Photo Credit: The Avery
If you've entered San Francisco via the Bay Bridge within the last couple of months, you probably noticed the new high-rises that are changing the city's skyline. One such upcoming building is The Avery, a 56-floor multi-use project with 181 residential units. From the development firm, Related California, The Avery opened up its sales office last fall. Now comes the news of its glorious penthouse collection.
Photo Credit: The Avery
Once completed, the building will be home to six half-floor penthouses ranging in size from three bedrooms to four bedrooms with 4,176-square foot and 4,312-square foot layouts respectively. The half penthouses are on the 53rd through 55th floor and have expansive views, a great room with fireplace, formal dining area, gourmet kitchen, and corner master suite with two walk-in closets.
Photo Credit: The Avery
However, the crown jewel of the collection is Avery's 8,482-square foot full floor penthouse. Situated on the 56th floor 600 feet above the ground, the ultra-luxe residence has a private rooftop deck—an offering that's incredibly rare in SF. With four bedrooms, six bathrooms, two powder rooms, a library, media room, gym, family room, dining room, and living room, the penthouse is unlike any other home in the city. Floor to ceiling windows provides dramatic views of the water and SF at every angle.
Photo Credit: The Avery
"We are proud to debut the full-floor penthouse at The Avery–the height of urban luxury living," Gino Canori, executive vice president and chief development officer at Related California, said in a statement. "The latest addition to Related's outstanding penthouse collection features an expansive private rooftop, panoramic views of the city and beyond, world-class design, and Related's distinctive services and amenities. The Avery's Penthouse is an extraordinary offering unlike anything else in San Francisco. The unique opportunity for indoor-outdoor luxury living at such heights in a world-class city like San Francisco is a once-in-a-lifetime opportunity.  We look forward to welcoming an exceptional buyer into this remarkable home."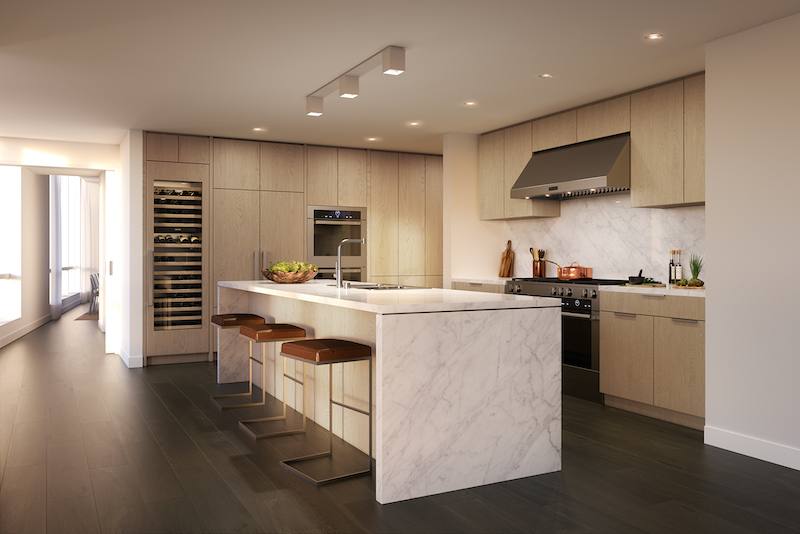 Photo Credit: The Avery
Penthouse residents have access to The Avery's slew of amenities including a fitness center with indoor lap pool, 24-hour concierge, private event space, and proximity to 17,000 square feet of retail space.
Photo Credit: The Avery
The Penthouse at The Avery is being offered at $41 million, and the six half-floor penthouses start from $15.95 million. Interested parties should contact the sales team at The Avery.