Whether you're seeking stellar backcountry, fresh powder or gorgeous groomers, you'll find what you're looking for at these five-star European ski resorts this winter.
ZERMATT 
THE OMNIA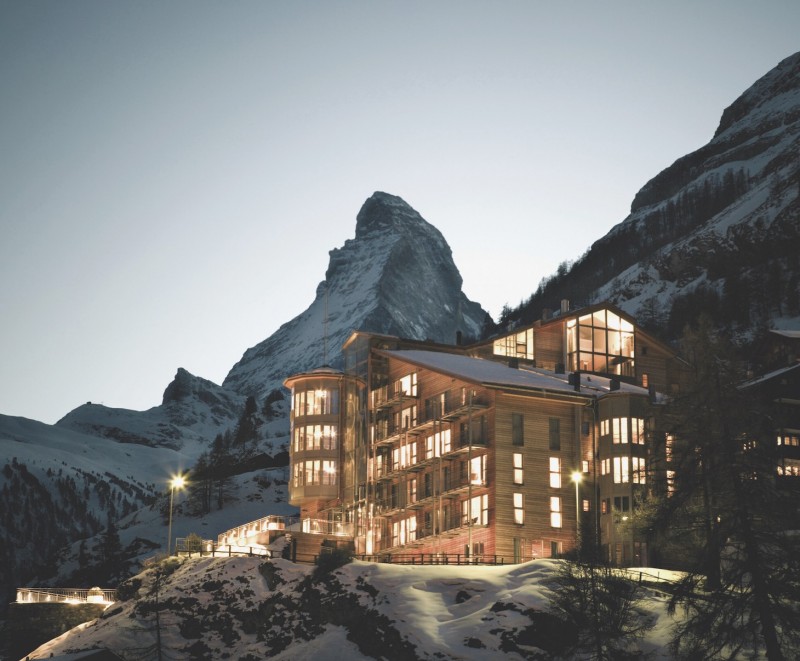 Photo Credit: The Omnia
If you've ever fantasized about skiing the Matterhorn, make your dreams a reality. Head to Zermatt, a small hamlet where the crown jewel of the Swiss Alps is visible at every turn, and, in turn, stay at one of the best resorts in Europe, The Omnia. Its location is quite unique: The hotel sits on a rock in the middle of the village of Zermatt, but high above all other buildings in town, closer to the sky with the Matterhorn itself as its neighbor. With just 30 rooms, The Omnia is quite small compared to its competitors. It's homey, even, with the philosophy of offering guests everything they could dream of (what's in a name, you say? "Omnia" means "everything" in Latin). The Omnia is like a home away from home, but better. It's where you curl up with a high-end whisky and one of many art and design books in the library after a day on the slopes. It's where you swim in the indoor/outdoor pool and gaze directly at the Matterhorn and where you sit amid flickering firelight and sip grappa after dinner. It's where you appreciate that the best moments in life happen in the smallest of ways.
Auf dem Fels, 3920 Zermatt, Switzerland
BAD RAGAZ
GRAND RESORT BAD RAGAZ
Photo Credit: Grand Resort Bad Ragaz
At the Grand Resort Bad Ragaz resort—which is cleverly situated in between the Grisons, Glarus and St. Gallen skiing areas—guests are offered the best of health and wellness as well as a truly amazing place to ski. The resort offers unique experiences that utilize healing Ragazer thermal water, which famously boosts metabolism and circulation, improves cardiac function and alleviates diseases. As one of 14 Swiss Olympic medical centers, it allows both beginners and professional athletes to hone their skills and improve their technique and performance. Professional and amateur skiers visiting the resort have access to a range of services, including personal training, fitness coaching and performance diagnostics. Additionally, all guests can soothe their bodies and souls after a day on the slopes in the 65,000-square-foot Thermal Spa, which offers gratis access to the restorative Tamina Therme; and enjoy dinner at the Michelin-starred IGNIV by Andreas Caminada. The resort will also celebrate its 150th anniversary this year with a complete renovation of the Grand Hotel Quellenhof and a new restaurant, curated by chef Sven Wassmer. 
Bernhard-Simonstrasse, 7310 Bad Ragaz, Switzerland
ST. MORITZ
BADRUTT'S PALACE HOTEL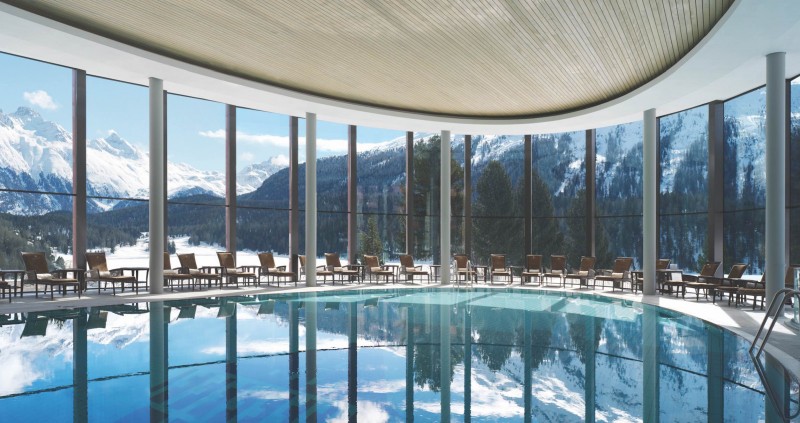 Photo Credit: Badrutt's Palace Hotel
Thanks to its favorable location in the Engadine region of the Swiss Alps, St. Moritz enjoys over 300 days of sunshine a year, making it a dream destination for those who plan on hitting the slopes. It's no wonder that this playground for the rich and famous has hosted two Winter Olympics as well as, annually, the Snow Polo World Cup and "White Turf" horse race on the frozen Lake St. Moritz. While there are several five-star properties in the area, we would be remiss not to mention the palatial Badrutt's Palace Hotel, which actually resembles a castle. Badrutt's Palace is home to IGNIV, a new restaurant courtesy of three Michelin-starred Swiss chef Andreas Caminada, as well as Matsuhisa, one of Nobu Matsuhisa's signature high-end Japanese eateries. At its breakfast restaurant, expect to be entertained by a harpist each morning, and each night, treat yourself to a Cuban or two in the Vintage Cigar Lounge. There's high tea with champagne and caviar and even a slew of nightlife venues—The Polo Bar and Carigiet Bar for drinks, and the opulent, red and glittering gold-adorned King's Club (which just completed a renovation that includes a new restaurant, King's Social House, with Michelin-starred chef Jason Atherton at its helm for late-night) for après-ski shenanigans. And there's more: a heated outdoor pool; private hair spa; pedi spa; solarium, an ice room; aromatherapy room; salt steam room; a fitness center with a private sun terrace and tennis courts; a natural outdoor ice rink; shopping courtesy of Bulgari, Louis Vuitton, Miu Miu, Tom Ford, Giorgio Armani and Harry Winston, among others; and Rolls-Royce transfers. Sold—to the highest bidder!
Via Serlas 27, 7500 St. Moritz, Switzerland
GSTAAD 
THE ALPINA GSTAAD
Photo Credit: Alpina Gstaad
Gstaad, a resort town in the southwestern Swiss Alps, is a famously popular destination for the jet setters and high society alike. Although two of its most famous events occur during the summer months—the Hublot Polo Cup and the Swiss Open—it's best known as a mountain town, and as such, the winter months are a killer time to come and ski or snowboard in style. Stay in style as well by booking a suite at the Alpina Gstaad, which, when it opened its doors in 2012, was the newest luxury hotel to open in that small Swiss Alpine village in 100 years. Even in this village of billionaires, it made a splash with its Six Senses Spa, its two Michelin-starred eateries Sommet and Megu, Havana-style cigar lounge, cinema where the Hollywood set screens films, a 1,000-bottle wine room, Culinary Week takeover of the storied Harry's Bar and a stunning modern art collection from the likes of Tracey Emin, Futura and Roy Nachum. In addition to the permanent collection there, the hotel also features an artist of the moment in order to provide a new, fresh and constantly rotating cultural exhibit.   
Alpinastrasse 23, 3780 Gstaad, Switzerland
VAL D'ISÈRE
HÔTEL LES BARMES DE L'OURS
Photo Credit: Hôtel les Barmes de l'Ours
While many mountain towns offer a little something for everyone, Val d'Isère is a spot that's for dedicated skiers and snowboarders. In fact, this French mountain town in the Savoie region (located just a stone's throw from the Italian border) regularly hosts Men's World Cup Alpine events and also hosted the World Ski Championships in 2009. Come this winter for the World Cup Criterium December 7-16 and check in to Hôtel les Barmes de l'Ours, a traditional, five-star Savoie-style residence that's understated yet elegant. Each floor features a different mountain journey: Scandinavian spirit, Lodge of the American Great White North, Alpine chalet and contemporary mountain loft. Our favorite room is the "Ours" Bear Suite, which plays up the Alpine aesthetic with wood-beamed ceilings, a wooden bar, sumptuous chimney and panoramic views of Val d'Isère from a large picture window. There's also a private Jacuzzi, hammam and sauna en-suite.
Chemin des Carats Montée de Bellevarde, 73150 Val-d'Isère, France
MEGÈVE
LE CHALET ZANNIER
Photo Credit: Le Chalet Zannier
Megève, a commune in the Haute-Savoie area of the Auvergne-Rhône-Alpes region in Southeastern France, was originally conceived in the early 20th century as the French alternative to Saint-Moritz by the wealthy Rothschild family. Originally designated as a prime destination for the French aristocracy, today it remains one of the ritziest and most pedigreed resort towns in Europe, known as much for its history as its proximity to Mont Blanc. Should you want a piece of this thoroughbred pie, make your way to Megève and book Le Chalet Zannier, which is extremely exclusive and very intimate, given that it has only 12 rooms. This mountainous cocoon has been named the best boutique ski hotel in France for three years running thanks to its effortless Alpine charm, wellness center with a heated relaxation pool, sauna and steam room, and its charming bistro, La Ferme de Mon Pere. Most importantly, the 40 dedicated staffers make sure that every whim is met here, including a nearly 24-hour chauffeur service, free of charge.
367 Route du Crêt, 74120 Megève, France
THE DOLOMITES 
CRISTALLO, A LUXURY COLLECTION RESORT & SPA, CORTINA D'AMPEZZO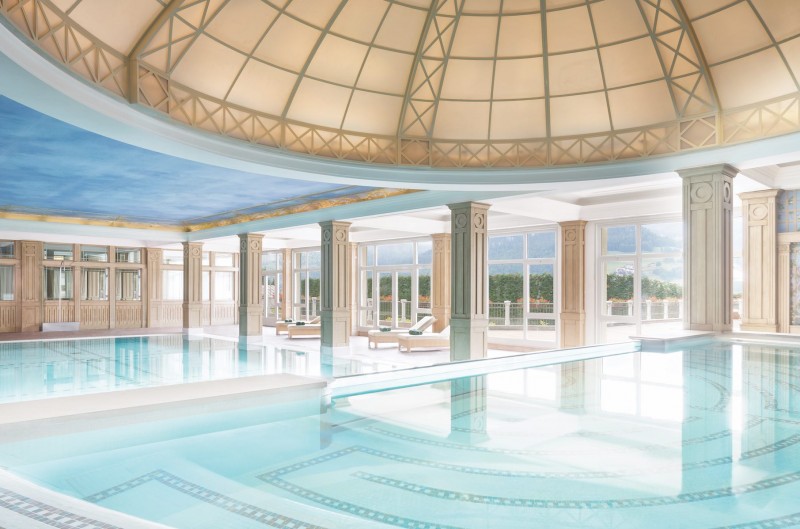 Photo Credit: Cristallo
The five-star Cristallo, located in the Dolomites mountain range, a UNESCO World Heritage Site in Northern Italy, reopened as a Luxury Collection hotel late last year following a series of renovations to modernize the classic dual-season property. Its home—Cortina—is one of Italy's most sought-after destinations for affluent travelers, and guests will feel very keenly why both the hotel and the area itself were beloved favorites of Frank Sinatra and Peter Sellers. To experience the best of the property, stay in one of the two 1,000-square-foot presidential suites, which have since been renamed to honor its two most frequent famous guests. Each offers private balconies, butler service, an en-suite hammam with chromotherapy lights and hot tubs. There is also a 5,200-square-foot spa, where snow bunnies can relax après-ski in a sauna, hammam or stunning Romanesque indoor pool. Cap your day with a slew of epicurean at one of the resort's four restaurants. Our pick is Il Gazebo, which showcases Old-World Italian cuisine and is a magical setting overlooking the Ampezzo Valley.
Via Rinaldo Menardi, 42, 32043 Cortina d'Ampezzo BL, Italy
VERBIER
W VERBIER
Photo Credit: W Verbier

   
If backcountry is your bag, then so is Verbier, a resort town in the municipality of Bagnes within the canton of Valais. Verbier itself offers something different than many on our list, and so does our resort of choice, the W Verbier. This place, unlike many that offer a serene, soothing ski experience, is a chic, fun party place. This year-round hotel dares to be different. This winter season, this hot spot is showcasing some updates, including a new wall design in its living room courtesy of artist Jasm.one with actual gold embedded. The W Off-Piste, an après-ski bar, is sporting a new lounge, bar and DJ booth. Plus, former Freeride champion Emilien Badoux is leading yoga classes; a multisport session with a live DJ is planned for the last Sunday of every month; and there are Latin dance classes and POP Pilates on offer at the Away Spa. If "good time" is your middle name, then book your stay immediately.
Rue de Médran 70, 1936 Bagnes, Switzerland
VAL THORENS 
ALTAPURA
Photo Credit: ALTAPURA/DI ORIOBIS + L. BRANDJAS
Val Thorens is the highest station in Europe at over 10,500 feet above sea level, and also the most-visited international ski destination in France. Because of its north and northwest-facing mountains, the area tends to receive less sunlight than many resorts, which means it is optimal for skiers interested in truly hitting the slopes and less interested in "terracing." If you fit the bill, immerse yourself in the experience off-slope at the tech-friendly Altapura as you might on-slope with the most technologically advanced ski equipment. At this Nordic-chic resort, expect to step into a world that's operated by interactive touch screen, be it by iPhone, iPad or Mac mini. In addition to on-demand videos and free-of-use Macs, the resort also features a ski shop by Goitschel, a family of famous Olympic medal-holding French skiers who also launched the resort back in the 1970s. How's that for pedigree?
Rue du Bouchet, 73440 Val Thorens, France
HOCHGURGL 
TOP HOTEL HOCHGURGL 
Photo Credit: Hotel Hochgurgl
The Austrian Alps can be overlooked in favor of its more famous French and Swiss brethren, but Obergurgl-Hochgurgl should not be missed. Its location on the sunny side of the Ötztal Valley's 21 glaciated three-thousanders offers mountaingoers an optimal, joyful experience. In particular, the ski runs at in-out ski resort TOP Hotel Hochgurgl are prime for skiers. Where other slopes end, this one is just beginning: Though the hotel itself clocks in at 7,000 feet above sea level, its slopes stretch up to 10,000 feet, making this one of the highest-altitude resorts in Europe. TOP creates a, well, top experience for the jet set as well as any French or Swiss resort could, as well. The Relais & Châteaux hotel offers an on-piste champagne bar, an outdoor oyster bar, a 360-degree view 10,000 feet above sea level at the TOP Mountain Star, an amazing spa offering everything from Reviderm skin needling to JetPeel hydroporation to dermal contouring and even Europe's highest-altitude classic motorcycle museum. Plus, you can pre-order ski equipment to be ready upon arrival with the click of a button from November through May—open earlier and closing later than most of its other European competitors. In summary, this resort is unique in every way―and don't you want to try something different?
Hochgurglerstraße 8, 6456 Hochgurgl, Austria
SAINT-MARTIN-DE-BELLEVILLE 
LA BOUITTE 
Photo Credit: La Bouitte
For those in search of an epic place to ski with all the charm of a small town, look no further: Saint-Martin-de-Belleville is your sweet spot. As part of the 3 Vallées ski area, don't doubt that the powder will be fresh and the groomers inviting. And amid this truly beautiful area in the French Alps, there is one gem that must be mentioned: La Bouitte. La Bouitte, a boutique hotel with an in-house restaurant of the same name that has the distinct honor of holding three Michelin stars. Yet, it doesn't have any of the pretentions that a traditional three Michelin star holder might have. Both the restaurant and hotel are truly authentic: Guests might feel like they're truly houseguests of chefs René and Maxime Meilleur (Meilleur, fittingly, means "the best" in French) in every way possible from the surprise greeting (we've been sworn to secrecy) to Chef checking in to make sure you slept well. There is more that makes this homespun hotel unique, however: Its spa has created its own range of products and cosmetics, Meilleur Nature, created from natural local ingredients including milk and epilobe (mountain flowers); a growing partnership with Tissus Arpin, the last wool-spinning factory in the Savoy; and a worthy collection of Savoyard artisan art. A visit here is a once-in-a-lifetime experience. Savor it wisely. 
73440 Hameau de St Marcel, Saint-Martin-de-Belleville, France
COURCHEVEL 1850
HÔTEL LE K2 PALACE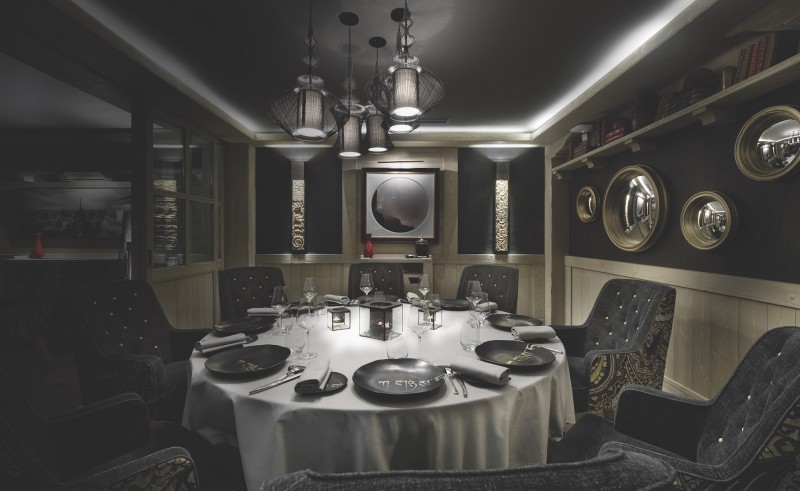 Photo Credit: Hôtel Le K2 Palace
Courchevel is one of the ritziest ski resort areas in the French Alps, a resort town beloved by skiers, luxury lovers and socialites alike. Guests come as much for the glamour associated with Courchevel—it has the most Michelin-starred restaurants of any mountain town (seven, with 11 stars total) and luxury shopping via Louis Vuitton, Valentino, Prada, Cartier, Fendi, Dior and Chanel—as they do for the skiing. Come in December for the Ladies' Alpine World Cup giant slalom and book a stay at the grand and glorious Hôtel Le K2 Palace. This Leading Hotels of the World member benefits from a privileged location, being both near the center of Courchevel 1850, yet still retaining a high level of privacy and having ski-in ski-out access (which was actually conceptualized in Courchevel). The hotel forms a veritable hamlet, comprised of a main building and its adjoining chalets, nestled into the mountainside, integrating seamlessly into the landscape. Book the Suite-Chalet Muztagh, a four-level, five-bedroom chalet with its own large indoor pool, hammam and ski room as well as a dedicated in-suite chef, waiter and manager. One of the aforementioned Michelin-starred eateries is located here (Le Kintessence, awarded with two Michelin stars), as is the spirits and cigar bar, Winston Klub, and the award-winning Goji Spa by Valmont.
238 Rue des Clarines, 73120 Courchevel, France