From snow bunnies to whiskey aficionados, here are holiday gifts for every personality!
SPIRITED FRIENDS AND FAMILY 
Asprey Bar Cart
Photo Credit: Asprey
The Ritz-Carlton Cocktail Trolley, a collaboration with Asprey, draws inspiration from the iconic luxury British brand's most creative and innovative bar designs from the 1920s and 1930s. The silver-plated and tempered glass trolley exudes Art Deco glamour, which can be further customized by choosing any selection of Asprey barware available, including ice buckets, champagne coolers, ice tongs and decanters, in addition to handmade shakers and mouth-blown, hand-engraved glassware.
Available fully kitted for $78,840
Grey Goose La Fontaine
Photo Credit: Grey Goose
This holiday season, give the gift of endless martinis with Grey Goose's luxury-designed "martini fountain." Inspired by the absinthe fountains of yore, Grey Goose La Fontaine simultaneously serves up three perfectly prepped martinis to keep holiday festivities flowing. Cocktail enthusiasts can simply pour all ingredients into La Fontaine's impressive glass orb and stir. The liquid then flows through three different faucets, creating a trio of perfectly mixed martinis. It's a truly original way to answer the question of "shaken or stirred."
Available for $1,500
Barsys
Photo Credit: Barsys
Barsys is the wave of the future, an innovative machine that's essentially a cocktail robot. Forget the struggle of at-home bartending: the Barsys does it for you. This automated cocktail maker with over 2000 recipes prepares most drinks in under 20 seconds; has a spill-free design; automated cleaning; and works with an intuitive app that's available on both Android and iOS. With it, you'll be the hit of every party.
Available for $1,050
Plum
Photo Credit: Plum
Plum is a, well, plum smart device for oenophiles. This fully automated system preserves opened wine up to 90 days, serves each bottle at its perfect temperature and can share tasting notes and information on virtually any bottle of wine. Simply drop in any 750ml bottles of wine with any closure, and Plum takes care of the rest, automatically identifying the wine, setting the perfect serving temperature, cooling each bottle individually and extracting the wine one glass at a time.
Available for $1,999
Whiskey Advent Calendar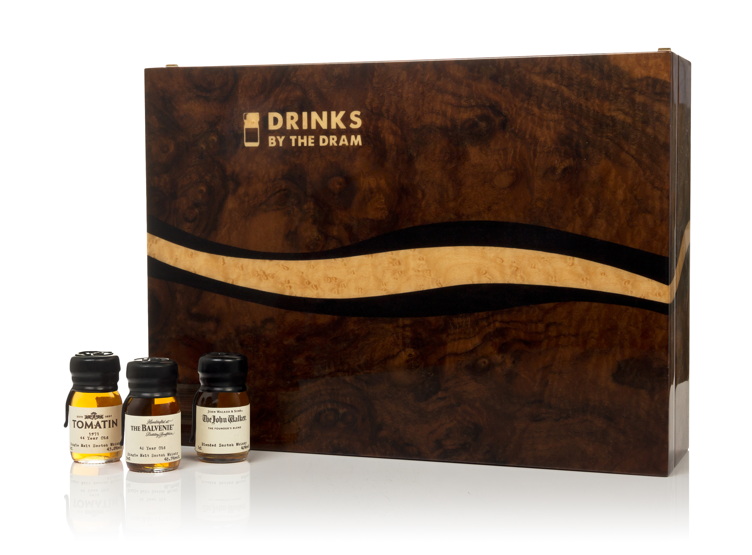 Photo Credit: Masters of Malt
The Very Old & Rare Whiskey Advent Calendar is the perfect lead-up to the holiday season for any aficionado. This Drinks by the Dram creation is teeming with some of the most sublime rare whiskies on the market. Behind each of the 24 windows is a different 30ml dram, an expression from a selection of the most revered producers, or treasured samples from long-closed distilleries… as well as whiskey from a bottle valued at $24,000. It's presentation is on-point as well: the calendar itself is a bespoke wooden box, hand-crafted by Kent cabinet maker Simon Jewell Designs, finished in a wonderful walnut or a Macassar Ebony edition. Some of the whiskies included are Port Ellen 37 Year Old 1979 – 17th Release; Glenfarclas 1958 (cask 2061); Karuizawa 48 Year Old 1964; Glen Mhor 50 Year Old 1965; and Balvenie 46 Year Old 1968.
Available for $17,000
THE WINTER WARRIOR
Moncler Grenoble Ski Jumpsuit
Photo Credit: Moncler
Look chic on the slopes with Moncler's adorable sleeveless ski jumpsuit, which is made with a water-repellent quilted shell body and stretch-twill pants with stirrup hems that fit smoothly under boots. It's fitted with an internal zipped pocket for your lift pass and cell.
Available for $1,675
Fendi Logo Mirrored Ski Goggles
Photo Credit: Fendi
Fendi's F hoop logo decorates the mirrored lenses of these metallic-gold ski goggles, imbuing them with the season's motif-inspired mood and adding insta-chic on the slopes. They're embellished with gold-tone metal studs on the sides and finished with a vibrant yellow logo-jacquard strap.
Available for $550
Canada Goose Mystique Parka
Photo Credit: Canada Goose
Rebecca Romijn's "X-Men 2" character, Mystique, inspired this incredibly warm, glamorous coat that's perfect for chilly film sets and city streets alike. Because the film was shot in Canada and her costume was entirely body paint, Romijn needed something incredibly warm, and so came to Canada Goose requesting a coat that would protect her from the elements, which led to the brand's creation of its longest and most glamorous parka. Field-tested for the coldest places on earth, suitable for -22°F, this stylish jacket's elaborate quilt-through design promotes even heat distribution without adding excessive bulk. Despite its heft, it's also easy to carry thanks to interior backpack straps that allow you to comfortably carry it over your shoulders when temperatures rise.
Available for $1,050
Burton Felix Step On Boots & Bindings
Photo Credit: Burton
The hottest high-tech item for snowboarders to hit shelves in recent years is already sold out for the season in its men's version, but a few unicorns are still available for retail in Burton's Felix style for women. These intuitive boots and bindings have three connection points—two by the toe and one at the heel—which deliver unmatched security and board control. The Dual Zone Boa Coiler Closure System boosts comfort and convenience. It's a must for any riders who hit the slopes of St. Moritz, Aspen and beyond.
Available for $730 (for the bundle)
GoPro Hero7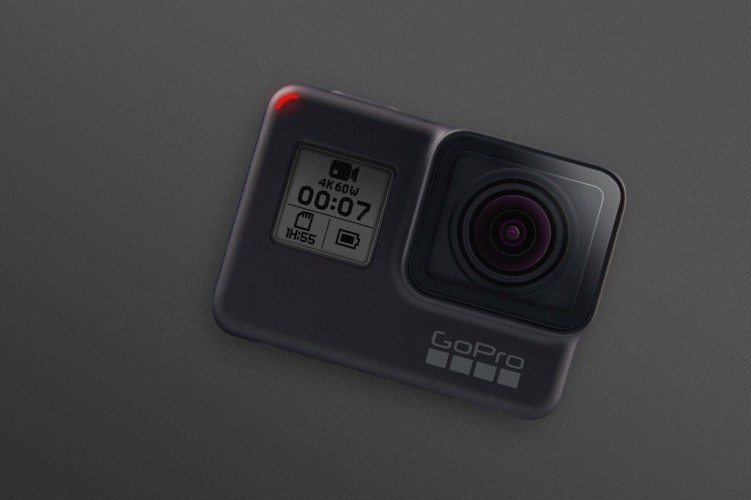 Photo Credit: GoPro
Adventure enthusiasts need the newest incarnation of the GoPro, which is literally tough as nails. It's waterproof down to 33 feet, has voice control capabilities with noise reductions and makes shot look amazing with HDR as well as local tone mapping. It also streams live to Facebook so you can share your memories as you're making them.
Available at $500
THE FASHION & BEAUTY DARLING
Collaborate With Colleen Atwood On Custom-Made Couture  
Photo Credit: Neiman Marcus
If you've ever fancied collaborating with four-time Oscar winning costume designer Colleen Atwood, this is your golden ticket. Through its storied holiday gift guide Neiman Marcus is offering the mother of all opportunities to spend a day collaborating with Atwood on a one-of-a-kind outfit inspired by Fantastic Beasts: The Crimes of Grindelwald. Even better, with the purchase of this stylishly stellar experience, $10,000 will be donated to The Heart of Neiman Marcus Foundation and another $10,000 will be donated to J.K. Rowling's LUMOS Foundation.
Available for $300,000
Tods x Alessandro Dell'Acqua Gommino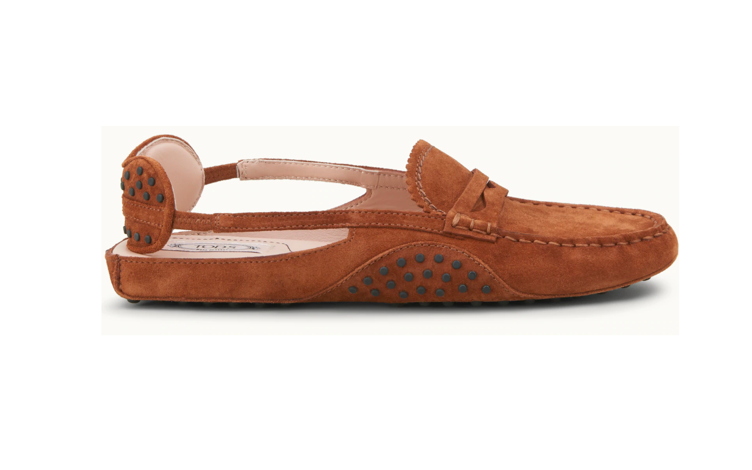 Photo Credit: Tods
Tods' signature driving shoe, the Gommino, has had a modern update from fashion darling Alessandro Dell' Acqua, who adds a sling back crafted in suede to a special collection for the Italian label.The outsole with rubber pebbles, an unmistakable Tod's trait, wraps the foot even more compared to the traditional model and comes in three colors: Tods' signature brown, black and Alessandro Dell'Acqua's renowned pale pink.
Available for $645
The Crafted Collection Men's Leather Dress Shoes
Photo Credit: The Balvenie
The Balvenie, in collaboration with Todd Snyder and CFDA, has created a one-of-a-kind pair of luxury men's dress shoes with a Balvenie wood heel from Raul Ojeda of LA-based Willie's Shoe Service and Don Ville. For the full bespoke experience, one buyer can purchase an exclusive package to meet with Raul in LA. The package includes a domestic round-trip flight to Los Angeles, exclusive fitting for a custom pair of Balvenie-heeled, leather dress shoes complete with a Balvenie tasting experience at Raul's studio, and a two-night stay in a five-star hotel.
Available for $15,000
Sensational Skincare

Turn back the clock thanks to Natura Bissé's Inhibit Holiday Duo. The High Definition Serum smooths and minimizes wrinkles and expression lines while boosting elasticity and evening skintone, while Tensolift Neck Cream smooths the appearance of wrinkles on your neck and décolleté, achieving a rejuvenated look and feel with the very first use. It's seriously like Botox in a bottle. For similarly sensation results, order Eighth Day Skincare's six-step Anti-Aging collection, which helps to freeze time with its Active Placental Matrix, a nutrient dense blend of 600+ bio-identical peptides, immunostimulants and growth factors.
Natura Bisse available for $435 andEighth Day Skincare available for $1,065
RIMOWA's Köln Travel Kit
Photo Credit: RIMOWA
The Köln Travel Kit from RIMOWA features a curated selection of nine Aesop skin, hair, body and oral care products for the purposeful traveler, housed in a signature RIMOWA aluminum case, which is inspired by the RIMOWA Travel Humidor. Inside this sleek travel accessory, expect to find Aesop's Classic Shampoo and Conditioner, Geranium Leaf Body Balm, Parsley Seed Anti-Oxidant Serum, Mouthwash and Toothpaste, among other items.
Available at select RIMOWA & Aesop stores, $399
THE TECH TOY LOVER
Depict Frame
Photo Credit: Depict
Experience works from The Getty, MoMA and beyond without ever leaving your house. Depict is a new platform for consumers to engage artwork in their everyday lives, making over 600 pieces available at any given moment by pairing best-in-class digital technology with exclusively curated artwork.The frame is controlled over Wi-Fi with the Depict iOS app. It offers a unique matte-finish on a 49″ 4K LCD with a finish that reduces reflection, brightness and the glare of a traditional LCD, which actually allows digital art displayed on the frame to look truer to the artist's original intent. The LCD is then set in a mat and wrapped in sleek wood that is painted either black or white.
Available for $899
Mirror
Photo Credit: MIRROR
MIRROR is the world's first nearly invisible, interactive home gym featuring live and on-demand fitness classes. It streams an extensive range of live and on-demand content across a wide range of genres (yoga, HIIT, boxing and more), that's curated for individual goals or moods, led by a team of expert instructors. Content is further personalized in real-time through a combination of user feedback and biometric data. During a workout, instructors give live tips and personal shout-outs. And when the device is off, just a gorgeous and sleek full-length mirror that suits any decor. As a bonus, your instructors will be beautifully outfitted by Hollywood stylist Karla Welch—who dresses Justin Bieber, Katy Perry, Lorde and Olivia Wilde, to name a few—the device's Creative Director.
Available for $1,495
Canon EOS R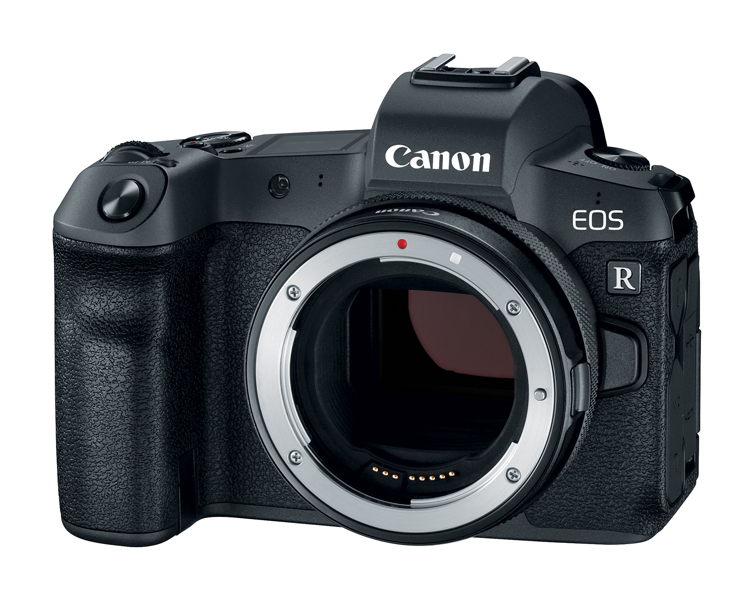 Photo Credit: Canon
To take cutting edge photographs that your iPhone just can't provide, turn to the EOS R, Canon's first full-frame mirrorless camera. Because mirrorless systems are more lightweight and compact, users can wind up sacrificing image quality. Thanks to the brand's entirely new lens mount, the EOS R is able to deliver stunning visuals in a variety of environments (even low-light or totally dark); capture 4K video; and is equipped with an all-new OLED electronic viewfinder and rear touch display flips around, making it a great option for travelers.
Available for $2,299
Tern GSD
Photo Credit: Tern
The Tern GSD is an e-bike that can do it all. It's designed to carry two kids, a week's worth of groceries or 395 pounds of cargo; folds down small enough to fit in a small SUV, van or an urban sanctuary; and adjusts to fit riders 4'9" to 6'4", so literally everyone can use it. With a Bosch drivetrain, its 20" wheel bikes ride just as fast as 700c bikes, but thanks to smaller wheels, it delivers punchier acceleration. It's a great, eco-friendly alternative to that Hybrid you've been lusting after.
Available for $3,999
Smart Luggage
Photo Credit: Delsey
Delsey's Pluggage and AWAY's Aluminum Carry-On are two of the best smart luggage products on the market. The former features a removable LugLoc GPS unit that contains only a trace of lithium (less than 8Wh, which is a lower quantity than that accepted by the FAA and IATA). It has a plethora of features to satisfy even the most demanding techie: a Bluetooth alert mode, which lets you follow your bag's movements on your smartphone; a fingerprint opening; and even an integrated digital scale if you want to weigh it. There is, of course, also a USB port.
Photo Credit: AWAY
Similarly, AWAY's bag has cool, user-friendly functionality, with also a stylish and sleek platinum hard shell that has become the brand's signature. This bag is literally unbreakable; has an ejectable battery that also charges your phone; dual TSA-approved combination locks; 360° Hinomoto wheels; leather-wrapped slow-release handles; an interior compression system; and even a hidden laundry bag. Whichever you choose, you'll be traveling in style.
Delsey Pluggage carry-on available for $720 and AWAY's Aluminum Carry-On, available for $550
FABULOUS FOODIES 
To'ak Chocolate
Photo Credit: Toak
To'ak is known to be some of the world's most expensive and rare chocolate, using cacao dating back to more than 5,300 years. Its newest bars pull inspiration from influential art, fine spirits and mother nature. Our pick is the new Art Series Guayasamin, a 77% cacao confection that's matured for three years. With this rare delicacy, you'll find tobacco and caramel on the nose, honey, dark fruits and buttery caramel on the palette and a nutty, earthy, honey-coated finish. It's bliss in a box.
Available for $685
The Sugarfina Candy Wall
Photo Credit: Neiman Marcus
This is what we call sweet success. Via Neiman Marcus' Fantasy Guide, the giftee of this Willy Wonka-esque gift will travel first class to the Italian Riviera and check in to the Belmond Hotel Splendido, before driving to a Sugarfina factory in Genoa, where they'll spend the day with founders Rosie O'Neill and Josh Resnick. A working session with the creators to craft custom candy flavors follows a behind-the-scenes tour, though the candy magic doesn't stop there. Back home, endless amounts of candy—your bespoke flavors included—will arrive for up to three years, amounting to approximately one million pieces. Because 1,000,000 pieces obviously need a rather large home, a candy bar will be installed in the recipient's home and stocked with his or her favorite Sugarfina sweets. Sugar coating this gift is totally not necessary.
Available for $325,000
Roe Caviar 
Photo Credit: Bergdorf Goodman
Give the gift of American white sturgeon caviar to class up your dinner party. The 250 gram box comes with four ROE branded-mother-of-pearl spoons and a custom-made ROE tin key. This beautiful delicacy serves eight.
Available for $695
Dean & Deluca's Ultimate Party Gift Set
THIS is the present for the ultimate gourmand—a gift set filled with domestic culinary treasures and international delicacies alike. This fabulous gift set from upscale Manhattan-based grocery store Dean & Deluca includes high-end item such as a Chemex coffee maker; Hario kettle; Galup Candied Chestnut Panettone; a wheel of 2017 Alpkäse cheese; Giuseppe Giusti 100 Year Old Balsamic Vinegar; and Jamon serving tongs.
Available for $10,000
Smeg & Dolce & Gabbana Blender 
Photo Credit: Smeg
Inspired by the warm glow of the Sicilian landscape, this blender by Smeg in collaboration with Dolce & Gabbana is adorned with vibrant decorative motifs perfect for reminding you of the lemons native to the Italian island. On this colorful statement piece you'll find a motif of Mount Etna, framed by prickly pears, Mediterranean oranges and lovely lemons (all of which it chops, dices and blends, by the way).
Available for $900