Photo Credit: Mark Seliger
David Yates is a man who makes magic. He may not cast actual spells, but what he does on the silver screen is absolute wizardry—especially when the subject matter is J.K. Rowling's Wizarding World. On November 16, the British director's sixth magical film with Warner Bros. Pictures, Fantastic Beasts: The Crimes of Grindelwald, hits theaters, and we're certain that he'll strike box office gold as he's done with every film since 2007's Harry Potter and the Order of the Phoenix. The film—whose screenplay was written by Rowling herself—features an ensemble cast led by Eddie Redmayne, Katherine Waterston, Dan Fogler, Alison Sudol and Ezra Miller, with the new additions of Jude Law and Johnny Depp. We chatted with Yates about his all-star cast, his extreme directing style and what it really takes to make a magical motion picture.
This is your sixth Wizarding World film. How has this fantasy world evolved for you since you started shooting Order of the Phoenix in 2006?
It has become much more grown-up, less focused on school and more on the world beyond it.
What do you enjoy most about working alongside J.K. Rowling?
Many things. She's incredibly inventive yet rarely precious; she's interested in the best and most interesting way to get her story to the screen. And she is very down-to-earth, despite her global success. Above all, it's fun and enjoyable working with her.
You have a new crop of wizards and witches in Fantastic Beasts: The Crimes of Grindelwald. Who—most surprisingly to you—integrated him or herself into this magical world?
Actually, it wasn't much of a surprise, but Jude Law brought a warmth and a wit to the role of Albus Dumbledore. That's quite a pair of shoes to fill for any actor, and I felt from our auditions that Jude would bring something very special to this iconic character.
Johnny Depp as Gellert Grindelwald is perfect casting, but how was it decided that Jude Law should play a young Albus Dumbledore? What about him made you think "Dumbledore"?
Jude has a charm, warmth and a wit, and I could see Jude and Johnny working well opposite each other. This first story only hints at and glimpses their past relationship. Future films will explore it more fully.
Photo Credit: Warner Bros.
Of the six films you've directed, which has been your personal favorite experience to shoot and why?
This is my eighth motion picture, and of the six films I've directed in this particular series, I would say this is my favorite, next to Harry Potter and the Deathly Hallows – Part Two. It was good to be invited back into the wizarding world with the first Fantastic Beasts film. You put a family together when you set a film up, and its success in 2016 gave us the opportunity to come back together again and to explore how we could build on what we had established with film one. With a sequel, you're reunited with people you love working with, and we all shared an ambition for what this series of films can deliver for a global audience.
Because you're responsible for how J.K.'s world manifests itself on the big screen, is it impossible to take the magic of the films home with you?
I always take the film home with me. Making movies on any scale isn't a job, it's a life, and some days you don't quite stop thinking about them until your head touches the pillow at night, and then you dream about the movie…
[Harry Potter's] Emma Watson once said that you like to push the cast and crew to physical and emotional extremes. Would you say that's true?
Making movies on this scale pushes everyone to extremes; they are marathons and require a certain stamina and maturity to get them to the screen. For Emma at that time, it was an inevitable process to ask more and more of her and Dan [Radcliffe] and Rupert [Grint] as the films got more grown-up, and they all responded to that challenge.
How do you get your actors to push themselves, specifically, and take risks?
My main goal is to get them to forget the process around them and focus in on the moment and the relationship they're experiencing as the character. I'm a big fan of multiple takes without stopping, so we can find things in the moment as we work that surprise us all.
It seems shocking that out of nine Wizarding World films, only one won an Oscar, and only three total were nominated. What are your thoughts on that, given that the movies are some of the top-grossing of all time?
Awards are lovely, but we really make these movies to entertain audiences, and if they are successful, it means we have succeeded in that goal. That said, it is always terrific when aspects of the work we do get acknowledged. A lot of love and attention to detail is poured into every moment of these films by everyone who is working on them; we all feel the responsibility of telling these stories in the most beautiful way possible.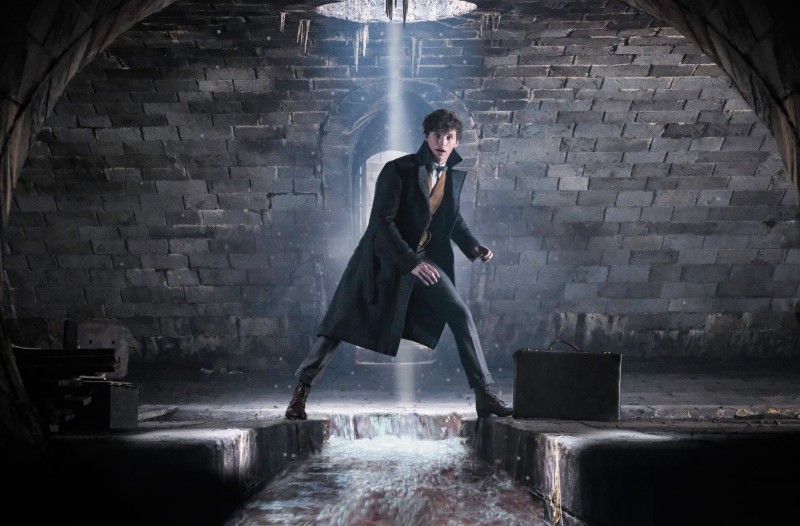 Photo Credit: Warnes Bros.
Subscribe to discover the best kept secrets in your city