Park MGM on the Las Vegas Strip continues its transformation into a world-class resort with the opening of the intimate new Spa & Salon at Park MGM on the property's second floor. Guests are privy to relaxing massage and body treatments, new-age skin care, hair and nail services, and amenities like seasonal fruit, anti-gravity relaxation loungers and champagne.
"The boutique feel, coupled with the warm, personable staff only serve to enhance the amenities offered in the spa," notes spa director Laura Wood. "Our guests love the heated loungers in the jacuzzi area and the welcoming feel in our relaxation area, where you can enjoy a cup of coffee or a hot tea. We also offer seasonal fruit with a biscotti or a cranberry-spice trail mix."
Photo Credit: MGM Resorts International
The spa has separate male and female jacuzzi, steam room and sauna, a co-ed relaxation room, and treatment rooms of all different sizes and layouts. The menu of services is fairly straightforward, featuring a variety of massages, body treatments and facials incorporating new-age techniques and ancient traditions. There are also several enhancements available.
Services are available in the spa, at the South of France-inspired pool or in guest rooms, by special request.
The triangular-shaped salon is located next door. Guests at the salon are greeted with a glass of rosé or champagne before enjoying any number of nail or hair treatments, including cuts, mani-pedis and waxing.
When it came to developing spa treatments, Wood, a licensed cosmetologist with 15 years of experience working in aesthetics, put a particular emphasis on skincare. She utilized her expertise to seek out an exclusive organic natural skincare line.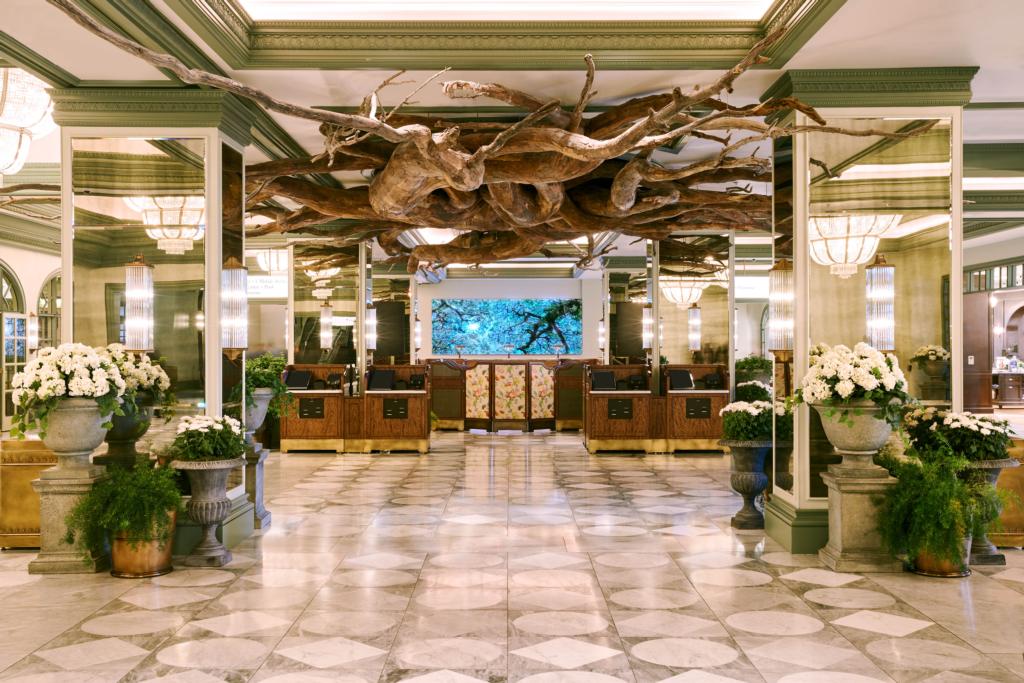 Photo Credit: By Patrick Michael Chin
"It was important to me to bring a skincare line that was unique and special to the Spa at Park MGM," says Wood. "Michelle Orenstein is the founder and creator of Enessa skincare products. I reached out to Michelle and shared my vision for the spa, then we worked together to create signature treatments such as the Park Signature Plant Cell Facial by Enessa."
The signature facial uses whole plant cells and the highest form of stable, plant-based vitamin C Kakadu Plum extract to repair, firm and hydrate the skin. Additionally, a skilled therapist utilizes aromatherapy oils, Enessa's Plant-Cell Lifting Serum and light massage to leave skin silky, uplifted and radiant.
Wood also touts the benefits of the spa's Priori Skin Fix services for face and body. The cosmeceutical Priori skincare brand is not only used during face and body treatments but is also available for purchase at the spa. It takes an adaptive biotechnology approach to skincare by communicating with the cells to repair and nurture skin conditions in real time. "The skin is resurfaced, left glowing with immediate results," says Wood, adding, "We tend to overlook the anti-aging benefits when it comes to body care."
Photo Credit: Courtesy MGM Resorts International
Another spa menu highlight is the Sothys Hanakasumi Body Treatment, which relaxes the body and nourishes the skin with floral notes of Cherry Blossom and Lotus. A warm exfoliating cream softens and smooths the skin while an invigorating foot massage utilizes warmed aromatic shea butter to bring blissful relaxation to the mind, body and soul.
Park MGM is already a huge hit with exciting dining offerings like Primrose and Bavette's, the gin-focused Juniper Cocktail Lounge and must-see residencies in the Park Theater. It will continue its evolution throughout 2018 with the debut of NoMad Las Vegas, the On the Record nightclub developed by LA's famed Houston Brothers, a new dining concept by Roy Choi and highly-anticipated food experience, Eataly.
The Spa & Salon is open daily from 9 a.m. to 6 p.m. Services can be scheduled online.
Subscribe to discover the best kept secrets in your city