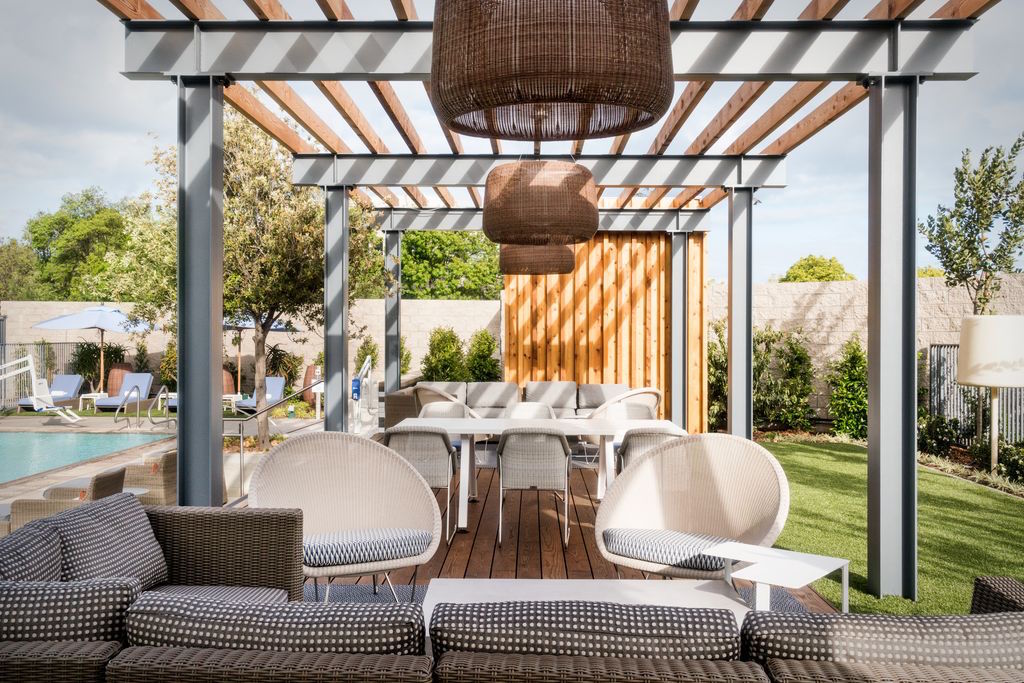 Some hotels reflect the unique place that they are in while others transport guests to an exotic locale. The recently opened Hotel Nia in Menlo Park is the latter. Step into the high-ceilinged lobby and an instant calm fills the air. Beyond the large glass doors is an inviting outdoor space that brings to mind a modern Mediterranean courtyard. Although Nia is directly next to the 101 in an underdeveloped former swampland, the upscale hotel is a far cry from its direct surroundings.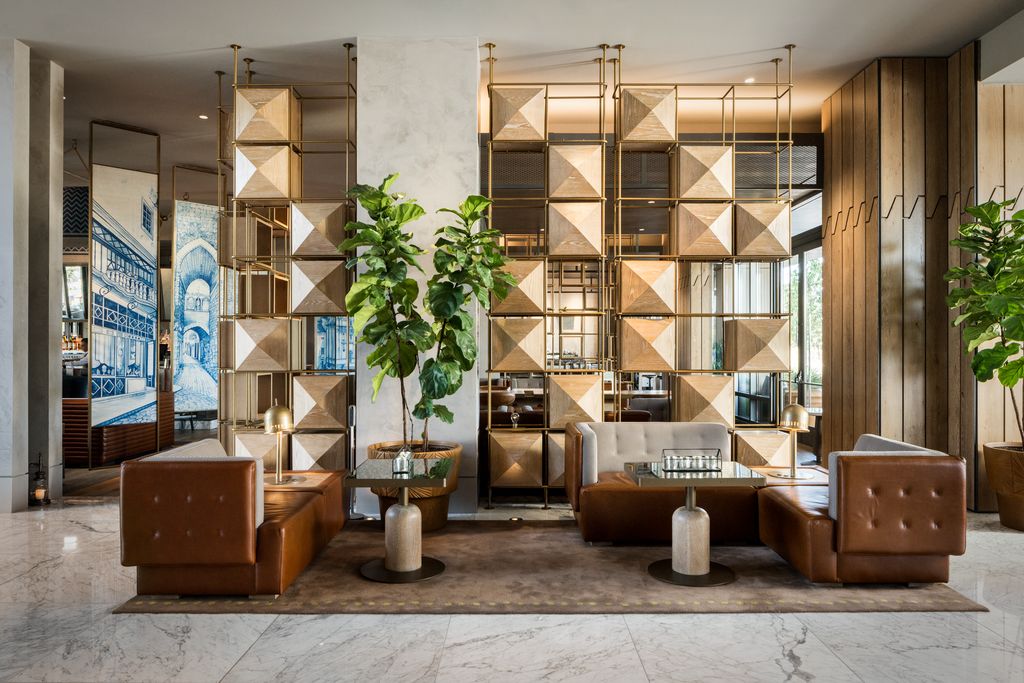 "People are always surprised at how quiet it is here," the receptionist says in the front lobby as you check in. It's also surprising that the hotel feels worlds away from the hustle and bustle of Silicon Valley—there is nothing business or corporate about it. The six-month-old, 11-story, 250-room hotel is filled with custom-made furniture designed by McCartan. Filled with white and grey marble, reclaimed wood sculptures, oversized fiddle leaf fig trees, and masculine leather couches, the lobby is sleek and contemporary, but not overly cold.
The guest rooms have unique design elements—orange plastic armoire doors, abstract-printed carpets, faux bois wallpaper, geometric tiled showers, and light art installations on the bathroom mirrors. There is a futuristic space-like quality to the decor that is both sophisticated and tech-oriented. Classic elements, like plush white bedding, textured fabric headboards, and functional workstations, keep the rooms grounded and comfortable.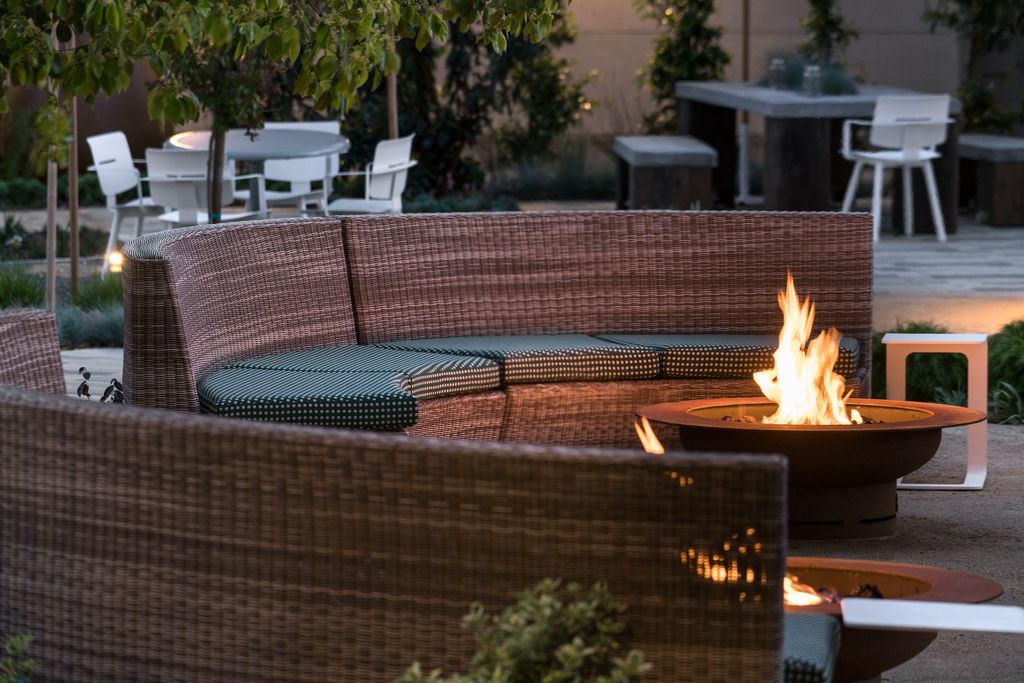 The Nia's piece de resistance is its ample outdoor space—the only word that can be used to describe this massive lawn, courtyard, and pool area is an oasis. The large lawn is dotted with games and surrounded by the hotel's indoor/outdoor event space. With various types of seating including lounge-style coach setups and brass patio tables with umbrellas, soothing water fountains, and interesting fire elements, the courtyard is the space that feels quintessentially Silicon Valley. It's what one might imagine the versatile grounds of Apple or Facebook look like.
The pool has chic cabanas ideal for lazy afternoons and a bar that serves up sensational specialty cocktails with seasonal ingredients like kiwi and strawberries. Recently, Nia launched a day access to the pool which is a godsend to locals looking for some fun in the sun. The cabana package features access to a guest room, $50-beverage credit, and a poolside cabana.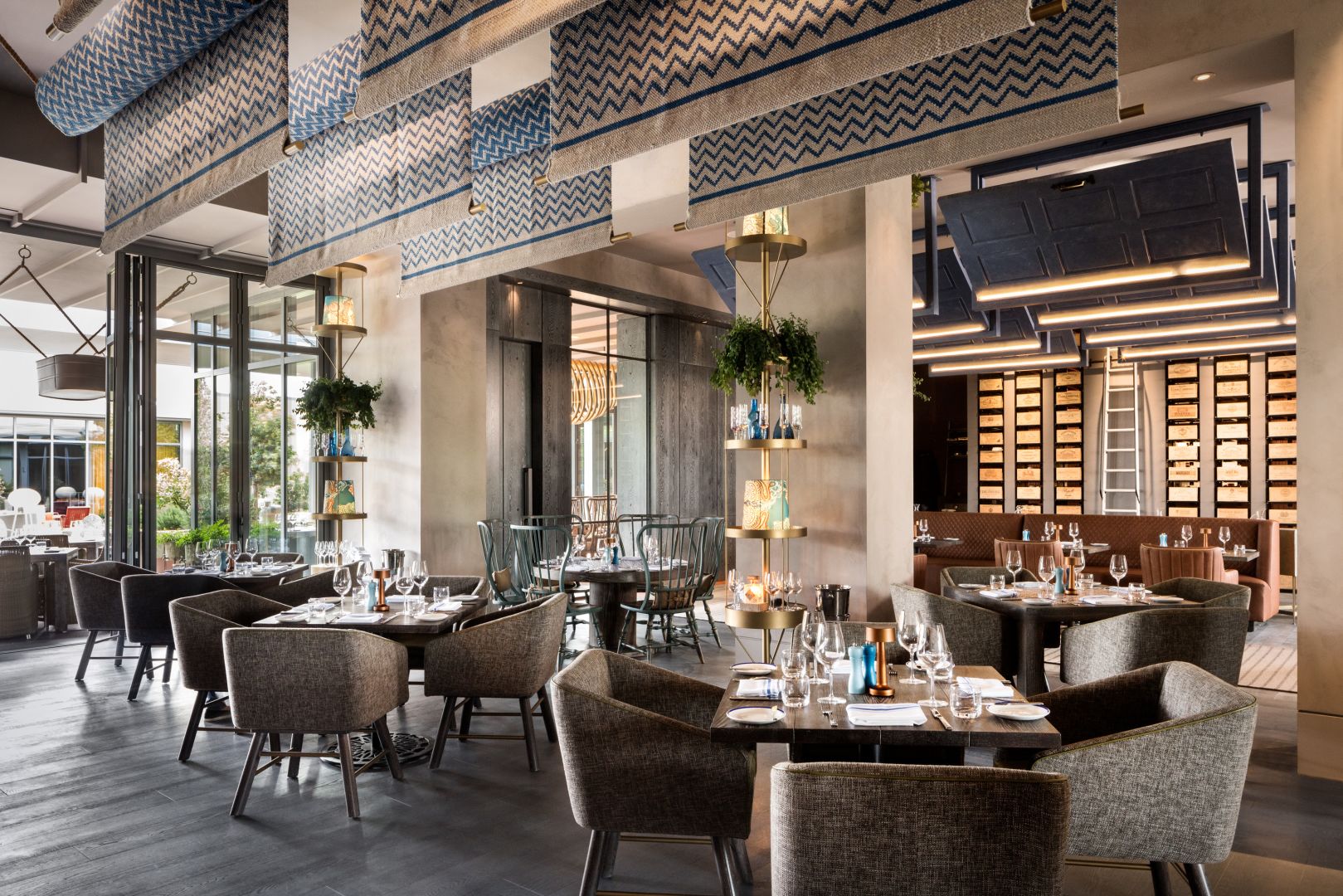 Nia's restaurant, Porta Blu, is another reason South Bay residents should pay a visit to this cheerful resort. Chef Michael Riddell serves Cal-Mediterranean cuisine in a Spanish-inspired setting. The design mimics the rest of the hotel—with interesting details—from rolled up rugs hanging from the ceiling to blue-and-white paintings—catching diners eyes. Since it serves the hotel, Porta Blu is open all day for breakfast, lunch, and dinner. Whatever meal you go for, you won't be disappointed.
The food is savory and satisfying with traditional Greek, Italian, and Spanish flavors featured throughout. Order the mezze plate to start and enjoy housemade pita with rich nutty muhammara and creamy hummus. Manila clams with chorizo come in a fragrant and finger-licking good broth with toasted bread to soak up the succulent juices. Tagine is the chef's signature and a must-order. The lamb variation comes with tender-fall-off-the-bone meat and perfectly seasoned pearl couscous.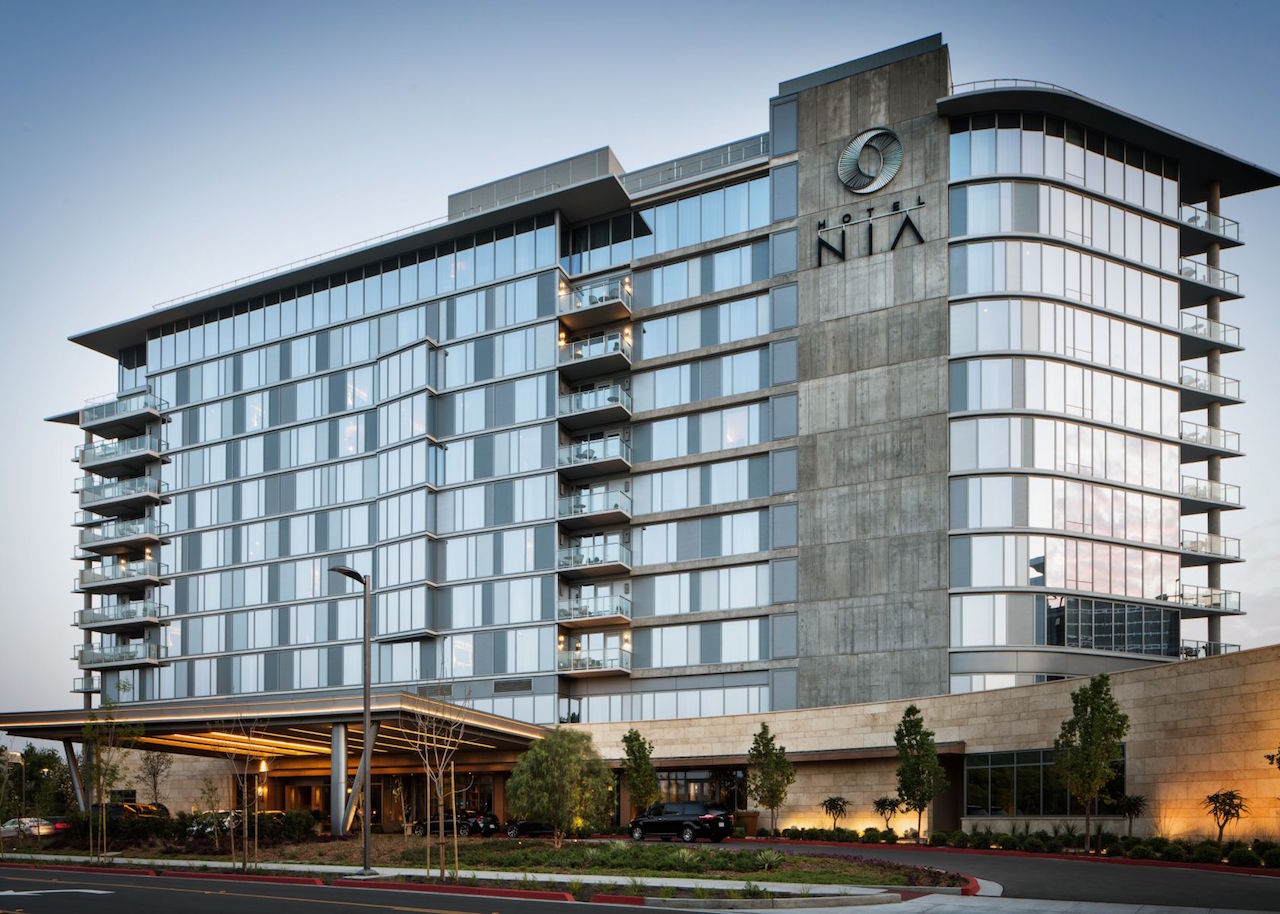 Nia's proximity to Facebook and Stanford makes it a prime spot for visitors to the area to book a room. It's also a great place for locals looking to experience something new or partake in a staycation. Nia offers a variety of events like live music, yoga in the courtyard, and even an upcoming beer making workshop. With its distinctive decor, attentive service, and outdoor amenities, Hotel Nia is a resort that transports and delights.
All photos courtesy of Hotel Nia.