It's often said what happens in Vegas, stays in Vegas but that doesn't necessarily apply to helicopters and private jets. A vacation from your vacation, Las Vegas aviation tours are a fun way to take off and explore the southwest from a totally different perspective.
Local aviation companies offer many different flight experiences including sunset sightseeing trips over the bright lights of the Las Vegas Strip and daylong excursions to the Grand Canyon. You can even tie the knot with a helicopter wedding package (love is indeed in the air).
Looking for something a bit more extraordinary and exclusive? From yoga in uncharted territory to wine tasting at an acclaimed vineyard, these three lavish aviation tours are the most high-end ways to go sky-high during your next Vegas visit.
HELIYOGA
Photo Credit: Courtesy Maverick Helicopters
Possibly the most exclusive yoga class in Southern Nevada, HeliYoga – Limitless combines a luxury helicopter ride to one of the most remote destinations in the southwest United States with a private and inspirational yoga class. This partnership between Maverick Helicopters and award-winning yoga company, Silent Savasana, transports you to one of the highest peaks of Valley of Fire State Park; a spot only accessible via helicopter.
Your two-and-a-half hour experience (hotel to hotel) begins with limo coach transportation from the Strip to Maverick Helicopters' Las Vegas terminal. You'll be joined by your yoga instructor for a flight in an upscale aircraft with voice-activated headsets, leather seating and wraparound windows. Upon arrival at Valley of Fire, you'll have a chance to explore the extraordinary red, sandstone formations by foot before unfurling your mat for a 75-minute yoga session.
Photo Credit: Courtesy Maverick Helicopters
Created by renowned instructor Dray Gardner, Silent Savasana teaches classes focused on balance, discipline, focus, determination and strength of mind.  They are enhanced by wireless headphones which transmit the instructor's voice and a specially curated playlist. HeliYoga aviation tours conclude with a champagne toast and a return flight over downtown Las Vegas and the Las Vegas Strip.
Available via private charter only, HeliYoga – Limitless costs $3,499 for up to six participants. Everyone receives a lululemon yoga mat.
By the way, Maverick Helicopters is the exclusive provider of helicopter transportation to the annual Electric Daisy Carnival (EDC) at the Las Vegas Motor Speedway.
---
HELI & WINE EXPERIENCE
Photo Credit: Courtesy Sundance Helicopters
Little-known fact: Nevada is home to a handful of vineyards and wineries. The Pahrump Valley Winery is the state's largest and home to the fine dining restaurant Symphony's, named for the winery's gold medal-winning wine. Sundance Helicopters has been partnering with the winery for the Heli & Wine Experience since last year offering a scenic flight over beautiful landscapes combined with the opportunity to sip wine and savor a gourmet meal. 
The 4-hour experience (hotel to hotel) begins when you're picked up by stretch limousine on the Las Vegas Strip or downtown. You're driven to the Sundance Helicopters terminal, where you soon take off in a luxury helicopter with an extra-wide cabin and expansive glass windows offering panoramic views.
Photo Credit: Courtesy Sundance Helicopters
The Pahrump winery is about an hour drive from Las Vegas, making it a relatively quick helicopter ride. On the way, the helicopter passes over the picturesque Red Rock Conservation Area and Mount Charleston Peak before landing at Pahrump Valley Winery for a wine tasting and four-course dinner. The flight returns at dusk providing unparalleled views of the glittering lights of the Las Vegas Strip.
Cost for the Heli & Wine Experience is $499 per person or $2,499 for a private charter (fitting up to seven people). All guests receive a personalized bottle of wine to commemorate this one-of-a-kind wine tour.
---
SOAR TO SANTA MONICA
Photo Credit: Courtesy All In Aviation
For the ultimate power lunch in Las Vegas, fly your friends across state lines to California. Slip into the pilot seat of some of the most sophisticated aircraft on the market during a flight lesson from All In Aviation.
With the Soar To Santa Monica package, you will fly three guests on a round-trip flight from the Henderson Executive Airport to the beautiful beachside city of Santa Monica in a Cirrus SR22, with the help of a certified flight instructor. The aircraft is equipped with air conditioning, glass panels and an airframe parachute system.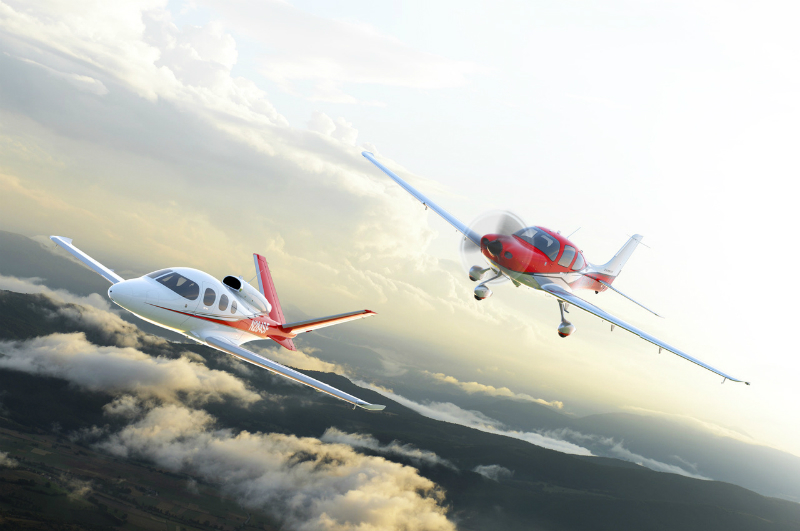 Photo Credit: Courtesy All In Aviation
Starting in December, the "destination training" will also be available with an upgrade to the world's first personal jet, a Cirrus SF50 Vision Jet. This highly sought-after personal aircraft has a waiting list of more than 600 people. All In Aviation tours are the only ones in the southwest offering lessons in the SF50.
The Soar to Santa Monica package starts at $1,500 (for three hours).
Subscribe to discover the best kept secrets in your city