Photo Credit: Robert Malmberg
Matt Abramcyk, restaurateur and Tribeca visionary, has joined partners Nathan Lithgow (Café Altro Paradiso, Sauvage) and pitmaster Franco V. (of critically acclaimed summer pop-up Fort Gansevoort BBQ) to open Holy Ground speakeasy. Inspired by the Tribeca area once known as the "Holy Ground" in the mid 1700s, the new restaurant and bar pulls inspiration from New York's rich underground history to create a dining destination where the classic New York City steakhouse intertwines with barbecue and smoked meats.
Photo Credit: Robert Malmberg
"I'm a New York City kid trying to do barbecue in a New York City way," says Franco V.. "This area of the 1700s was owned by Trinity Church and at a certain point it became the grittiest part of New York. Because it was still owned by the church, people called it the 'holy ground.' It sets the vibe for our restaurant… taking pieces from our city's history and from old-school staple New York restaurants like 21 Club and Keen's, and mixing that with our take on barbecue."
Photo Credit: Henry Hargreaves
Along with Frano V., executive chef Tadd Johnson (Navy, The Smile, La Pecora Bianca) is helming the kitchen and together they have created a menu featuring dishes served table-side, like the Kurobuta Pork Shoulder and Brisket pulled and sliced to share, and Beef Ribs torched on the spot. Other mains include Kings Cut Prime Rib with Smoked Herb Jus, Whole Fish char grilled or salt baked, Half Smoked Chicken, and what is getting quite the buzz, a glamorous Thousand Dollar Steak which is offered at market price nightly.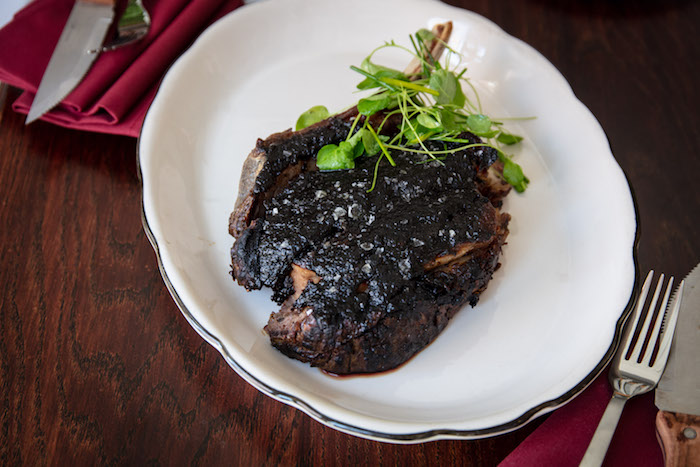 Photo Credit: Henry Hargreaves
The Thousand Dollar Steak is a domestic wagyu, 21 oz. bone-in ribeye that's been aged in-house for 20-30 days. It's then grilled on a char grill, which takes about 45 minutes to cook through to a perfect medium rare temperature, and is then topped with a house made sweet onion demi-glace that takes 2-3 days to make. The price is not actually $1,000, but instead $130 per steak and may vary depending on market price.
The idea behind calling it the "Thousand Dollar Steak" is that the restaurant team feels that's what it's true value is. The entire cooking process requires a lot of care and time that goes into making this steak.  Calling it by this cheeky name evokes a sense of pride in the dish they're offering. Sort of like, "this steak is SO good, it should cost a thousand dollars!"
Location: 109 W Broadway, New York, NY 10013