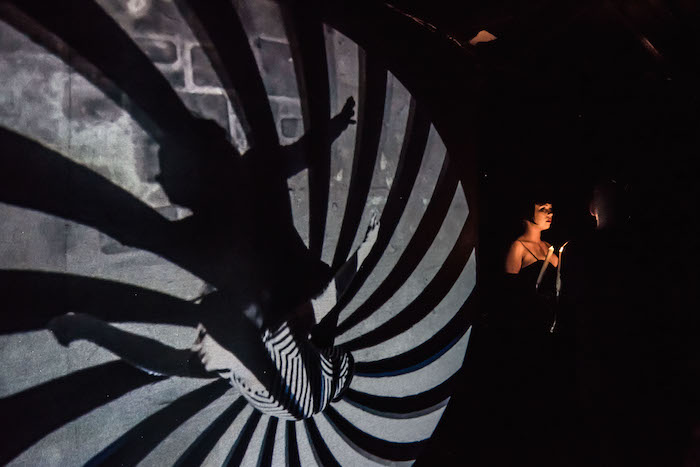 Photo Credit: Jane Kratochvil for The McKittrick Hotel
The team behind legendary Sleep No More is back with their latest dining extravaganza: The Last Supper – A Hypnotic Dinner Party at The McKittrick Hotel. This summer, The McKittrick Hotel will transport guests to another place and time for an all-new experience.
The new limited engagement soirée features spellbinding revelry taking place in The Attic, a newly-discovered space within the hotel, through July 21. The Lost Supper – A Hypnotic Dinner Party invites guests on a mysterious journey into the subconscious, where enigmatic hosts titillate the audience with surreal live performances and tantalizing fare.
The Attic, a never-before-seen room, has been unlocked especially for the event, which is packed with whimsical entertainment in true McKittrick fashion. The Lost Supper also features the hotel's signature seasonal Sleep No More cocktail and a classic three-course dinner prepared by the hotel's Executive Chef Pascal Le Seac'h.
The Lost Supper – A Hypnotic Dinner Party is the latest in the evolution of dining and entertainment options produced by the hotel. Previous engagements include Scott Silven's At The Illusionist's Table, a magical dining experience returning for a second run in September, and The Club Car, a pop-up surf & turf restaurant helmed by Frenchette chefs Lee Hanson and Riad Nasr last summer.
Time, Location, & Information:
The Lost Supper performances are currently offered Wednesdays & Thursdays at 7:30pm, and Fridays & Saturdays at 6:00pm and 8:30pm.Starting the week of July 10, performances will be offered Tuesdays-Fridays at 7:30pm and Saturdays at 6:30 and 9pm.
The McKittrick Hotel: 530 W 27th Street, New York, NY 10001
Tickets range from $175-195 per person for Standard admission and $275-295 for a Cloud Nine Champagne upgrade.
*Due to the holiday the show will run on Tuesday July 3 instead of Wednesday July 4