Photo Credit: Courtesy Clique Hospitality
Now that Andy Masi has opened APEX Social Club atop the Palms Casino & Resort, the nightlife entrepreneur can honestly say he's exorcised the spirit of Ghostbar.
His company, Clique Hospitality, introduced a sophisticated and social vibe combined with one-of-a-kind art, crafty cocktails and stunning Las Vegas views, completely redesigning and redefining the iconic 55th-floor space.
"That was the challenge," admits Masi, who splits his time between San Diego and Las Vegas. "We have this iconic room that everyone knows as Ghostbar. We wanted to make something that is so impactful, so cool, so different, that it really kind of took away what it used to be."
Photo Credit: Clint Jenkins
Masi is an innovator when it comes to the city's nightlife scene. He's also among the founders of modern-day Las Vegas nightlife. When he originally came to town to open the House of Blues at Mandalay Bay Resort & Casino in 1998, hotel nightclubs and table service simply didn't exist here.
"When we got the opportunity to do the first bottle service nightclub in a casino with Light, it was totally unique. No one had ever heard of it," he recalls of his days as co-founder of The Light Group along with Andrew Sasson. "People thought we were crazy that we wanted to charge $300 for a bottle of vodka. They thought we were nuts for making people dress up and not letting people in with sneakers and shorts and hats."
Not only were they not crazy, but at its prime, The Light Group operated 26 bars, clubs and restaurants in hotels on the Las Vegas Strip. "I think we really hit the market at the right time," says Masi. "There was nightlife here, but nothing like that. We evolved it."
The Light Group was acquired by the Hakkasan Group in 2014 and Masi founded Clique Hospitality in 2015. His company operates CliQue Lounge at the Cosmopolitan of Las Vegas and APEX and Camden Cocktail Lounge at Palms as well as clubs, restaurants and bars at Red Rock Resort, The Mirage and Green Valley Ranch, and three venues in the Pendry Hotel in San Diego's Gaslamp Quarter.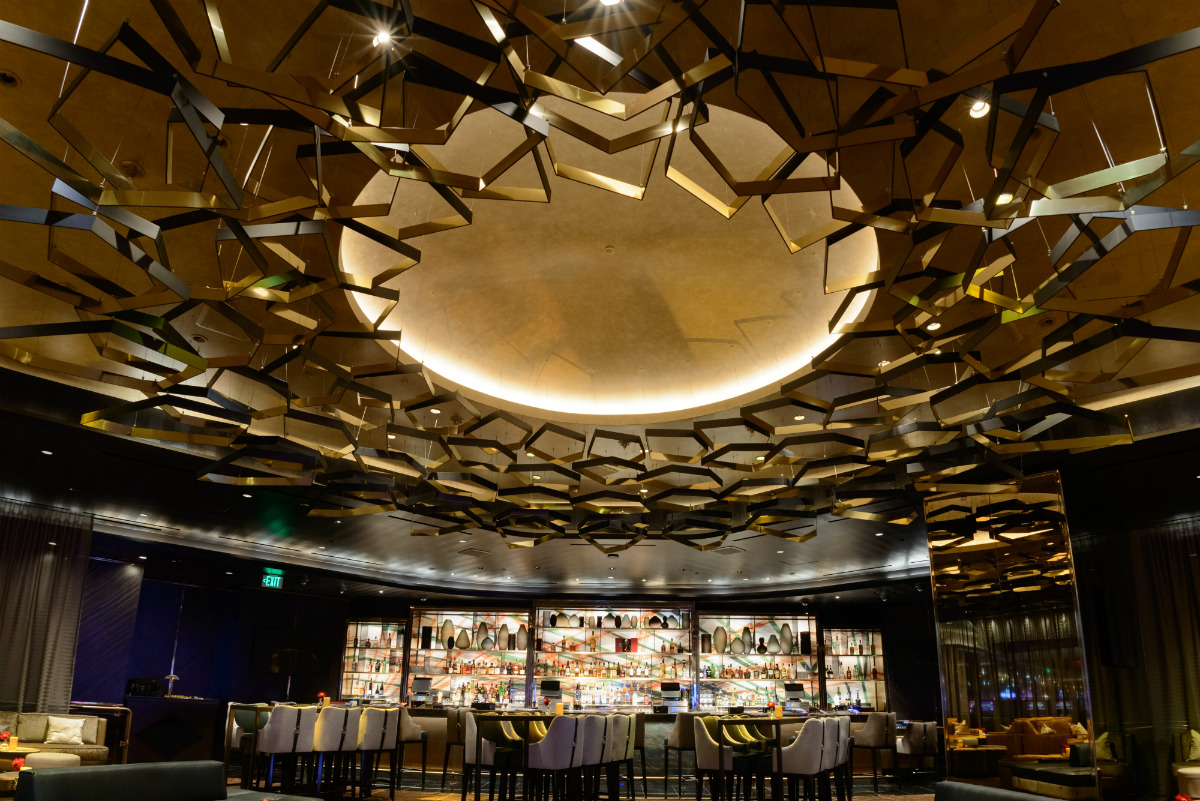 Photo Credit: Photo courtesy Clique Hospitality
While one might say that hanging on the open-air patio at APEX is tantamount to being on top of the world, Masi also expects Camden Cocktail Lounge downstairs to become a world-class destination.
"It's a cool vibe, it's incredibly beautiful, it has an incredible cocktail program and it has two insane Richard Prince's that should be hanging in a museum," he says. "Design-wise, it wins. I'm sorry to bars in casinos all around Vegas, but to me, design-wise it's the nicest."
Masi and his team, including his frequent nightlife partners Ryan Labbe and Jason Craig, view their venues like Camden, Clique and APEX as the next phase of the Las Vegas nightlife evolution; one which values conversation over crowds, social interaction over social media.
"There's no other city in the world that has a better nightclub scene than Las Vegas, but there's a market that doesn't want to have that big nightclub experience anymore," he explains. "Many people now want the days of just going to a bar and talking to people. They want to be involved. They want the high energy level of a club without the experience of being on a dance floor and standing there like cattle."
Photo Credit: Clint Jenkins
Masi sees this thirst for social nightlife experiences as a growing trend in Las Vegas, but he also notes that most venues offering it are located in downtown's Fremont East District, not on the Las Vegas Strip.
"They have some cool, great bars downtown, the only problem is … not everyone wants to go downtown," he says. "If you go to any great city—New York, Los Angeles, Miami, Chicago, London, Paris, you name it—there are cool bars with great music and cocktails and social scenes. They're not mega nightclubs someone spent $100 million to build. It's odd that Vegas doesn't have that yet, really. That's what we're shooting for."
Las Vegas nightlife continues to evolve, and Masi remains confident that Clique Hospitality stands on the apex.
Subscribe to discover the best kept secrets in your city