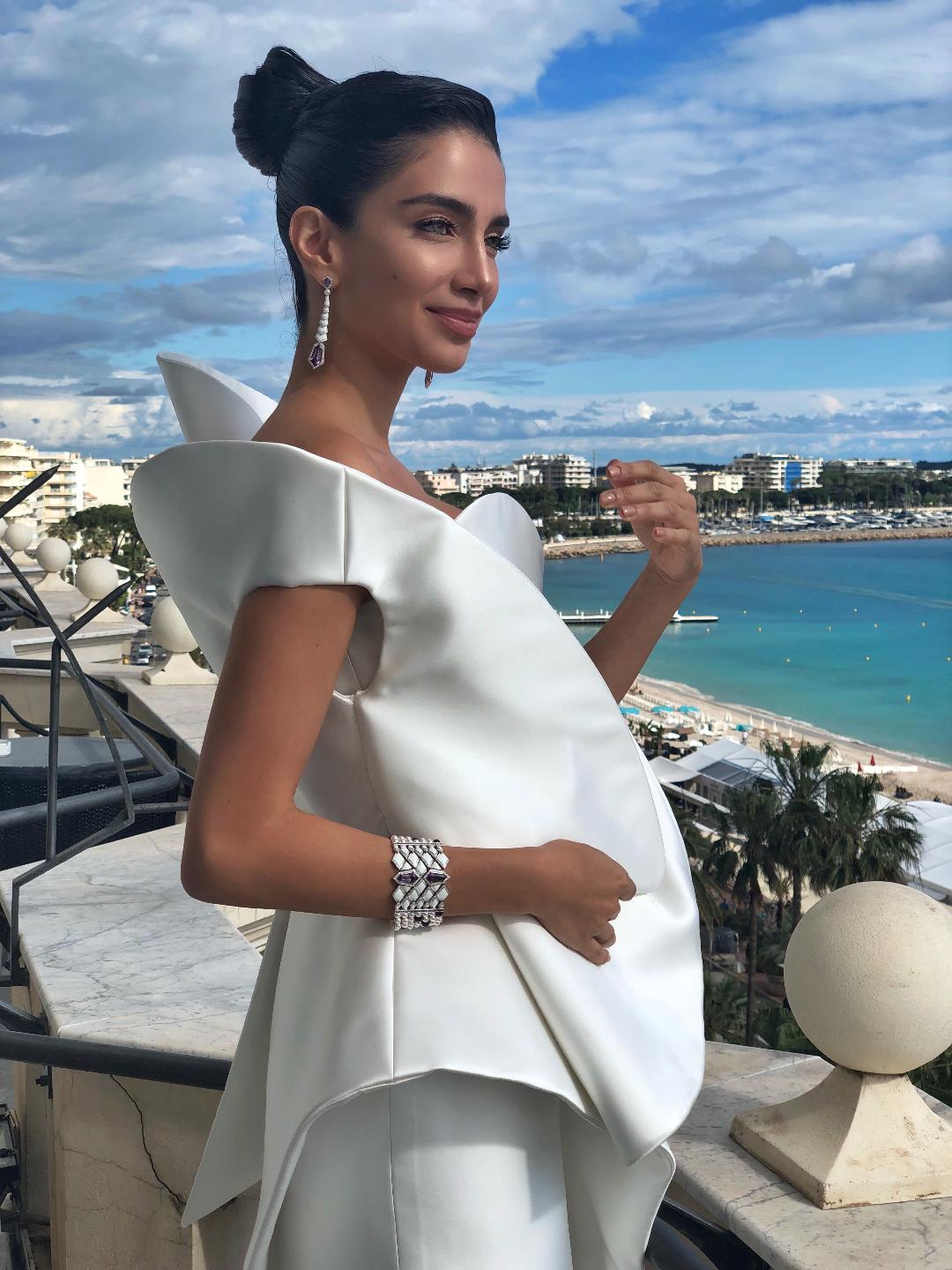 The 1920's was one of the most classical eras in fashion and entertainment.  We see it often circling back into trends on the runway and beauty.  Gangster films and F. Scott Fitzgerald's The Great Gatsby – Brooks Brothers, Prada, and Ralph Lauren have all created entire collection inspired by the book–tend to be the most popular references. Recently, the roaring twenties re-emerged in the most fabulous way possible—beautiful Hollywood actors donning ultra-glam Gatsby inspired jewelry on the red carpet of the 71st Cannes Film Festival at Palais des Festivals.
The Swiss jewelry house of Avakian pays homage to the glitz, glamour and charm of old Hollywood and Gatsby with exquisite new additions to its Gatsby Collection. You'll find geometric shapes, high contrast colors, and pastel hues rendered using amethysts, white pearls, white enamel, and diamonds throughout the range.
Our favorite Queen, actress Dame Helen Mirren was at Cannes and was spotted on the red carpet for the premiere of "Les Filles Du Soleil," the first film to hold a press conference made up of a 100% all-female audience. She adorned a necklace and earrings from Avakian's High Jewelry Collection. The set draws upon the style of the Art Deco era with vibrant and contrasting colors reminiscent of the times. The one-of-a-kind jewels float in a lacy web of pavé diamonds that entraps yellow sapphires, accented by pear-cut and shield-cut blue tourmalines on the lace mesh. Graduating in size, the gem-encrusted lozenge motifs of the unique pair of earrings and the necklace are interlinked on a diamond pavé circle chain.
Photo Credit: Stephane Cardinale – Corbis/Corbis via Getty Images
Model and humanitarian Jessica Kahawaty also wore Avakian jewelry and was quite busy walking the red carpets for both "Caphernaum," a film set in Lebanon that tackles issue of child endangerment and "Blackkklansman," a crime comedy by visionary filmmaker Spike Lee.
She debuted at Cannes on the red carpet of "Blackkklansman" wearing striking drop amethyst earrings. Taking an understated approach to design, accents in enamel and gemstones subtly remain in the limelight, while each small geometric element lends the Gatsby inspired earrings a flexible wearability – the versatility is hinged on the brand's core design philosophy. The maison, which launched the Gatsby amethyst earrings last year, has brought out new variations in turquoise and red coral, which is very reminiscent of Daisy Buchanan.
Photo Credit: Vittorio Zunino Celotto/Getty Images for Kering
Two days later the stunning model shut down the red carpet for the 71st Cannes Film Festival with Avakian's latest "La Mystérieuse" collection. With a hint of Art Deco, "La Mystérieuse" clearly demonstrates the House's love of colors, playfulness, and unusual shaped stones, where the earrings can be reversed and worn on 2 different sides, each displaying different colored diamonds
Photo Credit: Photo by Stephane Cardinale – Corbis/Corbis via Getty Images
Actress Michelle Rodriguez also walked the red carpet for "Blackkklansman." She chose a glamorous, one-of-a-kind Gatsby inspired jewelry necklace and ring, set in white gold. Both capture a spring garden in full bloom with dancing peacocks. Perfect for Spring-Summer festivities, this statement necklace features stacked motifs that are adorned with diamonds, emeralds, and sapphires referencing blossom petals and peacock feathers. Alternating sapphire and emerald accents on the motif add visual interest to the bold necklace with a diamond-encrusted collier that entwines along the décolletage.
Photo Credit: Gisela Schober/Getty Images
Model Toni Garrn walked the red carpet for the premiere of one of the most anticipated films at Cannes—"Star Wars." She chose chandelier earrings from the high jewelry collection by Avankian set in 18K yellow gold and adorned with pear, marquise, and round white diamonds. The pair of classic earrings, with a hint of yellow gold, is evocative of the Belle Époque style and some old Hollywood charm.
Model Lais Ribeiro was also seen on the red carpet for the premiere of "Star Wars." The elegant drop green tourmaline earrings from Avakian's Gatsby inspired jewelry collection feature the versatility seen in Jessica Kahawaty's La Mystérieuse earrings and can be worn on either side.
The red carpet for the premiere of "Star Wars" was laced in beauty–between gorgeous, strong ladies and dazzling jewels. Model Shanina Shaik was spotted there wearing a playful pair of Art Deco "Swinging" diamond earrings from the Avakian High Jewellery Collection, set with white and pink gold, white tapered baguette diamonds, 2 large kite-shaped white diamonds, and 2 small kite-shaped white diamonds, white, and pink paved diamonds.
To view the entire Gatsby inspired jewelry collection, visit the Avakian website.