Photo Credit: Paul E. Richardson
Springtime is always special in Napa Valley because it marks the beginning of the giving season in a region where benevolence flows as freely as wine. Auction Napa Valley, the world's most celebrated charity wine event, gets everyone's philanthropic juices going the first weekend in June. Then, we roll into Festival Napa Valley, truly the "10 best days of summer," in July. The devastating wildfires last fall left us weary, but now we're ready to party for a good cause.
Photo Credit: Jason Tinacci for the Napa Valley Vintners
Hosted by Napa Valley Vintners, Auction Napa Valley kicks off May 31 with swank vintner welcome parties and concludes June 2 with an over-the-top Live Auction Celebration at Meadowood followed by a dinner prepared by Boulevard restaurant's Nancy Oakes and an after-party at three-Michelin-starred Chef Christopher Kostow's and James Beard Award winner Nathaniel Dorn's new eatery, The Charter Oak in St. Helena. In between are the Napa Valley Barrel Auction, the largest barrel tasting and auction of its kind, at the historic Charles Krug, Napa Valley's very first winery, intimate and sumptuous vintner-hosted dinners and an E-Auction that lets you take part in bidding no matter where you are. Adding youthfulness to the festivities are the 2018 Honorary Auction Napa Valley Chairs, the third-generation sisters of the Peter Mondavi Sr. family: Angelina, Alycia, Riana, and Giovanna.
Photo Credit: Briana Marie Photography
Get ready to go gaga over the 32 "only in your dreams" Live Auction lots of rare and collectible Napa Valley wines and unique life experiences which are among the more than 250 lot offerings during this spectacular fundraiser. Since 1981, Auction Napa Valley has invested $180 million in Napa County's nonprofit organizations. This year will be even more meaningful. We're still feeling the effects of the wildfires that ravaged the North Bay last October and sharply decreased tourism.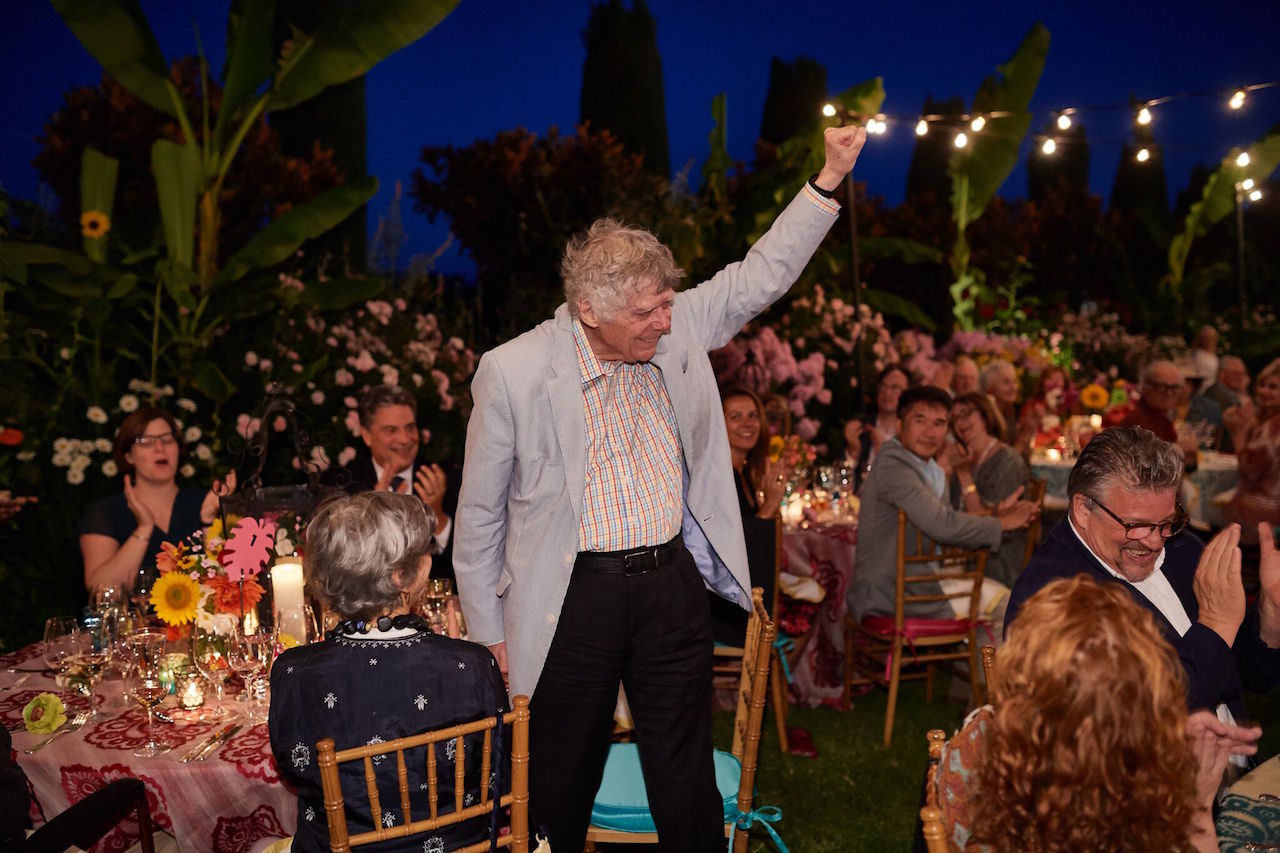 Photo Credit: Bob McClenahan
For those of us who live here, we're shocked when we hear that non-residents, some who live as close as San Francisco, think Napa Valley burned down completely. It's hard to undo the damage done by the images of Wine Country on fire that led newscasts and made front-page news around the country and beyond. Although the fires were a terrible human tragedy, taking lives and destroying property, the Napa Valley wine industry, its wineries and its vineyards were largely spared, gratefully leaving Napa Valley as beautiful as always. Visitors often remark to me how surprised they are not to see any damage from the fires. I'm sure you'll say the same when you come to Auction Napa Valley and/or Festival Napa Valley, whose 2018 season is dedicated to the first responders who saved lives, homes and properties during the wildfires.
Photo Credit: Paul E. Richardson
Festival Napa Valley takes center stage from July 20-29, 2018, and I'll be on the go throughout this memorable event that more than lives up to its billing as "the 10 best days of summer" with breathtaking performances in iconic winery settings. Headline artists include superstar violinist Joshua Bell, 10-time Grammy winner Arturo Sandoval, Broadway legend Lea Salonga, opera sensation Michael Fabiano, the San Francisco Ballet and a rare appearance by Grupo Compay Segundo from Havana.
Photo Credit: Bob McClenahan
From the Opening Night celebration at Meadowood with soprano Nadine Sierra, tenor Bryan Hymel and the festival's Blackburn Music Academy Orchestra under Joel Revzen to the sizzling lunch finale at Alpha Omega with singer-songwriter Morgan James performing on the Vineyard Terrace, this year's Festival Napa Valley will deliver one magnificent show, paired with food, wine and hospitality, after another, after another, after another. Festival President & CEO Rick Walker, COO Sonia Tolbert and their entire team have outdone themselves yet again!
Photo Credit: Briana Marie Photography
This incredible 10-day flurry of events is presented by Napa Valley Festival Association, a nonprofit public benefit corporation whose commitment to enriching the cultural vitality of the community and making the arts accessible to all is to be commended. Investing $1 million to date in arts programs in Napa County public schools, providing free festival tickets to seniors, veterans and families, launching and funding free Arts for All summer camps for Boys & Girls Clubs members, and establishing the festival's tuition-free Blackburn Music Academy are among the highlights of how Festival Napa Valley gives back.
I hope to see you out and about during Auction Napa Valley and Festival Napa Valley! Both are fantastic ways for you to have a grand time while supporting the Napa Valley community.
New York Times bestselling author Kelly E. Carter is the Director of Communications at Alpha Omega Winery in Rutherford.
Subscribe to discover the best kept secrets in your city