Photo Credit: Cavan ClarkThey say that the third time's the charm, but Angela Alioto is hoping the fourth time will be her lucky sweet spot. A native San Franciscan with a storied political past, Alioto, a civil rights and anti-discrimination lawyer, is currently running for mayor of San Francisco—for the fourth time. "I don't want to sound otherworldly, but I believe that it's somewhat of destiny because the issues of the day are everything I've always fought for," Alioto told Haute Living on a recent afternoon at her office on the corner of Montgomery Street and Columbus Avenue. "I have the experience and I know how to do the job that needs to be done. That's principally homelessness, dirty streets, and crime."
Spend five minutes with her and it's obvious that Alioto has an extreme passion and incredible respect for the city she calls home—and for good reason. Alioto is the fifth child and only daughter of Angelina Genaro Alioto and Joseph L. Alioto, the city's 36th mayor. The Aliotos come from a long line of movers and shakers known throughout SF. "My family goes back to the 1880s to the time of my Grandfather Alioto and his nine brothers and one sister," Alioto explains her dark eyes shining. "The Aliotos opened everything from wholesale fish shops to restaurants at Fisherman's Wharf. That legacy is so important to who we are as a city. The impact of what the Italians did, especially the Sicilians, when they first came to San Francisco? My grandfathers on both sides played a really big role in that."
Photo Credit: Cavan Clark
As mayor, Alioto's father also made significant impacts on San Francisco. Times were turbulent while he was in office. From 1968 to 1976, he had to deal with the Haight-Ashbury's Summer of Love, the start of the gay district in the Castro, Black Panther and anti-Vietnam War demonstrations, and the Zebra and Zodiac killings. Despite all of these challenges, Alioto was a cherished mayor whose legacy can be seen in the Transamerica tower, BART, and the Embarcadero Center—three major building projects that completely transformed the city.
Growing up, Alioto was the apple of her father's eye. "I was the only girl. I'm number five out of six, so my parents really wanted a girl. They actually went to Pope Pius XII at the time and asked if they could have a little girl. So, I'm extremely spoiled because of that," she laughs, cracking a wide welcoming smile. However, when her dad became mayor, she wasn't a fan of politics. His commitment to the city often meant that he was away from home. "For so many years, I hated politics. It was a pretty hard life, not having him at home."
Photo Credit: Cavan Clark
Still, Alioto would attend events with her dad and developed a natural interest in the world around her. The turning point—her political awakening of sorts—was in the early 80s when the HIV epidemic hit the city hard. Alioto understood that if she was going to make any difference in what was happening, she would have to run for office. "I realized that, unless I actually ran for office, I wasn't going to be able to affect this the way I wanted to affect it," she reminisces. She ran for a position on the San Francisco Board of Supervisors in 1986 but lost. In 1988, however, she won. She served as board president from 1993 to 1995 and left office at term limit in 1997.
During that tenure, she ran for mayor in 1991 and 1995 but lost. She ran again in 2003 but missed by one percent. "I should not have lost that race. That race was mine because in the run-off I would have beaten Gavin Newsom, but what was against me was amazing. The things they did in that race. I look back on it and someday I'm going to have to write a book about that race." When pressed to give more details, she cites a political climate that would not be tolerated today thanks to the #metoo movement.
Photo Credit: Cavan Clark
Speaking of the women's empowerment campaign, not only does Alioto have a female-dominated team behind her, she also believes that San Francisco is ready to have its second female mayor. "I think that it's finally time for San Francisco to vote wholeheartedly for a woman. In the past, the obstacles have been pretty severe, but women are great. Women close the circle. Women also understand, legislatively, things that men would never have legislated." Come June, there is a good chance the city will elect a female mayor—two of Alioto's three opponents are women. She's up against former acting mayor London Breed, Supervisor Jane Kim, and former senator Mark Leno.
It's a tough race, but Alioto is confident that her experience and expertise make her the best candidate for the job. If elected, her priorities include addressing the homeless situation and the increasing cost of housing. She also wants to clean up the streets, fix public transportation, improve education, provide mental health care services, and make neighborhoods safer. The elephant in the room, of course, is what's missing from Alioto's to-do list. What about the tech industry? And does she believe that tech is destroying the fabric of the city? "I don't think the tech boom has ruined San Francisco. I think that a lot of San Franciscans have left. That makes a difference. I do believe that the tech boom is not going to be forever."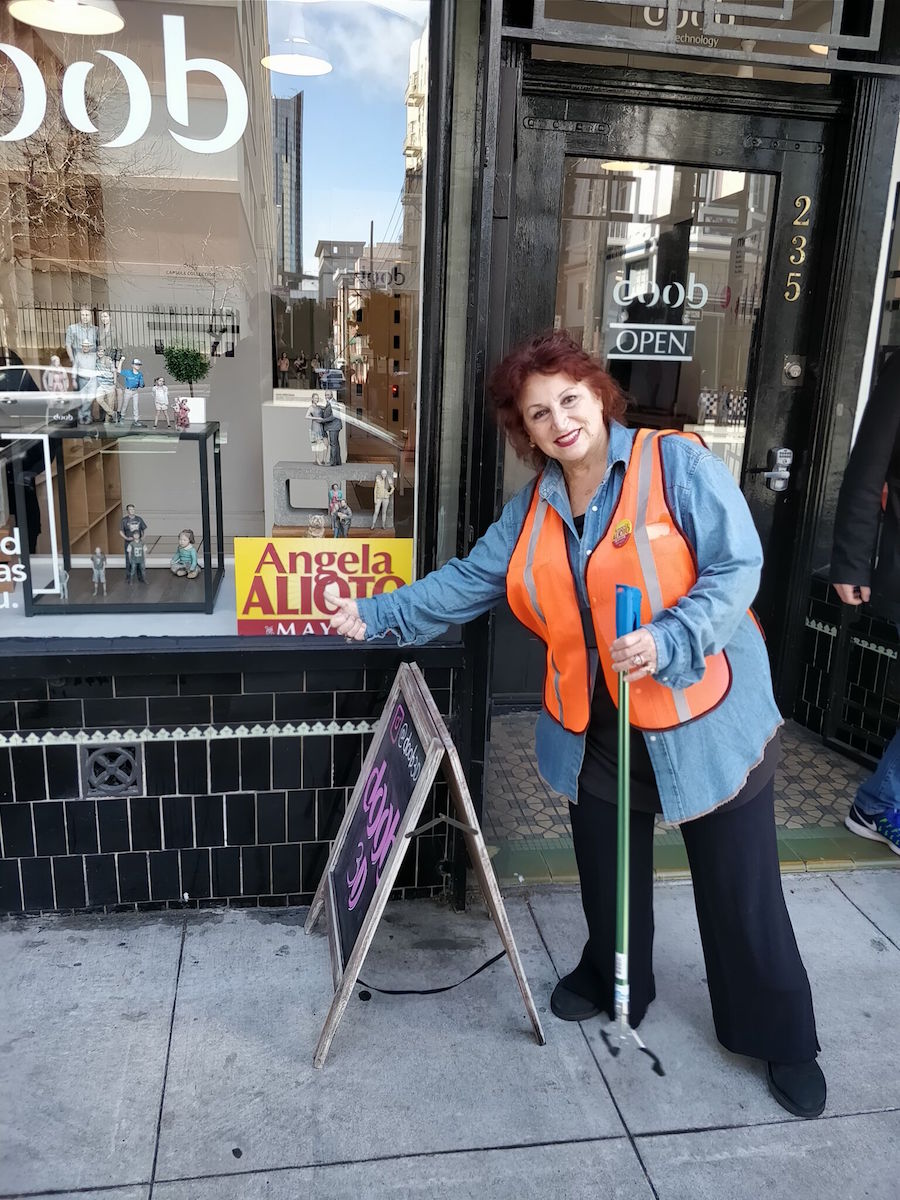 Photo Credit: Cavan Clark
Alioto isn't convinced that tech-driven millennials are sucking the life out of the city. Instead, she suspects that they want what everyone else wants. "I don't view the so-called millennials the way so many people talk about them. I think that they would love to have clean streets and would love to have a place for their kids to go play in the park where they're not worried about what their kids might or might not see." However, understanding what the younger generation wants does not translate to votes. With the sudden death of Mayor Edwin Lee last December, London Breed, who was acting mayor immediately following Lee's heart attack, was suddenly thrust into the spotlight. Everyone, young and old, was talking about her.
While Alioto may not have the street cred that Breed has, she does have a younger generation—led by her four grown children—pounding the pavement spreading her agenda. Luckily, Alioto's resume speaks for itself. In 2004, Mayor Newsom named her the homeless czar. From that time to 2011, she helped house over 11,000 people. Since she announced her campaign, she's personally walked the streets picking up trash and interacting with the homeless. "We can't allow people to live on the streets like it's okay when we're living in a billion-dollar city. We can't allow it," Alioto says shaking her head sternly, her raven hair flying.
Photo Credit: Cavan Clark
If elected, she's willing to do the hard work that it takes to get the job done—including getting rid of anyone currently in the Department of Public Works, Health or Homeless Departments, or in the Municipal Transportation Agency who she doesn't believe is being productive. "I am going to be the next mayor of San Francisco who goes in and immediately starts to terminate people at the heads of these departments who are not doing what they are supposed to be doing. They've been sitting there having a great time being a department head because they knew Ed Lee wouldn't fire them. I will fire them and I will get this city clean."
Although she can speak strongly about the drastic changes she hopes to make, there is a mother's kindness behind her passionate words. It's as if Alioto is San Francisco's mom. She's witnessed the city evolve in the same way that she's watched her children grow into adulthood. She inherently knows how great it can be, so she's not afraid of giving SF the tough love it needs to be successful. That's what makes Alioto a unique candidate. There's an Oprah-esque quality to the matriarch—she's warm and welcoming, but also been there, done that. Alioto is ready to step up to the plate and make history in a role she's been training for her entire life. "Now's the time for a real leader and I feel I have experience that none of my opponents have."
Subscribe to discover the best kept secrets in your city