Photo Credit: MB Steak
What once started as a religious feast day during the 17th century in honor of St. Patrick, the patron of Ireland, has now become a global celebration. Many partake in the drinking portion of the holiday and that's quite fine in our book. We too are fans of effervescence. Luckily, Las Vegas is anything but short of places to join in on the celebration.
1. RI RA
Photo Credit: Rí Rá Irish Pub
Ri Ra commences its one-week celebration on Monday, March 12 and continues through to Sunday, March 18. On St. Patrick's Day, the doors will open at 5:30 a.m. just in time to enjoy the Irish classic "All-Day Irish Breakfast" served with two eggs, Irish sausages and rashers, black and white pudding, grilled tomato, sautéed mushrooms, and toast. Live entertainment will be in session every day of the week.
2. BORRACHA MEXICAN CANTINA
Photo Credit: Borracha Mexican Cantina
Borracha Mexican Cantina is celebrating St. Patrick's day with tacos and green bar. For the remainder of the day, the Mexican restaurant is offering $5 "Green Beer Drafts" and $5 shots of Jameson.
3. HEARTHSTONE KITCHEN & CELLAR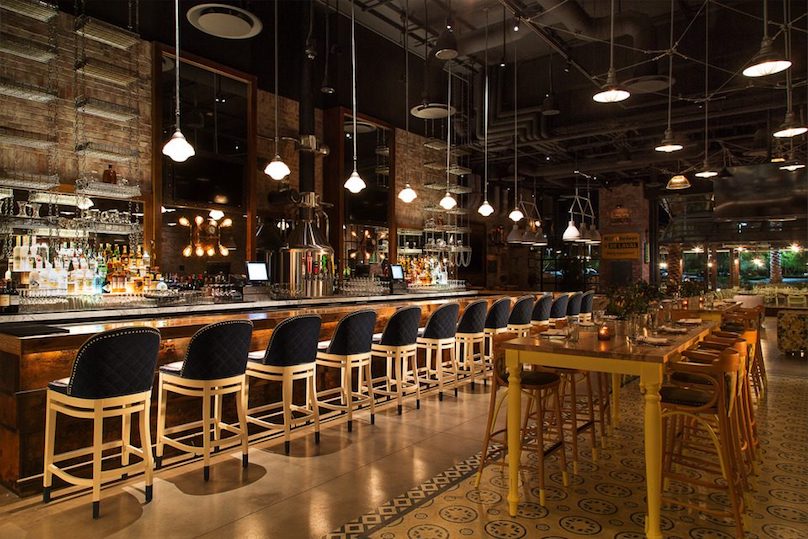 Photo Credit: Hearthstone Kitchen and Cellar
Hearthstone Kitchen and Cellar is the place you'll want to indulge in classic Irish dishes too. You can order "Corn Beef and Cabbage" with their $10 "Irish Car Bombs". Or, you can take shots of Jameson for $5. Whatever you choose, leave room for the "Guinness Ice Cream Float".
4. LIBRE MEXICAN CANTINA
Photo Credit: Libre Mexican Cantina
Libre Mexican Cantina will be channeling its inner Irish spirit on St. Patrick's Day. The Mexican restaurant will be offering $5 shots of Jameson the entire day from open to close. Turn your Jameson shots into picklebacks and pair them with Libre's "Carne Asada" burrito served with grilled green tomatillo sauce.
5. MB STEAK
Photo Credit: MB Steak
Reach for your cell phone and make reservations. MB Steak will have bagpipers and cocktails like "Get Lucky" made with Jameson Irish Whiskey, peach schnapps and fresh sour mix for $16 and $9 Guinness on Saturday, March 17.