Photo Credit: Randall Slavin
Photography: Randall Slavin
Styling: Jeanne Yang
Grooming: Natalia Bruschi
Shot on location at Hotel Bel-Air 
Let us set the record straight: When Scott Eastwood calls us on a rainy Tuesday morning from his Ford F-150 and says, "I've been looking for some life change," it has nothing to do with the fact that he's sat on the 405 in morning traffic and currently hating his life.
He doesn't hate it though, not by a long shot. In fact, on paper, he's a guy that seems to have it all. A successful career, good looks, a loving family and an adventurous spirit. But being stuck on one of the worst highways in America in a bumper-to-bumper gridlock is bound to make anyone introspective… at best.
"This is a lovely place to be at 9 a.m.," he deadpans wryly. "But I chose this life, and I have to suffer the consequences sometimes."
This is not a "woe is me" situation. Eastwood isn't lamenting anything. He's happy to pay the price of a little lost time, since it means being able to have the life he wants. He's currently on the way back to San Diego, 120 miles south of L.A., the chilled out, drama-free city he chooses to call home.
"I pack everything into one or two days [when I'm in L.A.]. I come up, I work hard, I grind, have my meetings, and then I come back and live a different sort of pace of life," he says.
It's no wonder that Eastwood wants to speak about lifestyle over work and the balance with which people choose to live their lives: He's found it. He's not caught up in the Hollywood bubble of work, network and party, party, party. Instead, he chills out in America's Finest City and heads to the City of Angels as needed.
"At an early age, in my twenties, I finished going to college in Los Angeles [he graduated from Loyola Marymount in 2008 with a communications degree], and I heard a lot of people say, 'When I'm older, I'm going to do this, I'm going to live here and do that… when I'm older' and I freaked the f**k out. I was like, 'What do you mean, when you're older? Life is happening right now. It freaked me out so badly that I decided, I'm moving. I don't want to live in Los Angeles anymore, I want to live in San Diego."
So he moved south post-college, working as a valet and bartending at a Pacific Beach cocktail lounge, commuting back and forth to L.A. for auditions and modeling gigs. He desperately wanted to make a film career work, but man, the back and forth, yes or no, will I or won't I really began to wear on him.
"I had to make a choice: I had to put it all on the line and say, 'If the film-business thing and the acting thing doesn't really work for me, I have to be okay with that,'" he recalls.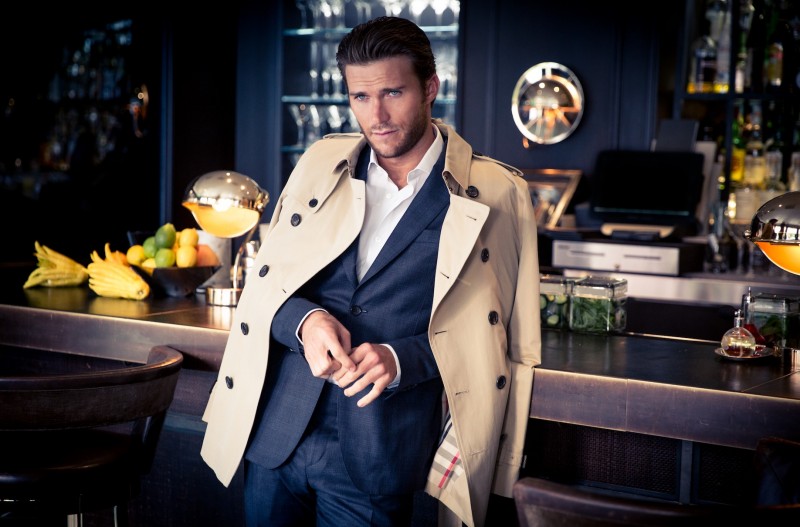 Photo Credit: Randall Slavin
But something happened when Eastwood stopped putting pressure on himself and started Matthew McConaughey-style "l-i-v-i-n" at his SoCal bachelor pad beach bungalow. "The moment you're okay with that not happening is the moment you're more comfortable in your own skin," he reflects. "I told myself, I'll give myself until 30 to see if this happens, if I could make a living out of it. And six or seven years ago, it did start happening. Sometimes, when you let go, that's when things start to happen in life."
Things are certainly on the upswing for Scott, who happens to be the son of film icon Clint Eastwood. He's appeared in films such as Nicholas Sparks' The Longest Ride; Oliver Stone's biographical drama Snowden; the DC Comics film Suicide Squad; playing a sergeant opposite Brad Pitt in Fury; The Fate of the Furious; as well as Flags of Our Fathers, Gran Torino, Invictus and Trouble with the Curve—and who could forget that he starred as Taylor Swift's love interest in her "Wildest Dreams" video, circa 2015 (without winding up as one of her song lyrics). His latest project, Pacific Rim Uprising, will hit theaters just two days after his 32nd birthday on March 23.
Uprising is Universal Pictures' follow-up to 2013's popular action/fantasy film of the same name. It's set in the future, when Earth is at war with the Kaiju, gigantic sea monsters that have emerged from an inter-dimensional portal on the bottom of the Pacific Ocean. To battle the otherworldly enemies, humans create Jaegers, humanoid machines controlled by pilots, whose minds are joined through a psychic mental link.
In the sequel, John Boyega plays the rebellious Jake Pentecost, a once-promising Jaeger pilot now caught up in the criminal underworld whose legendary father, General Stacker Pentecost (played by Idris Elba in the first film) gave his life to secure humanity's victory against the Kaiju. He's brought in to help his estranged sister, Mako Mori (Rinko Kikuchi), who seeks to unite good forces together in a global uprising against the forces of extinction. Eastwood stars as Jake's co-pilot, Nate Lambert.
The role spoke to the adventure-loving actor for one very fortuitous reason. "I was drawn to the role because I'm actually a pilot," he says. "I was like, 'Can I be a pilot? I'm already a pilot!' From a young age, I was always fascinated with aviation. That being said, this is obviously a movie about giant Jaeger robots fighting Kaiju monsters—not quite the aviation that I know—but I thought it was very cool to get into the mindset of a pilot, because I already knew it."
As it happens, a love of flight runs in the family. His mother, Jacelyn Reeves, is a former flight attendant, but it was his father who really turned Eastwood on to thrill-seeking in the skies. "My dad has been a pilot for—geez—more than 50 years," he notes. "As a kid, I would fly with my dad. I have really fond memories of flying with him and feeling the control of the helicopter; I thought it was the coolest thing ever. So, a few years ago, I thought I would invest some time for myself and go back to school for a few years and learn how to do it."
Both on screen and off, Eastwood is always up to trying something new. Sure, he's taken on predominantly action-related roles as of late, but he refuses to be categorized solely as an action star. In his opinion, that would make him boring, and he's anything but.
"I'm always trying to change it up," he maintains. "I never want to be pigeonholed as one thing. I've done a few action movies now, but I'd like to change it up and do some character-driven stuff. Dramas, maybe a comedy."
He tells us that upcoming projects in development include a comedy, a psychological thriller and a TV show—all "departures from what I've done for the last few movies." He'll also actively pursue producing opportunities in the coming months. At the rate he's going, his laid-back life in San Diego is going to have to wait for a while.
Photo Credit: Randall Slavin
TRUTH BOMBS AND END GOALS
It is two days after the Golden Globe Awards. He didn't attend, but hit a few after-parties to "shake some hands and kiss some babies." He's finally headed home, but a pit stop at the gym is a prerequisite and his first priority. He is a fitness freak, in the best way.
"I do weights, I do circuit training," he says. "I do everything. I do Jiu Jitsu, Muay Thai, a lot of yoga. I'm probably in the gym four days a week doing weights, yoga another two plus times a week. I try to get in there as much as I can for Jiu Jitsu and Muay Thai. I swim. I shake it up all the time. I do activities that keep me engaged—fun things."
He credits his all-American, beefcake bod (not his words, let the record show) to the following: "I'm definitely [consistent] with diet and exercise. I try to have a program that I adhere to. It's all about consistency, right?" He quotes a hero, Bruce Lee, and adds, "Long-term consistency trumps short-term intensity."
Every year he also gives his body a break from booze—during awards season, which could drive anyone to drink—no less. "I don't know if I made [the decision] consciously, but I'm not drinking for a while," he reveals, noting, "It feels really good. I usually take a month or two off of any booze and just try to get really clearheaded. January is a great month to do it: The holidays have ended, everyone has had their fun and I'm ready to put the axe to the grindstone and really get going. It's amazing how much more I get done when I'm not drinking. Everything in life needs some moderation, right?"
But where health and wellness are concerned, what he digs the most is being one with nature. Chalk it up to the fact that he grew up both in earthy-crunchy Northern California—Carmel, specifically, where his father was once mayor—as well as in Hawaii, where his mother moved after his parents divorced. Eastwood is a total guy's guy: He hikes, fishes, spear-fishes, dives, scuba-dives, surfs, hunts and bow-hunts, among other things. You name it, he does it. "I like being out," he notes. "I like being active in the wilderness—out in the real world—away from society, getting back to my roots. I do that all the time."
Recent trips have included touring Tokyo, scuba diving in Tahiti and hiking in the Rockies. He'll be sating his wanderlust in Mexico shortly for an endless summer-type situation because he heard about a big northwest swell where he could "surf crazy waves" as well as the Channel Islands for an epic diving expedition.
He makes these adventurous voyages because it's in his nature, and also because it helps him find that work/life balance he mentioned. "Talk about perspective and getting away from the white noise," he says. "When you unplug from technology, you really get your circadian rhythm back. You sleep better. I try not to look at my phone for a couple of hours before I go to bed. If we can get back our internal clock the way we are in the wilderness, it's really a peaceful way to live your life."
Being his best self and how he's living his life are things he thinks about often. "I'm turning 32 in March; I'm maybe in a new chapter of my life," he says. "I often think, 'What am I going to do now? What's the next five years of my life going to look like? What's the road map?'"
He doesn't have an answer to those questions… yet. But that's cool—it's all part of the journey. "It hasn't become clear, but I try not to dwell on that," Eastwood notes. "If you don't know what to do, don't do anything, I think. Let it sort of unfold itself to you."
Photo Credit: Randall Slavin
He pauses after a moment of reflection. "You know what? I think I've already made steps to try to make better choices. I've cut a lot of people out of my life in the last couple years. My dad always used to say, 'Don't be the king of the losers.' That has sort of stuck with me."
He took his father's words of wisdom to heart as well as some truth bombs from his mom that include "listening more and shutting up" and the best piece of advice he says he's ever received: "There's a difference between knowledge and wisdom. Knowledge is things you've learned yourself by doing, and wisdom is learning from other people's mistakes." These are the words of wisdom that led him to make some significant changes.
"At 30 I was like, 'I want my life to go in a better direction,' so I started to cut people out," he says. "Party friends, fourth and fifth-gear friends, acquaintances. Life's too short. I want to hold the people in my life to a high standard, I want people to bring me up, where I play above the rim."
We note that it's easy to have a lot of fickle friendships and transient relationships in Hollywood, and he agrees: "In Los Angeles, there's always something going on; there's always someone who's looking to go out and hang. You don't want to get stuck in that loop. Now, I just keep myself busy and don't even try to get wrapped up in that stuff."
Busy is an understatement; Eastwood appears to always be on the go (and going at it alone, incidentally. "I've had very special women in my life, but right now I'm single," he says). But it isn't just his All-American guy's-guy pursuits and Hollywood career that keep him busy: He's also part owner of a local dive, Solana Beach's Saddle Bar, and has his own spirits brand, the aptly named Eastwood Whiskey.
Not only does he refuse to be categorized or compartmentalized personally or professionally, but he wants to leave himself open to future possibilities. When we ask if he's thought of life beyond acting, the answer is surprising. "I think about it all the time," he says. "I still think 'If it all goes away and they don't want me in movies anymore and I can't get any work, what am I going to do?' I always sort of envisioned myself as a firefighter. I thought it would be cool to be active, I'd be out a lot, I'd be staying healthy and it would be a different challenge every day. Maybe now I'd be a flight instructor, get my CFI and teach people how to fly. There are so many possibilities."
Alas, you'll never see him on a pull-out fireman-of-the-month calendar. Scott refuses to rely on his golden-good looks and is uncomfortable with being called a heartthrob. If he's to continue succeeding in Hollywood, he wants it to be because he actually succeeded at his craft—not because of his lineage or handsome face. "I don't know what to make of that," he admits. "To me, there are a ton of good-looking people in California. There are a ton of better-looking people than me. I'm just trying to be in good movies, produce movies, put together stories that people respond to and like. I guess people [call me a heartthrob], but for me it was never about being that. I'm just a guy, just a normal guy. I go up there and try to work hard and put my head down. I try to be a better person every day."
Photo Credit: Randall Slavin
Regardless of what the future holds, he's always going to take his father's advice to heart. "[When I told him I wanted to be an actor], my dad said, 'I don't care what you do, just go out and try to be the best at whatever you want to do.'"
His other imparted piece of wisdom: Make it on your own. Clint was adamant that Scott had to pave his way down Hollywood's yellow brick road on his own merit. "He was like, 'If you want to be an actor, go. Go get a f**king job and figure it out. You better get employed, because I ain't helping you.'"
Clint was true to his word. Not only did Scott have to pay his way through college, but he had to audition for minor roles in his father's own movies. He did not even take the surname Eastwood until 2008, preferring to go by his mother's maiden name of Reeves. Nothing was handed to him on a platter, or with a silver spoon.
"My dad was very old-school, and that's the way it is. There's no debating it," Scott says, applauding his dad's tough love, even noting, "I would do the same with my kids. I would put them through the ringer. I'd say, 'Go out there and do it!'"
And why not? He owes his own work ethic to his father and will be the first to admit that he's a better person for it. "[I definitely have] a stronger work ethic because I had to do it myself, but I'm okay with that, because that's where drive comes from. If you have everything in life handed to you, you have no drive. You won't develop passion, or get inspired to try to build something or make something of yourself. My work ethic is all I know: to put my head down and keep going and not look back."
Los Angeles itself and its boulevard of broken dreams drive him, too. "In Hollywood, I feel like the uncool kid at school that they don't really want there," he admits. "I feel like people probably look at me and go 'Clint Eastwood's son, he's had everything handed to him, and he hasn't had to work for anything, and he's a hack.' I'm like, great. That just propels me to keep going and prove everybody wrong and say, 'Well you say no? I say f**k you, I'm going. I'm moving forward, with or without you guys.'"
He pauses. "But what do I know at 32? "
We think he answered his own question.
Photo Credit: Randall Slavin
Subscribe to discover the best kept secrets in your city