The A-list attended these three post-Oscar parties last night.
Photo Credit: Dia Dipasupil/Getty Images
The big daddy for all post-Oscar parties is always Vanity Fair, and this year was no exception. The stars headed to the fete's new location at the Wallis Annenberg Center for the Performing Arts to toast Hollywood's biggest night and the magazine's new Editor-in-Chief, Radhika Jones. Oscar winner Sam Rockwell and girlfriend Leslie Bibb tore up the dance floor; Emily Ratajkowski and new husband Sebastian Bear-McClard chatted with Lena Waithe and her fiancé about their whirlwind nuptials; Andy Samberg greeted Oscar winner Jordan Peele with a huge congratulatory bear hug before being joined by Keegan Michael Key; G Eazy and Halsey cozied up; Janelle Monae held court with the cast of Black Panther, laughing and celebrating the night; gal pals Lupita Nyong'o and Danai Gurira entered the party arm-in-arm at the Belvedere vodka-sponsored bash.
Photo Credit: Rich Fury/Getty Images for Jimmy KimmelTwo-time Oscar host, Jimmy Kimmel hosted his own private post-party at The Lot in West Hollywood. While there is no Oscar for best host, Jimmy was greeted with the next best thing – his very own bedazzled Don Julio 1942 Magnum covered in crystals.Tapping into his passion for food and drink, The Lot was transformed into a mini food and cocktail festival with top chefs and bartenders ready to indulge Jimmy and his guests. A foodie's paradise, chefs and bartenders traveled from all over the country to curate and serve Jimmy's favorite foods and cocktails including
– Adam Perry Lang; APL Restaurant: Texas Toast Taco paired with Tanqueray No. TEN "The Afterparty"
– Chad Robertson and Elisabeth Prueitt; Tartine Bakery: breads and pastries including a Lemon Tart paired with Ketel One Vodka "Ketel Academy"
– Chris Bianco; Pizzeria Bianco: Margherita and Biancoverde pizzas paired with Ciroc JIMLET!!
– Frank Castronovo and Frank Falcinelli; Frankies 457 Spuntino & Prime Meats: Foie Gras Hot Dog & Eggplant Marinara with Pecorino Romano paired with Zacapa Rum "Touch of Evil"
– Jon Shook and Vinny Dotolo; animal Restaurant: Burger paired with Bulleit Bourbon "…That's a Knife"
– Marc Vetri;Vertri Cucina:Ricotta Gnocchi with Crispy Artichokes and Parmigiano Reggiano paired with Johnnie Walker "Fade to Black"
– Suzanne Goin; Lucques, a.o.c, Tavern: Spanish Fried Chicken with Buttermilk Biscuit & Spiced Carrot Slaw paired with Tequila Don Julio "The Speech"
After sampling the one-of-a-kind food and cocktails, guests such as Miley Cyrus, Liam Hemsworth, Jennifer Aniston, Matt Damon and Luciana Barroso, Big Sean and Jhene Aiko, Rita Ora, Bebe Rexha, Scott Eastwood, Adam Scott, Jon Favreau, Michael Keaton, Ike Barinholtz, Nick Kroll, Ryan Kwanten, Nicole Scherzinger, David Foster, Katharine McPhee were thrilled to kick-off their dress shoes and hit the dance floor to music by Gordon Goodwin's Big Phat Band – a 14-piece jazz orchestra band, performances by Snoop Dogg, Rita Ora, and Bebe Rexha, and a DJ set by Politik – setting the tone for the old Hollywood vibe of the party. Jimmy also encouraged his guests to order a pint of Guinness and don a Guinness #StacheForCharity – for every photo posted to social media Guinness will donate $1 (up to $100,000) to the Guinness Gives Back Fund.
Sir Elton John and David Furnish hosted the Elton John AIDS Foundation (EJAF)'s 26th annual Academy Awards Viewing Party at West Hollywood Park in Los Angeles.The Roca Brothers of the Michelin three-star restaurant El Celler de Can Roca in Girona, Spain, designed and prepared a sumptuous dinner for party guests like Adriana Lima, Judith Light, Miley Cyrus, Liam Hemsworth, David Foster, Katherine McPhee and Lea Michele  to enjoy while watching a live telecast of the 90th Academy Awards. Illusionist David Jarre made special appearance, as did breakout band Greta Van Fleet—who were lucky enough to perform with Sir Elton himself. As usual, a lively live auction dominated the evening, where a key piece—Lalique's one-of-a-kind Purple Heart Cire Perdue, designed and created by Elton John and LALIQUE, raised $80,000, with 100% of the proceeds benefiting the EJAF.
2018 Oscar parties 1
Olivia Wilde attends the 2018 Vanity Fair Oscar Party
Photo Credit: George Pimentel/WireImage)
2018 Oscar parties 2
Hailey Baldwin attends the 2018 Vanity Fair Oscar Party
Photo Credit: Dia Dipasupil/Getty Images
2018 Oscar parties 3
Allison Williams attends the 2018 Vanity Fair Oscar Party
Photo Credit: John Shearer/Getty Images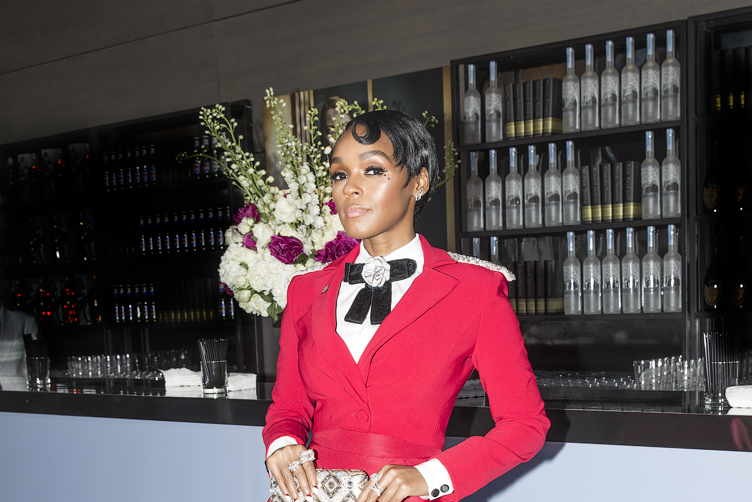 2018 Oscar parties 4
Janelle Monae attends the Belvedere vodka-presented Vanity Fair Oscar party
Photo Credit: Belvedere Vodka
2018 Oscar parties 5
Belvedere Ambassador Emily Ratajkowski and Hailee Steinfeld attend the 2018 Vanity Fair Oscar Party
Photo Credit: Kevin Mazur/VF18/WireImage for Belvedere
2018 Oscar parties 6
Belvedere Ambassador Janelle Monae, Angela Bassett and Tracee Ellis Ross attend the 2018 Vanity Fair Oscar Party
Photo Credit: Kevin Mazur/VF18/WireImage for Belvedere
2018 Oscar parties 7
Chef Suzanne Goin (L) prepares Jimmy Kimmel a Spanish fried chicken at Jimmy Kimmel's post-show after-party for Hollywood's biggest night at The Lot
Photo Credit: Rich Fury/Getty Images for Jimmy Kimmel
2018 Oscar parties 8
Rita Ora performs at Jimmy Kimmel's post-show after-party
Photo Credit: Rich Fury/Getty Images for Jimmy Kimmel
2018 Oscar parties 9
Bebe Rexha performs at Jimmy Kimmel's post-show after-party
Photo Credit: Rich Fury/Getty Images for Jimmy Kimmel