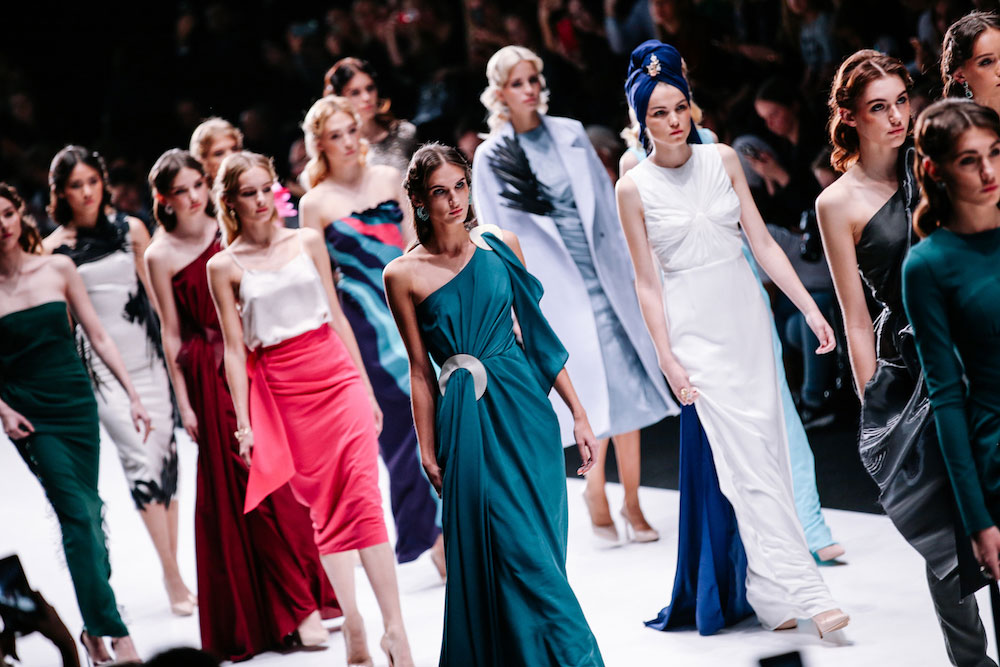 Photo Credit: Chumakov Dmitriy
Russia—it's so hot right now. Everyone is talking about the world's largest nation and after a trip to Moscow last October, I can't stop thinking about Russia either. Specifically the thriving community of local fashion designers. With Mercedes-Benz Fashion Week Russia (MBFW Russia) set to ignite the scene in less than a month, Moscow has put itself on the map as a global player in the fashion industry. MBFW Russia takes place March 10-15, 2018 in the Russian capital with over 50 designers presenting Fall 2018 collections. The event is put on by the Russian Fashion Council and Alexander Shumsky, a towering bearded figure who is like the godfather of Russian fashion.
Shumsky started MBFW Russia in 2000 and since then it has grown into a twice yearly showcase with dozens of local designers presenting seasonal collections. "When we started, nobody wanted to buy made in Russia stuff because the perception was very wrong and very bad," Shumsky told Haute Living. "Now it's a completely different situation, everybody wants to be in, because we see how some designers are popular, people want to get to the show, they want to buy and so on and so on. For designers, the biggest challenge now is to produce, deliver and to feed the demand." As risk-taking fashion-forward celebrities—Katy Perry, Lady Gaga, and Gwen Stefani—seek out more obscure brands, the demand for popular Russian fashion designers, like Mach & Mach, Saint Tokyo, and Artem Shumov, is high.
Photo Credit: Oleg Nikishin/Artefact
Shumsky has a keen understanding of the international fashion market and is aware of the distinct changes that are happening in global luxury retailing. Fashion lovers are no longer just looking for expensive pieces from established brands (such as the Hermes Birkin), they are after unique pieces that no one else has—something that Russian designers are able to deliver. "The young audience wants to buy something special, because luxury, not like the expensive stuff, their luxury is to find something special and cool," Shumsky explains. "This is the change of luxury. That's why everybody is interested in new talents, because you want to write about new talents because your audience is tired of reading only about Chanel, let's say. Emerging talents from secondary markets are not exotic anymore, they are mainstream."
The biggest challenge facing Russian designers today is not exposure or interest, it's being able to get the product to the global marketplace in a fast and timely manner. "To export goods from Russia is a challenge," Shumsky says. "If you could be able to buy on the Russian websites and get it in San Francisco right away and be sure the size and everything is done properly, it would a breakthrough." Shumsky is working hand-and-hand with the government to make it easier for Russian goods to get into the hands of foreigners.
Within Russia itself, "domestic designers are booming." There is a renaissance of all things Russian-made with designers inspired by the colorful and traditional arts and crafts of the past. MBFW Russia cultivates emerging talent and Shumsky says the interest in presenting at fashion week has never been higher. "Last season we introduced over 30 new names during fashion week. Young new talent is the most important for us to find. The Russian Fashion Council grants young designers with free shows every season. In last 10 years we supported over 100 new names in Russian fashion at their first steps in industry," Shumsky says.
Photo Credit: Oleg Nikishin/Epsilon/Getty Images
The upcoming season will be a mixture of new and old. Slava Zaitsv, nicknamed the Red Dior by Western media, and the grandfather of Moscow's fashion industry, is celebrating his 80th birthday on March 2. Thus, some of the events during fashion week will be dedicated to Zaitsev and his legacy. Julia Dalakian, a designer who has shown collections at MBFW Russia since its inception, will also be a highlight of fashion week in March.
Fashion lovers can expect the shows to be flashy and innovative. As Shumsky puts it, "It's very important for MBFW Russia, under the Russian Fashion Council supervision, to have vibrant fashion, original fashion, cool brands, and young brands that are creating a lot of interest around them."
Merecedez-Benz Fashion Week Russia takes place March 10-15, 2018 in Moscow.