While some people tend to travel to warmer climates in the colder months, there is something to be said of traveling to colder destinations during this time of year. Snow can make everything more beautiful and romantic especially around the holiday season. But when traveling to colder locations, it's beyond important to be prepared so that you can fully enjoy your vacation without realizing how cold it actually is outside. We put together the ultimate packing guide for your winter travels to keep you comfortable, warm, and most importantly inspired.
The perfect carry-on
Regardless of where you are traveling, chances are you'd prefer to not check you luggage at whatever means necessary. Developed from hundreds of travel stories and designed for the way people actually travel comes Away luggage. Featuring unbreakable shells, built-in USB chargers, and thoughtfully planned out interior compartments, this minimalistic luggage is a great travel partner. The carry-on suitcase now comes in two sizes and 8 colors: The Carry-On and The Bigger Carry-On (made to fit on major US airlines, ideal for those flying on large planes).
---
A weather-proof jacket
Perhaps the most essential item when traveling to colder temperatures is your outermost layer. The perfect jacket will protect you from inclimate weather conditions while keeping you comfortable in less than ideal temperatures.
Unlike any other jacket, nobis outerwear keeps you comfortable, yet stylish, in the utmost and most extreme frigid temperatures. Using his first-hand Arctic travel experience as a guideline, the nobis founder Robin Yates created the brand using patented technical design features that include but are not limited to: Sympatex® Membrane Lamination (making the jacket waterproof, windproof, & breathable), Durable Water Repellent Coating (prevents saturation/causes water to bead off surface), Premium Canadian Origin White Duck Down (fuller cluster, higher loft for ultimate warmth), Critically Seam Sealed Construction (Sympatex® branded tape applied to all major seams) and Free-hanging Down Proof Lining (allows moisture vapor to escape).
---
Figuring out what to pack that takes up minimal space for any vacation is always a difficult task especially when dealing with large and bulky winter gear. Finding trendy pieces that you can wear from day to night is not only saves you from an outfit change during your vacation, it also saves you tons of space in your luggage. This cropped turtleneck from Minnie Rose is just one example of a collection of chic apparel that is necessary for any type of winter travel.
---
A boot to withstand all weather
When traveling anywhere it's important to keep style and comfort in mind, especially when it comes to footwear. Chances are you'll be on your feet exploring the entire day so it's necessary to have a shoe that can keep up. Look no further than SOREL– a boot that is ready to face the elements while boasting seam-sealed waterproof construction and premium leather and shearlings.
---
A garment bag for all your precious cargo
Hook & Albert has revolutionized the traditional weekender bag by combining it with a garment bag making it a great travel companion. When the bag is fully unzipped, the garment section can comfortably fit two suits and once the duffle is reconstructed, the main compartment functions like a traditional weekender bag. On the outside of the bag there are an additional two zip accessory compartments as well as two shoe pockets that fit up to a size 12 shoe. Not only is the bag extremely functional the exterior shell is made up of custom water resistant twill with top-grain leather accents.
---
A Tech Dopp Kit

Keeping your cords untangled and organized is no easy task when it comes to traveling. Everything these days needs to be charged and unfortunately for us, not every appliance can be charged the same way. This Is Ground is solving that problem for any traveler with their Tech Dopp Kit 2, a leather travel zip-up organizer with designated spots for all of your technical gear. The best part? It comes in three different sizes, ensuring a great fit for everyone.
---
This Is Ground takes travel organization one step further with their Sitting Pretty Case Mini. Ideal for storing jewelry this case will prevent your most precious pieces from getting tangled in one another. This style also comes in multiple colors such as black, lilac, rust, and blue. Not only is this piece great for travel, it's also a game changer for storing jewelry during a workout or spa treatment.
---
Phone camera equipment
Looking to take your vacation photos to a whole new level? Well know you can- literally and figuratively with these two essential products.
Make your phone invincible with ProShot, a case who's primary focus is to ensure the protection of your phone and allow it to remain fully functional from the coldest mountain summits, to the warmest beaches, and all the way deep underwater. The insulating case provides maximum protection while traveling in the harshest conditions.
Capture photos in the air with Flitt's Flying Selfie Camera and app. With the ability to fly, shoot, and share in real time- this accessory is a great travel companion. Long gone are the days where you need to ask strangers to take photos for you, control your photos yourself and share them immediately. Flitt is also extremely small, which is essential when it comes to packing and traveling. With easy folding arms, this device is convenient, quick, and portable.
---
Warm Layers
Layers are essential when packing for winter travel. Chances are you will be going from indoor to outdoor locations frequently so your body temperature will constantly be in flux. Starting from the tips of your toes to the top of your head, NakedCashmere has you covered. From cashmere socks to cashmere hats, and everything in between- cashmere leggings, joggers, sweaters, and pull overs, these are not only the best clothing items to wear during your vacation, they also make for the perfect airplane outfit.
---
Stylish travel accessories
Montblanc is answering travelers demand for a high luxury yet highly functional backpack with two great options. First comes the larger backpack featuring a padded compartment for a laptop or tablet and second a smaller option, equipped with two front pockets and a metal buckle. Either are perfect for everyday use by men and women during travels so their hands are free to snap pictures while sightseeing.
In addition to these backpacks comes the Montblanc Sartorial Jet Document Cases which are lighter alternative to traditionally heavier leather briefcases. These come in two sizes and are great for the traveling business professional who needs to bring work on the road with them.
---
A luggage tag that doubles as a portable battery
Battery life is always something that is on the decline while traveling. Whether you're taking photos, posting on Instagram, or using Google Maps there is always a need for a backup battery. Rebecca Minkoff has created a light-weight, stylish luggage tag that can accent any purse, carry-on, or suitcase to provide the sense of security that a charger is always within reach.
---
Travel size hair tools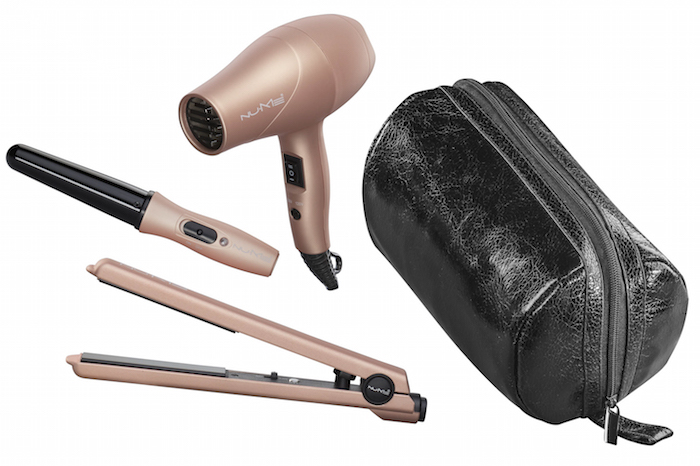 As a female you know how important your hair products are especially when you are traveling. It's tough to pack all of your normal sized items but that blow dryer is heavy and it takes up a ton of space. NuMe's Jet Setter Pro is a small and sleek glamorous collection of ultra mini, travel-sized essentials making it a great jet setting partner for all of your fashionable voyages.
---
Travel size hair products

The only thing that may be as important for a female as her travel size hair tools are the hair products themselves. Transporting your high end product into smaller travel size bottles can be messy and time consuming, which is why we can't stop raving about It's a 10 travel size products. They have everything under the sun made smaller and simpler for your travel needs such as keratin safe shampoo, finishing spray, leave in treatment (lite and plus), and hair masks (perfect for those post-indoor pool filled days).
Subscribe to discover the best kept secrets in your city