Based in New York City famous jewelry designer Bliss Lau's approach is centered around the idea that jewelry is a physical experience, one that is inspired by sensuality and structure. Through this ideology and the combination of her Chinese and American culture, she has evolved her collection from leather goods to the trademark fine, body, and semi-fine jewelry of today.
Lau can be credited for taking the body chain design to an entirely new level back which she pioneered back in 2007. Her style developed from basic chain material to incorporating stones for the first time and integrating leather and brass to recall graceful Art Deco gowns.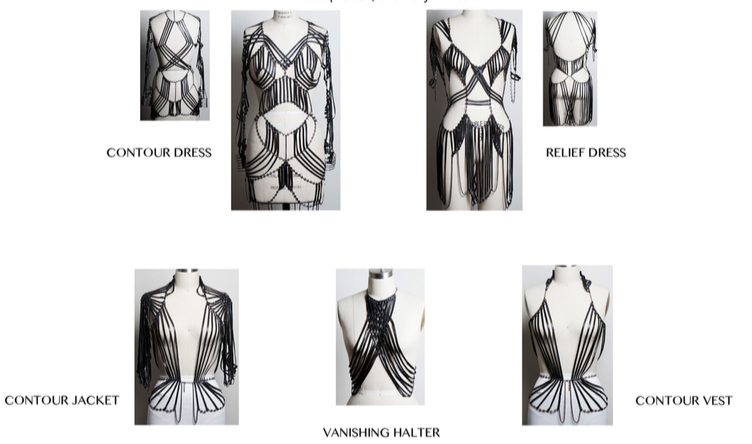 Since then Lau has launched a full fledge line that includes a range of jewelry from custom engagement rings to earrings to necklaces. We were fortunate enough to speak with this designer and get insight on her process and train of thought when it comes to creating these unique pieces.
What was your inspiration behind creating your line?
Structures like the Brooklyn Bridge and my upbringing in Hawaii have largely influenced my design aesthetic. I love to take visual cues from structures and touch – feel based cues from modern dance or poetry. In fact, I have a few styles named after quotes from Anais Nin. Each design is inspired by the physical and emotional- I start with the feel of the piece and then think about the physical elements.
Ultimately what all of that creates in my mind are simple lines, accented with shapes exposing the body and form while simultaneously adorning it.
What are some of your favorite pieces you've created?
I love to make ring sets – you could call them nests. The Illuminate Ring Set is made with two rings, one encompassing the other, nestled around the center stone. I love the idea of two rings interacting with each other and holding their shape with the body.
The Minimalist is one of my very favorites. Inspired by the artist Richard Serra, it gives you a different experience from each vantage point. The ring is designed for the experience of the person wearing it. There are aspects of the ring that only the person wearing can enjoy- the diamonds are on the side, which exposes them only to you. From the top, you can only see the stone, celebrating its elegance and cut. It's a tiny slice but full of life!
Do you find you cater to a specific type of clientele?
The minute I think I know my customer, she surprises me. She is complex, curious, mindful of the world and her actions, and makes educated, careful purchases. I say she surprises me because the more creative and wild pieces I design, the more she seems interested. We used to live in a world where 'normal' was a goal but now it is about being an individual, which is what I always wanted for her. So thank you ladies. I love you!
Can you walk me through your engagement ring process?
My custom process is more about learning who you are and what your life interests and inspirations are. From there I find either a design that we have that will suit you or a gemstone that embodies the ideas we have discussed. Sapphires are one of my favorite stones because they come in a range of colors, each with a different feel and energy.
I can also find diamonds in any shape including cool geometric cuts, ovals, etc. Once the stone is chosen, I either design a custom ring for you based on everything we have learned about you and your partner, or we make adjustments to the designs I have in the collection. At the end of the day each ring is made custom for every client. It is an exciting and intimate process.
How do you ensure each piece of jewelry is truly unique to the person buying it?
Each engagement ring tells a love story specific to that couple. The process ensures that I'm truly getting to know the person receiving the ring and the partner so I can make a one- of- a kind ring specific to them. This is why I have couples take a Socratic Questionnaire- sometimes couples learn something about themselves that they didn't know! It's fun. Finding the duality in the couple makes it unique. There are two styles, two people and two opinions that want to be intertwined. My task is to bring it all together in a single design.
Aside from engagement rings, each piece of jewelry is truly unique to the person buying because as I mentioned there's not one type of customer. Each customer is individual and unique therefore, they're buying the piece for their own reasons, which makes it one- of- a kind to them.
What is your favorite type of jewelry to create?
Rings are really my go-to. I've always been intrigued by hands, which is why adorning hands is one of my favorite things to do. Hands hold so many stories and I get to embellish them with my rings. In a close second would be my body chains. I am always making chain gowns in the back of the design studio for fun. Come over sometime I would love to show you!
What is your favorite part about being based in NYC?
I woke up this morning and my bookshelf was perfectly framed in a rhombus-shaped pink light, the sunrise was bouncing off a building and captured my shelf perfectly. New York City continues to surprise me. I have lived here since I was eighteen years old, ten days after I graduated high school in Hawaii and I still love this place. The city is so vibrant and not a single day is the same- it's always surprising you.