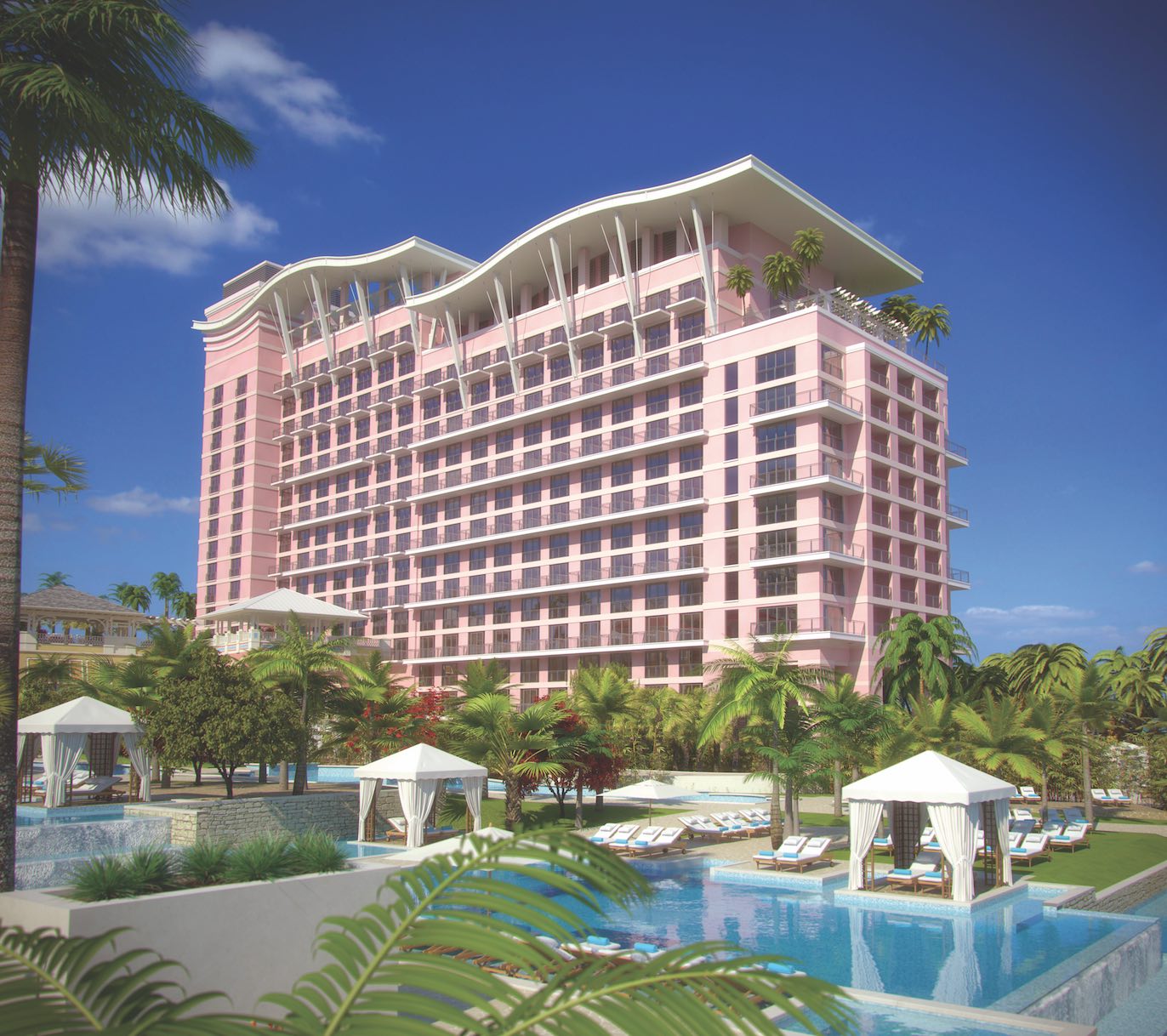 Photo Credit: sbe
Leading hospitality group sbe has set its sights on the Bahamas as its latest venture. Lucky for us in South Florida, it's just a quick plane ride away. So, if you're needing that weekend escape, a 30-minute Bahamian getaway is just the right fix.
Like all sbe worldwide concepts, SLS Baha Mar incorporates all of the top-tier amenities you can expect including oceanfront views, fine dining, a world-class spa, luxury shopping and five-star accommodations, with 299 guest rooms and suites providing top-notch service. The soon-to-be-opened hotel concept will be one of the three hotels located in the Baha Mar Resort & Casino complex in Nassau, New Providence Island, set to open for a soft opening in late 2017 and the grand opening following in March 2018.
AMENITIES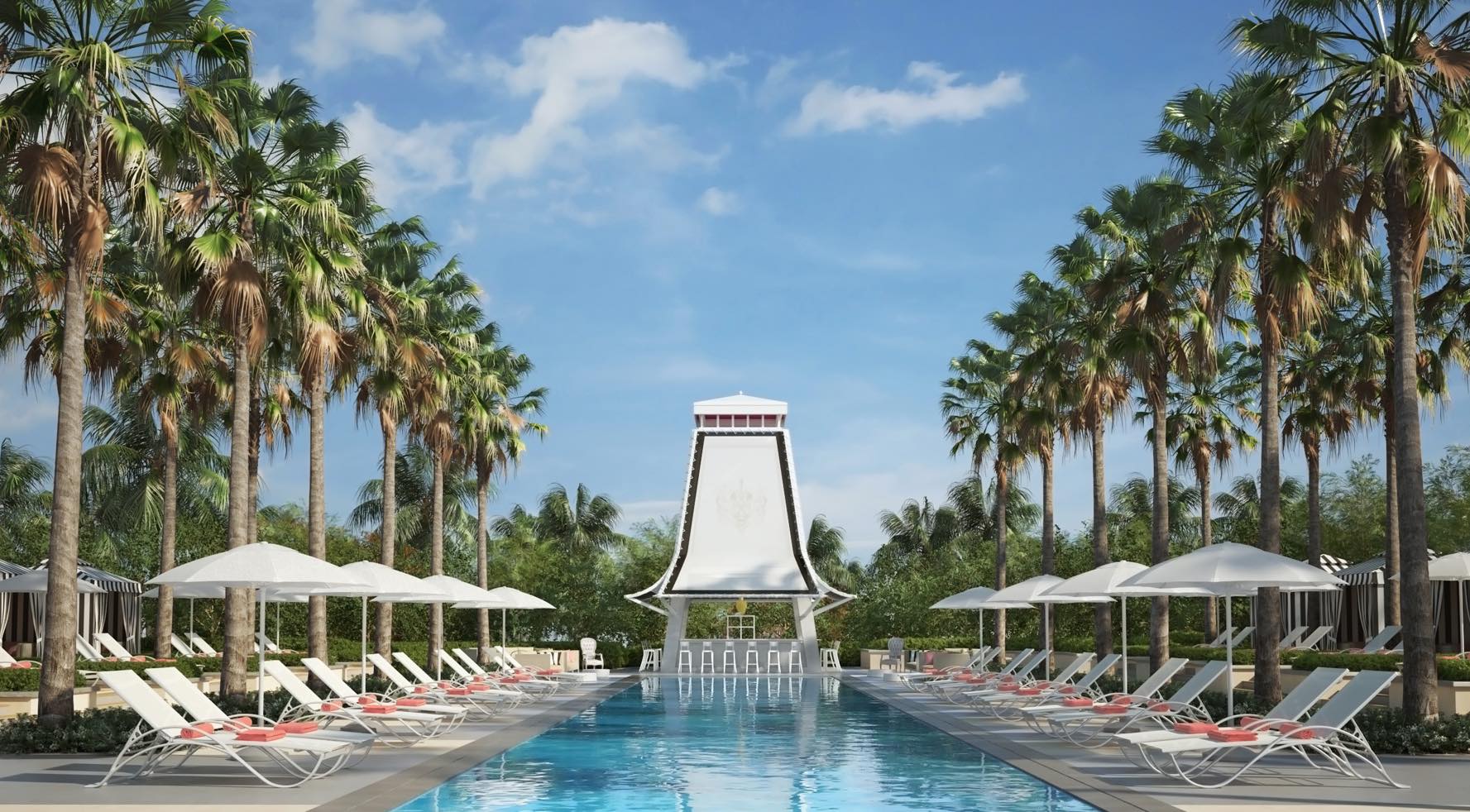 Photo Credit: sbe
At SLS Baha Mar, there's something for everyone. For the men, there's an 18-hole Jack Nicklaus Signature designed golf course to hit during the day when you need an escape from the pool or beach. For those looking to unwind, guests can indulge in spa treatments from a flagship ESPA Spa located in the main Baha Mar Grand Hyatt complex. Of course, some fun in the sun is a must, and guests have plenty of options to choose from—with more than six pools located on the property, each offering something different, as well as pristine white beaches with full service, guests can relax and unwind while experiencing something new every day. And if you need some retail therapy, you can enjoy shopping from top luxury brands like Cartier, Bulgari, Rolex, Hublot and more, as well as the largest casino in all of the Caribbean for some nonstop entertainment. Inside the SLS Baha Mar, guests also have access to a 24-hour fitness center, valet parking, 24-hour room service and valet laundry service.
DINING & DRINKING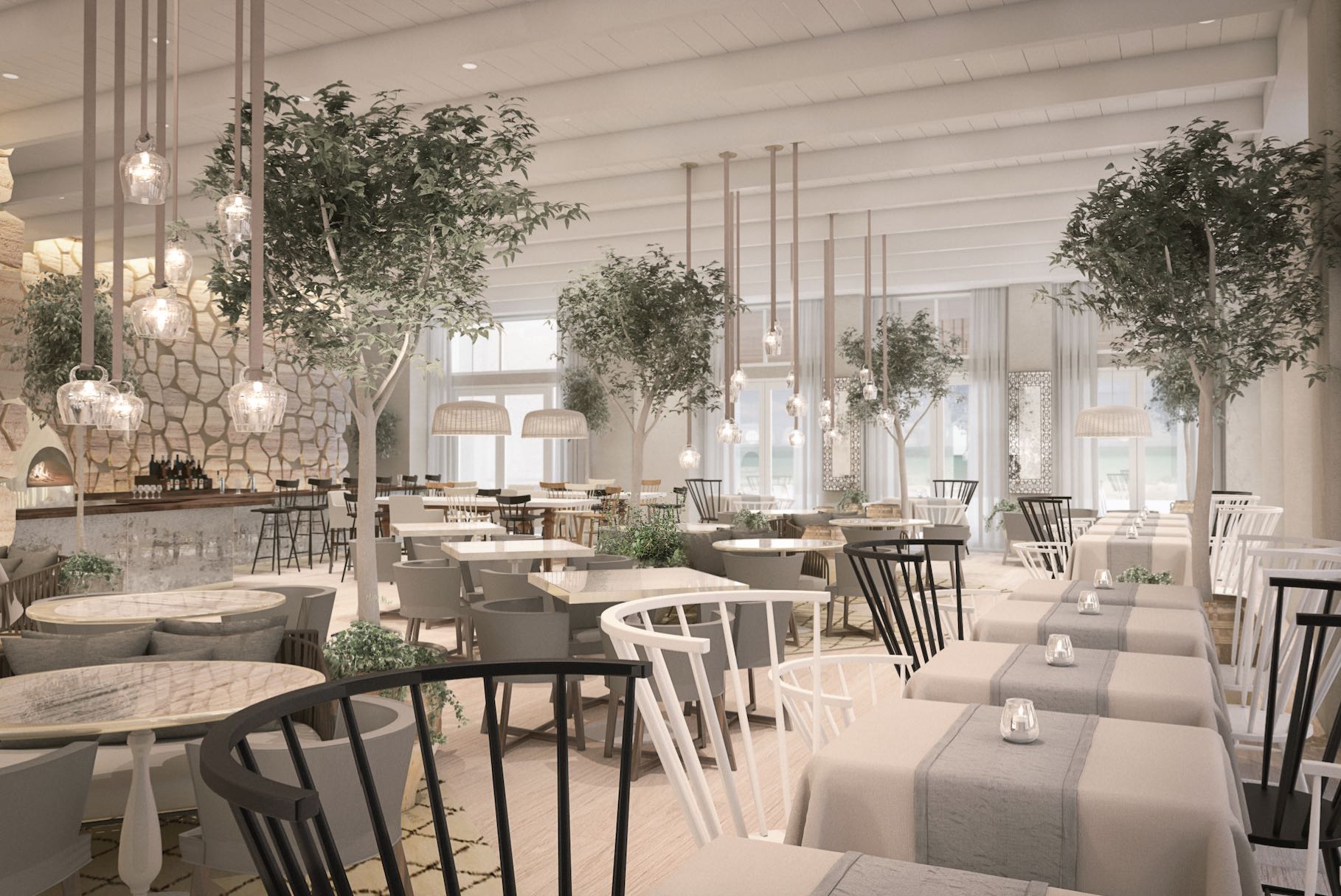 Photo Credit: sbe
Of course, the full sensory experience is heightened by sbe with two globally acclaimed dining concepts—Cleo, which will be located in the SLS Baha Mar—and Katsuya, which is currently open for business in the Baha Mar Grand Hyatt lobby adjacent to the casino. The former is helmed by chef Danny Elmaleh, and he brings the same tastes that you know and love from Los Angeles, Las Vegas and Miami outposts to the resort life in the Bahamas. The dining concept draws from a variety of Eastern and Southern Mediterranean influences with specialties like mezzes, raw fish plates, inventive vegetable flatbreads, finely cooked steaks and seafood as well as creative libations. This location marks the first international Cleo, and is also significant because it is set to be Nassau's only rooftop lounge, bringing nightlife and dining into one lively concept.
Katsuya's opening in the Bahamian resort is also pivotal for the brand. "This opening is a symbol of Katsuya's evolution, longevity and ability to remain relevant in a crowded, global scene. From opening our first location in Los Angeles and expanding throughout the U.S., opening internationally in the Middle East, and now, the Bahamas, Katsuya's momentum is not slowing down," sbe Founder and CEO Sam Nazarian remarked. "We credit our success to chef Katsuya's [Uechi] exceptional cuisine, energy on the restaurant floor and, of course, Philippe [Starck's] visionary interior design."
Both the exquisite cuisine and the stunning interior design of the 10th Katsuya location are something to rave about. Just steps away from the pristine white beaches of New Providence, Bahamas, Katsuya is poised to become the island's newest go-to destination for five-star dining in an unbeatable atmosphere, with indoor and outdoor seating and hip interior elements. In classic Philippe Starck design, the interior utilizes natural wood elements contrasted by white and tan leather seating, high ceilings and glamorous accents. The most striking element is the Dragon Room, which will be utilized for private dining and events, decked out by custom wallpaper resembling dragon scales lining the walls and the ceiling, creating a dramatic contrast of colors featuring tones of black, white, gray and hints of red. The room is subtly lit, enhancing the glamorous, sexy atmosphere of the dining destination.
Photo Credit: sbe
And most importantly, we can't forget about the food. You can expect to find all of the Katsuya classics that have contributed to making the restaurant named, "Best in Class" by IMA and the recurrent winner of OpenTable's Diners' Choice Award. Signature dishes include the yellowtail sashimi with jalapeño; seared tuna with Japanese salsa; baked crab hand rolls; crispy rice with spicy tuna; salmon sashimi with caviar, miso cod; Katsuya ceviche and more. To pair with the Japanese fusion dishes, the award-winning craft cocktail program includes libations like the Katsuya Fresh, Cucumber Watermelon Mojito, The Samurai and White Grapefruit Cosmo.
The grand opening celebration of Katsuya was nothing short of spectacular, with endless passed bites of signature dishes like the Baked Crab Hand Roll, Crispy Rice with Spicy Tuna, Salmon Sashimi with Caviar, boatloads of fresh nigiri straight from the sea and plenty of toro to go around throughout the evening. Guests also got to taste the finest A5 Wagyu skewers generously passed throughout the party with sips of Perrier-Jouët and Katsuya signature cocktails, like the Katsuya Fresh (Grey Goose vodka, rock sake, hand-crushed English cucumbers and freshly squeezed lime juice) and the Cucumber Watermelon Mojito (Bacardi rum, crushed seedless watermelon, English cucumbers, fresh mint and freshly squeezed lime juice)—the perfect accompaniment to the tropical island breeze. Fire dancers and samurai swords also made appearances throughout the night. With 10 curated, vibrant sbe restaurants and lounges set to debut over the next six months in addition to the sprawling, luxurious SLS Baha Mar, we can only imagine what the hospitality powerhouse has in store for us next.
Subscribe to discover the best kept secrets in your city