After 15+ years of managing marketing, sales, digital and distribution for sports and entertainment companies (World Wrestling Entertainment ,Starz Encore Group and On Demand), Lisa Richards started an investment and marketing firm Piper to fund beauty and fitness start-up ventures, including Co-Founding RPZL.

RPZL is the world's first state-of-the-art hair extension and blowout bar, bringing glamorous, top-quality hair extensions to all Gorgeous Girls. Co-founders Monica Thornton and Lisa Richards were determined to find a way to save time and money on world-class hair extensions, fixing the glaring holes in this explosive market and bringing top-quality extensions to everyone. They applied cutting-edge technology to beauty and created a revolutionary process, decreasing application time while improving both quality and accessibility to this transformative experience. Paired with blowouts from the best stylists in New York, it's a revolutionary service for today's Gorgeous Girl.
Before founding RPZL, Lisa was the Senior Vice President of YOU On Demand, overseeing contracts, operations, distribution, programming, marketing, branding and public relations for China's leading multi-platform entertainment company. In this capacity, Lisa oversaw the delivery of premium content, including leading Hollywood and China-produced movie titles, to customers across China via Subscription Video On Demand and Transactional Video On Demand, success culminated by the up listing of the company to NASDAQ in 2013.
We spoke with Lisa about all things RPZL and her journey into the beauty industry.
What was your inspiration behind RPZL? 
There wasn't anywhere in the world to get same day hair extensions. In addition, hair extensions were expensive, the quality of hair was subpar, it was damaging to your hair and it took upwards of 5 hours after waiting weeks to return from your initial appointment (consultation and color match service) where you had to pre-pay for your hair. Monica Thornton (Co-Founder) and I were determined to find a way to save both time and money on world-class hair extensions.
Together, we fixed the glaring holes in this explosive market by applying cutting-edge technology via RPZL's ultrasound machine (sound activation), which decreases application time and does not use damaging heat, while improving both quality and accessibility to this transformative experience.  And, unlike traditional salons, which rely on other companies to supply their extensions, we make our own hair extensions using 100% Virgin Remy human hair, which is the highest quality hair available. That is essential to obtaining a gorgeous natural look.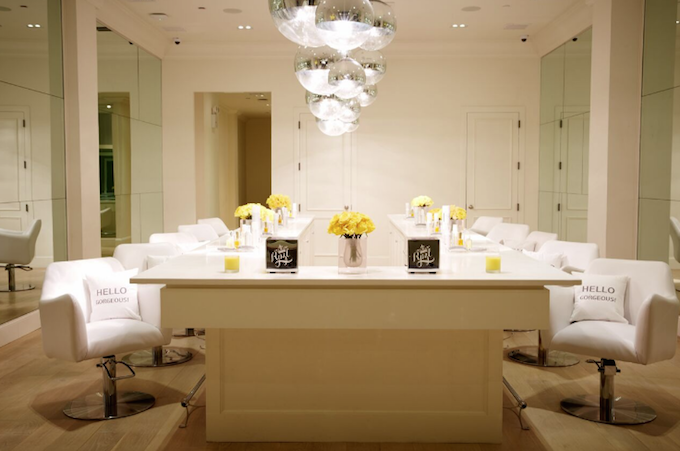 Who is RPZL targeted at? 
RPZL attracts a vast demographic of women, ranging from 16 (clip-in extensions) to 65 years old.
How did you keep yourself motivated when creating your business?
Fortunately, perseverance, ambition and motivation have always been a strong suit of mine in any pursuit.  Thus, when you put me in a situation where I'm now responsible for a business model and customer base that I believe so strongly in, as well as tween daughters whom I am setting an example of what a woman can achieve, being as motivated as is humanly possible for RPZL comes quite easily.    
Have you always been interested in the beauty industry? 
To be honest, I hadn't thought much about this industry until this particular opportunity presented itself, as my past experiences were with sports and entertainment brands and companies.  I had also never been particularly beauty-obsessed ( I don't own a blow-dryer or make-up), so this is a new space for me both professionally and personally.  However, I will tell you how fortunate I've been to fall into such an inclusive, inspiring and progressive industry run by so many dynamic girl bosses.  
Every entrepreneur has a point in their life where they knew they were meant for something greater, what was yours? 
Looking back upon my career trajectory, I had always been promoted internally to spearhead a new product launch, new technology or revenue stream (launching VOD, SVOD, international markets, etc..) and I thrived in that environment.  Either you are a builder (create new entities) or a gardener (maintain the existing product).  From my experience, I've learned how much more I prefer to create and build vs. maintain (which is equally as important).  As such, when I was given the unique opportunity to launch a new company/business in China six years ago, I didn't hesitate to leave a very comfortable job at home to do it.  That incredibly rewarding and educational experience only further solidified that my future lay in starting revolutionary new companies, challenging existing business models and creating new spaces.

What has the response been like with the success of RPZL? 
We are still a new company and concept (affordable luxury same day extensions) and the response since our first day has been both exciting and overwhelming.   We are consistently partnering with the top brands, being invited to exclusive events/shows and working with the top celebrities and influencers.  We have received over a billion press impressions, and have exceeded our initial business projections, allowing us to quickly pivot our initial business plan to one even more quickly scalable. 
What is your busiest time of the year? 
Extensions are not a seasonal business, but with our other LOBs (blowouts, events, etc….) Q4 represents our busiest time of the year. 
What are you most excited about for the future of RPZL? 
Launching the first ever hair care products designed specifically for extensions.   Almost inexplicably, there is nothing on the market to target this billion dollar space, despite the fact that it's been consistently growing at +30% year over year.  Currently, Hair extensions comprise only 3% share of the hair care products market, while servicing a target of 121 million women in the U.S.  And, shortly after this successful launch, either selling the company or listing RPZL to NASDAQ (doesn't RPZL make the perfect ticker symbol?)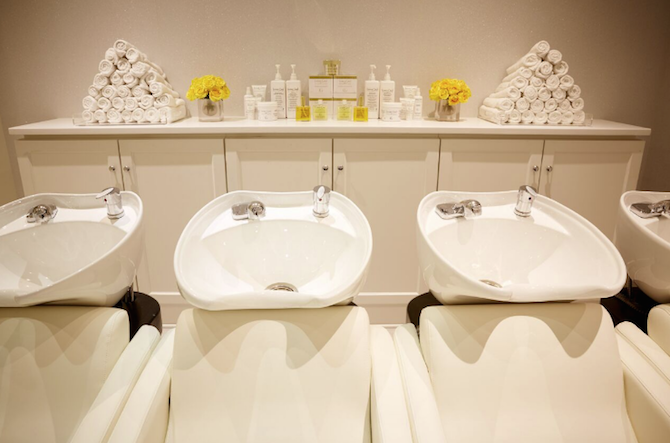 How would you encourage someone who wants to try hair extensions but never has? 
We would have them first try RPZL's Gorgeous in an Instant! (clip-in extensions), which are the gateway into extensions. Those are most popular with beginners since they're so user-friendly (essentially barrettes with hair attached, they can be clipped in or out whenever you'd like) without the commitment. 
What is your favorite part about having a business in New York City?
New York is the world's beacon for open-minded strivers, dreamers and doers.  The city's unrivaled energy, passion, sense of community and camaraderie among so many who are here to be part of something great is awe inspiring.  There's no better city in the world for an entrepreneur to start a revolutionary new business. Go long! 
Location: 27 W 20th St, New York, NY 10011