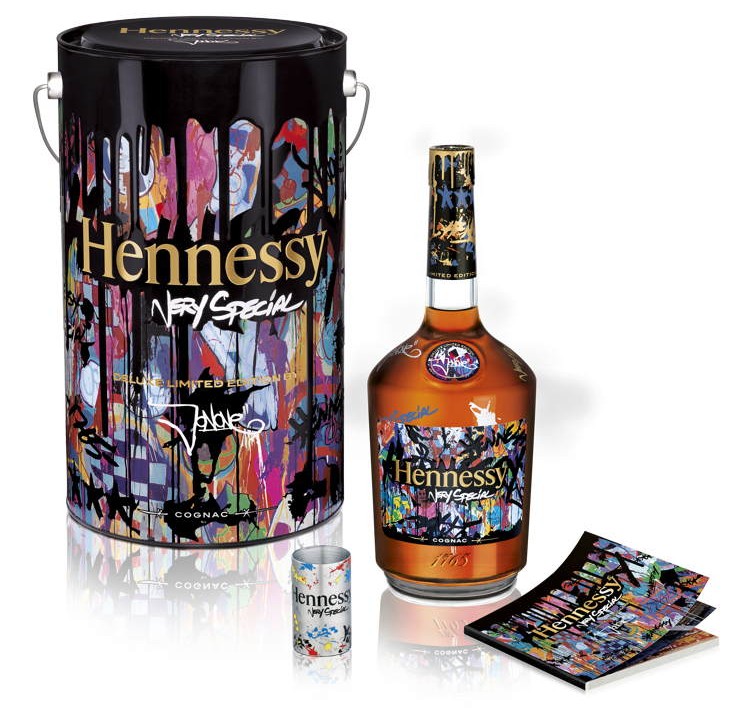 Street artist-turned-fine-artist JonOne made a splash—both literally and figuratively—in L.A. on Friday at Monk Space while debuting his new artistic collaboration with Hennessy.
The 2017 Hennessy Very Special Limited Edition Bottle—the seventh in an ongoing series of collaborations between Hennessy V.S. and several internationally renowned artists that have included Futura, KAWS and Shepard Fairey—features a colorful, vibrant design reflecting the creative vision of its abstract graffiti pioneer designer (who came up in Spanish Harlem before establishing himself as one of Paris' most revered street artists).
Hennessy instantly sensed a kindred spirit in JonOne. Constantly on the move between his home base in Paris, his native Harlem and cutting-edge art scenes all over the world, the street artist-turned-art-world phenomenon has always remained true to himself, pushing boundaries and defying definition. For JonOne, art is a vector for pure emotion: what drives him is being "in the flow" and "sharing dreams."
Nee John Andrew Perello, JonOne became a graffiti artist at age 17 when he fell in with a group of other street artists and began tagging his work "Jon156." In 1984, he founded the graffiti collective 156 All Starz as a way to move past the urban blight around him. Three years later, with money saved doing odd jobs—including being a men's room attendant at the Palladium—he took up a fellow artist on an invitation and bought a one-way ticket to Paris, where he immediately emerged at the forefront of the street art movement. In his 30-year artistic career in France, he has been featured in dozens of shows and has expanded his range to decorative projects from rugs and speakers to a Boeing 777.
That said, he had never visited the town of Cognac before. On his first visit to Hennessy's historic seat, in 2016, the artist immediately connected with the place for its energetic atmosphere and passion for creation. While there, JonOne was introduced to the complex layers of Cognac. "When you speak to people at Hennessy who love what they do, it resonates," JonOne explains. "I can completely relate to that emotion: They create beauty with their own hands; they know the joy of creation. For them and for me, it's not just a job, it's part of your life."
Photo Credit: Jerritt Clark/Getty Images for Hennessy
This shared passion can be seen even in the design process itself, which mirrors the elaborate process of crafting Cognac. With an energy that has come to define his style, JonOne built layer upon layer of freestyle splashes of color, intermixed with Hennessy's own imagery, echoing the complex layers of flavors and aromas created during the Cognac blending process. The result is a final work that captures the spirit of the artist and gives a nod to the transmission and legacy of Hennessy.
"The freedom of the street is what made me want to pursue art in the first place," notes JonOne. "The subway is like a museum that runs through the city. Then, as now, my question is always, 'How do I make my art live?' I want people to look at it and say, 'What is this?'. Hopefully, they'll be inspired. I want to see where it takes them — and where it might lead me next."
The design appears on a limited run of flagship 750mL Hennessy Very Special bottles (priced approximately at $35); a special deluxe gift edition is also available, featuring a 1.75L bottle decorated with JonOne's iconic tag and Hennessy iconography. It is encased in a whimsically over-sized paint can, inspired by the artist's studio and creative inspiration, and available for a suggested retail price of $200.
As JonOne says, "It's about having fun. Letting the colors light up the bottle. Because this is all about fun and celebration." Here, we share a few cocktail recipes that you can make at home from his primary-colored Cognac collaboration.
PRIMARY COLORS BY JONONE – RED
1.5 oz. Hennessy V.S Red
0.25 oz. Cinnamon Syrup
0.5 oz. Lime Juice
3 oz. Ginger Beer
 Pour Hennessy, cinnamon syrup and lime juice; add ice and top with ginger beer
 PRIMARY COLORS BY JONONE – BLUE
1.5 oz. Hennessy V.S Blue
4 oz. Tonic Water
Pour Hennessy over ice and top with tonic water.
 PRIMARY COLORS BY JONONE – YELLOW
1.5 oz. Hennessy V.S Yellow
0.5 oz. Lemongrass syrup
0.5 oz. Yuzu Juice
3 oz. Ginger Beer
Lemongrass stick
Combine Hennessy, lemongrass syrup and yuzu juice; add ice and top with ginger beer. Garnish with lemongrass stick.