As the weather heats up in Miami, so does the food scene. A handful of new hot restaurants have opened up, along with some of our favorite places spicing things up with new seasonal menus with mouth-watering options. We've rounded up a quick-hitting list of some of the city's new openings and new offerings at Miami's best eateries.
NEW OPENINGS 
With the summer season approaching, it's the perfect time to take things by the water for a cool atmosphere. Along the ever-developing Miami River, we've welcomed two new eateries that excel in delicious cuisine and a gorgeous ambiance.
DASHI AT THE RIVER YACHT CLUB 
Photo Credit: Dashi
The River Yacht Club recently welcomed its first restaurant-within-a-restaurant, Dashi, which offers high-end Japanese cuisine with stunning views of the waterfront. Chef Shuji Hiyakawa helms the kitchen, a protégé of Iron Chef Masahuru Morimoto and a descendant of three generations of Udon makers. His cuisine lives up to his reputation, with an extensive selection of Japanese offerings that are simple, yet incredibly flavorful and beautiful in presentation. Standouts include the Toro Tartare topped with Russian osetra caviar, the beef tataki with soy onion, and the sea bass miso hot dish, which is served with scallion, fennel and hoba. And of course, the Udon noodles are a must—the spicy seafood Udon will showcase the Chef's expert skill at its finest.
KIKI ON THE RIVER
Photo Credit: Instagram: @kikiontheriver
The newest addition to the bustling Miami River is the gorgeous Greek eatery, Kiki on the River. The stunning indoor-outdoor design will take you on a culinary journey to the Mediterranean. With a menu that is authentically Greek and an inventive cocktail program, the restaurant is the perfect addition to the Miami waterfront scene and a go-to summer destination. Menu highlights include the fresh octopus, the Greek Salad, the eggplant and zucchini chips with a side of tzatziki, and of course the incredible Lavraki—a fresh grilled fish that comes de-boned and served on a platter for two.  Additionally, they're welcoming in those who want to power lunch with a special $25 prix-fixe menu that offers a delicious selection of menu standouts that are the perfect accompaniment to an afternoon power meeting.
NEW MENUS 
THE DUTCH MIAMI
Photo Credit: The Dutch
The Dutch has launched a tasty new spring menu that showcases Executive Chef Adonay Tafur of The Dutch at W South Beach Hotel & Residences's expertise in creating inventive and gourmet comfort food. The new seasonal fare exemplifies the roots-inspired American fare the restaurant has become known for. New dishes featured include a refreshing tomato salad with basil seeds, cucumber and farm goat cheese; prime steak tartare and earthy shiitake, drizzled with a cognac aioli and crusty toasted rye; artichoke ravioli with black truffle and pecorino cheese; a delectable hanger steak alongside kimchi rice and pickled daikon; and our personal favorite—the spaghetti and Manilla clams with Spanish chorizo, and so much more. To complement the new menu, the Living Room has also launched some new cocktail specials, which features a killer Gin Martini, as well as the Tavarishch for bacon lovers, which is created with rye whiskey, Amaro, maple syrup, fresh lemon, fresh yuzu, and bacon.
QUINTO LA HUELLA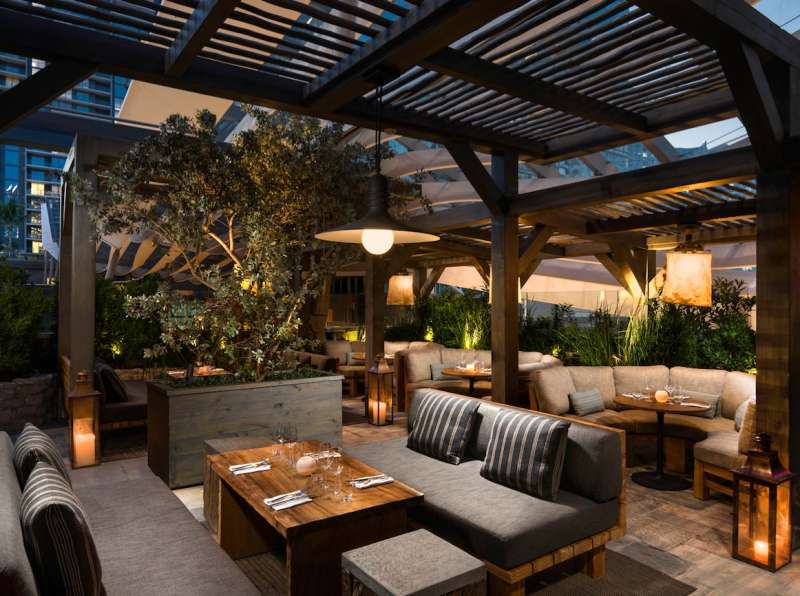 The EAST, Miami hotel Uruguayan hot spot recently added two new additions that allows its customers more options to enjoy the delectable restaurant's offerings. The first is "Quinto on the Go," a new delivery service to the Brickell City Centre, sending over a wood oven-baked pizza and cold-pressed juice menu between 11:30 AM and 6:00 PM. You can find the whole menu here. Additionally, they've launched a "Chef's Table" weekday lunch from Tuesday-Friday, 5pm-7:30pm where guests can enjoy a selection of fresh salads, grilled meats, and tasty sides in a buffet style arrangement for $21++pp.