New York is a city for walkers, but vertiginous heels from the likes of Aquazzura, Manolo Blahnik, Jimmy Choo, Christian Louboutin, and others mean brisk business for town cars needed to ferret the fabulous and fashionable in their sexy stilettos around town. No matter your M.O. for getting about, if you want to be well-heeled in Manhattan, check out our guide for fabulous men's and women's shoes.
SWANK GALORE
These luxe department stores offer posh shoe emporiums with the latest styles from both new and established designers.
BARNEYS
Brilliant at pushing the fashion edge, this beautifully curated temple to all things haute and hip carries some of the best new shoe talent in the world. Head here for insider favorites like Chloe Gosselin and runway hits (Balenciaga's floral ankle bootie) and other offeringsfrom major New York, Milan, and Paris ready-to-wear labels. Men can shop the store for designer oxfords, loafers, and trainers. 660 Madison Ave. and 101 Seventh Ave.; barneys.com.
BERGDORF GOODMAN
The Shoe Salon is more than a place to buy footwear; it's where you go to get a quick read of the city's fast-moving style zeitgeist. As you browse the displays, take in what the sunglassed celebs and influ- encers are selecting for their latest statement-making sandals, booties, and platforms. Just about every gorgeous label can be found here— from heavy hitters to new talent like Mercedes Castillo and Sanayi 313. Men head across the street to Goodman's Men's Store for a great selec- tion of dress shoes, drivers, boots, and sneakers, with an outstanding selection from Italian brands like Zegna, Ferragamo, Tod's, and Prada. Bergdorf Goodman, 754 Fifth Ave.; Goodman's Men's Store, 745 Fifth Ave.; bergdorfgoodman.com.
SAKS FIFTH AVENUE
The eighth-floor shoe department at Saks is so fabulous, it even has its own zip code, 10022-SHOE. (It's the first retail floor in history to get such a designation; there's a special shoe floor stamp too.) In addition to all the top names there are styles exclusive to the store as well. 611 Fifth Ave.; saksfifthavenue.com.
FASHION FAVORITES
These boutiques showcase the latest and greatest from top ready-to- wear and shoe designers.
AQUAZZURA
The hot Florence-based brand opened its first Ameri- can store last year to much fanfare, drawing top celebs and even Princess Beatrice to the opening-night shindig. The graphic interior (lots of black-and-white stripes) provides a dramatic setting for the reliably sexy shoes, defined by sinuous shapes and pencil-thin heels, along with Aquazzura's trend-making lace-up flats. 939 Madison Ave.; aquazzura.com/en.
CHRISTIAN LOUBOUTIN
The brand's red-soled shoes are must-haves for city power women from Wall Street to Seventh Avenue. This season there are high sheen flats, exotic booties, and the zigzag-patterned pump "Explotek 100" in black and white. Biker chic influenced the men's line with studded brogues and sneakers; there are tassel loafers in scalloped leather and a nice selection of linen and leather oxfords too. 965–967 Madison Ave.; 59 Horatio St.; 808 Washington St.(men's); us.christianlouboutin.com.
FERRAGAMO
The company is renowned worldwide for the superb fit of its luxury women's and men's shoes, which can help make even stilettos more wearable. This spring, look for a wide range of styles including block-heel straw sandals and a new ver- sion of the Rainbow platform to fresh iterations of the Vara, a wardrobe staple for C-suite women and Upper East Siders. Men can try the new Tramezza Made-to-Measure program for exclusive customized options. 655 Fifth Ave.; ferragamo.com.
GIUSEPPE ZANOTTI
Here you'll find super sexy shoes, boots, stilettos, and sandals coveted by rock stars and just about every fashion influencer in town. "Crystals, embroideries, and all types of embellishment have always been part of our DNA," says Zanotti of the ultra-glam footwear that has made him a red-carpet go-to for such names Rihanna, Jaimie Alexander, Karolina Kurkova, Gigi Hadid, and Alessandra Ambrosio. And that's not the only star power in his orbit—earlier this year Zanotti introduced a special shoe and accessories collection in collaboration with Jennifer Lopez. 806Madison Ave.; giuseppezanottidesign.com/us.
HERMÈS
For many, this is the brand that represents the ultimate in leather craftsmanship. While Hermès is best known for its beyond-iconic bags (Birkin, Kelly), it also produces fine shoes for men and women, which like the handbag and ready-to-wear collections are both on- trend and beyond trend. With this label it's all about craft, fine materials, and artisanal details. For spring and summer, the women's collection offers brightly colored suede sandals and printed woven- silk sneakers. Men can find new moccasins, espadrilles, boots, and sneakers in warm-weather neutrals (blues, grays, tans). 691 Madison Ave. (women's); 690 Madison Ave. (men's); 15 Broad St.; hermes.com.
JIMMY CHOO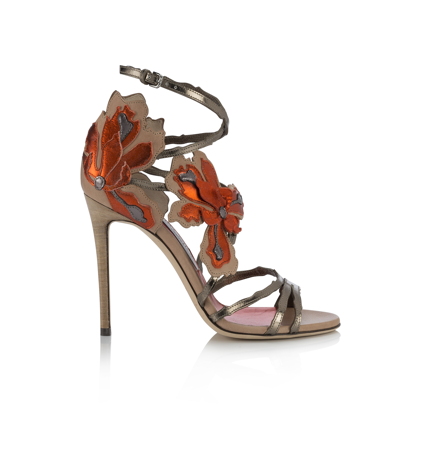 The designer helped put the haute back into luxury shoes—literally—with five- and six-inch heels that are always red-carpet ready. This season, look for gorgeous new heels and flat sandals inspired by the iris flower, with layers of elaborate leather "petals" creating, as the company says, "a corsage for the foot." The menswear collection took its cues from such style rockers as Dylan, Jagger, and Hendrix. 645
LOUIS VUITTON
The news here for women includes duo- tone booties and shoes with chunky heels and sharply shaped toe caps. For spring, men can find logo sneaker boots, zebra- stripe-patterned slip-ons, sleek waxed calf leather lace-ups for business, and the brand's Chelsea boot made with Epi-embossed calf leather. 1 East 57th St.; 116 Green St.; louisvuitton.com
MANOLO BLAHNIK
The emperor of cool-girl shoe chic, Blahnik has shod every fashionista of note for decades. While well known in fashion circles, Blahnik came to enjoy a broad-based fame thanks to Carrie Bradshaw/Sarah Jessica Parker's obsession with his shoes on Sex and the City. More recently Rihanna collaborated with the maestro on a capsule collection—and who can generate more style buzz these days than RiRi? This season, look for vivid green sandals, inspired by the colors and textures of Blahnik's native Canary Islands, along with satin mules and court shoes en- riched with dazzling buckles.
ROGER VIVIER
A legendary designer, Vivier is credited with inventing the stiletto in the 1950s. He made the shoes for Queen Elizabeth's coronation and for such luminaries as Ava Gardner and Catherine Deneuve. This season, master designer Bruno Frisoni— known for his shoe-as-art aesthetic—who has been at the helm of the company since 2004 and is widely credited with bringing a new pizzazz to the brand, of- fers a gorgeous range of richly embroi- dered and rose-bedecked sandals, metal block heels, and evening shoes with glitzy bow buckles. 750 Madison Ave.; rogervivier.com.
STUART WEITZMAN
Always a go-to for gorgeous boots, the label recently partnered with Gigi Hadid for a capsule boot collection. For spring, look for vibrantly colored sandals and slides, pearl-studded block-heel and crayon-pattern sandals, stretch satin booties, and bejeweled sneak- ers. 625 Madison Ave., 685 Fifth Ave., 831 Madison Ave., and other locations in New York; .stuartweitzman.com.
BESPOKE AND MADE TO ORDER
When you want shoes created just for you.
JOHN LOBB
A company founded in London in 1866 (since 1976 it has been owned by Hermès), John Lobb handcrafts ultra-luxe shoes (a bespoke pair takes about 50 hours of work in the label's Paris atelier), boots, and accessories for men (Prince Charles and Calvin Klein wear Lobb) and women (no less than Queen Victoria and Jacqueline Kennedy Onassis were customers). The price of handcraft- ed made-to-measure shoes with the Be- spoke service varies depending on mate- rial and style, but figure on at least $7,000 for a pair. John Lobb is a brand that tran- scends trends, but you can count on new styles and colors for favorite ready-to- wear models each season. 800 Madison Ave.; johnlobb.com/us/.
LEFFOT
Since 2008, this West Village shop has been making sure that city men have the best of the best from such names as Edward Green, John Lobb, and Saint Crispin's whether for made-to-measure or ready-to-wear footwear. There are accessories like gloves, belts, and wallets too. 10 Christopher St.; leffot.com.
SILVANO LATTANZI
For more than 40 years, Silvano Lattanzi has been making handcraft- ed custom shoes with his original Bentivegna construction in a wide range of materials for city elites and other well-heeled gents in posh destinations like St. Moritz and Porto Cervo. There are ready-to-wear options too. 905 Madison Ave.; silvanolattanzi.com.