Photo Credit: The Hollywood Roosevelt
The Hollywood Roosevelt is celebrating a milestone this May—it's 90th birthday.
This is a big deal, and we'll tell you why. This place, in addition to still being one of the top hotels in LaLa Land, has managed to retain its old-world, vintage Hollywood sensibility. And why shouldn't it? After all, this is historical landmark is the place where, among other things, the very first Academy Awards was hosted (in the property's Blossom Room on May 19, 1929, which incidentally, was the shortest Oscar ceremony ever, lasting just five minutes); where, during Prohibition, a young Errol Flynn prepared his famous gin recipe in the back room of the hotel's barber shop; where a young Shirley Temple took her first tap-dancing lesson (on the hotel's ornate tail stairway from none other than Bill "Bojangles" Robinson); and where Marilyn Monroe posed on the diving board of the hotel's swimming pool for her first-ever ad. It's such a hot spot that one of Tinseltown's most famous faces is still said to haunt the premises—the ghost of actor Montgomery Clift is said to haunt the ninth floor (suite #928), where he used to pace the halls back in 1953, memorizing his lines while making From Here to Eternity, playing his bugle in his down time.
Will Rogers, Charlie Chaplin, Harold Lloyd, Clara Bow, Greta Garbo and Gloria Swanson were on site for the hotel's opening fete. And though you can't be transported in a time machine back to that magical moment in Hollywood history, you CAN enjoy an similar (and thankfully more modernized) experience all the same. Here are nine ways to celebrate the Hollywood Roosevelt's 90th anniversary this year.
Photo Credit: The Hollywood Roosevelt
STAY IN A REIMAGINED GUEST ROOM.  The Hollywood Roosevelt recently completed a recent $25 million guest room renovation to its 240 Tower rooms and suites from Yabu Pushelberg, all of which evoke the glamour and style of Hollywood's Golden Age fused with modern west coast living. Featuring a refined palette and mix between Spanish colonial and bohemian-inspired patterns, the design elements pay homage to the grandeur of the hotel's storied history with replicas of original pieces from the 1920's and 1930's. Design statement available upon request
Photo Credit: The Hollywood Roosevelt
2. GO BACK IN TIME WITH AN OLD HOLLYWOOD SUITE STAY. The property's piece de resistances are its Gable & Lombard Penthouse Suite, a 3,200 square foot suite which was once the home of legendary couple Clark Gable and Carole Lombard that features a three-level penthouse features an expansive rooftop patio with 360-degree, panoramic views of Hollywood and its surrounding area, and offers a play between sleek, contemporary furnishings and vintage extravagance and its Marilyn Suite. The latter, named after Marilyn Monroe, features a loft-like, open floor plan, with white furniture, sleek dark hardwood floors, vintage Eames designer pieces and a spacious wrap around balcony, which overlooks the Tropicana Pool & Cafe below. For two consecutive years, The Marilyn Suite once served as home to Marilyn Monroe and she continued to stay at the Hollywood Roosevelt Hotel throughout her prosperous acting and modeling career.
Photo Credit: The Hollywood Roosevelt
3. AWARDS SEASON HISTORY IS HERE. Make sure to check out the Blossom Ballroom, the home of the first Academy Awards, which has been recently restored to its original grandeur thanks to a 25-foot-tall LED light ceilings, nearly 4500 square feet of historic space, custom chandeliers, vintage tiles, original ceiling details and 10-foot radial doors. There's also the Oscar Room, which, with its floor-to-ceiling windows overlooking Hollywood Boulevard, will make everyone look backlit like a star, and the Academy Room, formerly the offices of the Motion Picture Academy (where the Oscar ballots used to be tallied) that now serves as an event space with its large floor-to-ceiling windows overlooking Hollywood Boulevard, 16-foot vaulted ceilings and cast-iron chandeliers.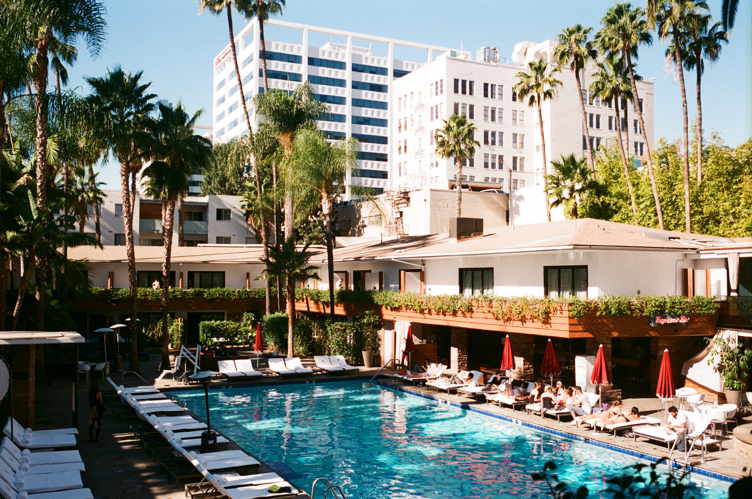 Photo Credit: The Hollywood Roosevelt
4. ART POOL TIME! The heated outdoor swimming pool provides guests the only locale in the world where they can swim in a one million-dollar work of art painted by acclaimed artist David Hockney, his last pool mural.
5. LOVE IN LA LA LAND. To further capitalize on the Oscar-winning success of La La Land, which was essentially filmed in the hotel's backyard, book the new "Love in LA LA Land," romance-inspired package includes accommodations of your choice, a Chef's choice aphrodisiac welcome amenity for two, two signature cocktails at Library Bar, breakfast in bed, a $25 Uber credit and a $50 Pacific Theaters Voucher to enjoy a flick at the famed Grove Pacific Theater.
Photo Credit: The Hollywood Roosevelt
6. GET ROSY. This month, the hotel will debut its Rosy Oyster pop-up, a new rosé and oyster pairing experience in the hotel's famed Tropicana suite space spearheaded by model-cum-sommelier Lelanea Fulton. Often known for her time spent as sommelier at New York's Dirty French, and touted in the press as "ridiculously chic," Lelanea has developed a knack for pairing wine with one of her favorite colors, so get on board and get in the pink.
Photo Credit: The Hollywood Roosevelt
7. EAT, DRINK AND BE MERRY. The Roosevelt plays host to two very vintage-inspired locales: Public Kitchen & Bar and Library Bar. The former is a critically-acclaimed American brasserie, located off of the historic main lobby of The Hollywood Roosevelt, helmed by Executive Chef and Restaurateur Tim Goodell. With industrial-chic brass chandeliers, tufted leather banquettes, a wall of lush greenery and a historic mural—rediscovered during the renovation process—public sets the scene for a quite understated, delightful dinner. Make sure not to miss Library Bar for a nightcap, where you'll actually choosethe ingredients that pique you interest from a garden of fresh fruits, seasonal vegetables and refreshing herbs.
Photo Credit: The Hollywood Roosevelt
8. A BAR WITH BOWLING. The Roosevelt is home to The Spare Room, one of the coolest concepts in L.A. It's not only a bar, but a bowling alley! Upon entering, guests will experience the Hollywood charm and glamour of a bygone era thanks to original design elements such as wrought-iron, arched windows and its vintage-inspired bowling alley that runs adjacent to the game parlor and cocktail lounge.
9. LOCATION, LOCATION, LOCATION. The Hollywood Roosevelt Hotel is located at 7000 Hollywood Boulevard, bordered by the world's most famous sidewalk, the "Hollywood Walk of Fame," featuring handprints of iconic celebrities. It is also walking distance to the El Captain theater, Jimmy Kimmel Studios, Grauman's Chinese Theatre and the infamous Dolby Theatre, which plays host to the Academy Awards each year. Should you be a Los Angeles local having a much-needed staycation, don't be embarrassed to play tourist for a day in your own backyard. It's history, after all, and you're part of it!