New York has countless restaurants and night spots where you can indulge your every appetite, but here are five great ways to celebrate Valentine's Day.
Go for an All-Out Lavish Dinner at The Lambs Club
This Midtown power spot in The Chatwal Hotel, helmed  by star chef Geoffrey Zakarian,  will be offering a four-course prix fixe menu for Valentine's Day. The special dinner promises to be a lavish one with menu options including  Hudson Valley foie gras; roasted celery root velouté;  ravioli with Barigoulde artichoke, Maine lobster, and sherry vinegar;   agnolotti with parmigiana reggiano and chaterelle mushrooms; Feather Ridge Farm poached egg with ricotta demi-soufflé;  Baked Alaska for two and warm chocolate flourless cake. The Lambs Club at The Chatwal, 132 West 44th Street, 5:00 PM — 11:00 PM. 212-997-5262. www.thelambsclub.com
Enjoy Posh Euro Flavors for Valentine's Day Dinner Specials at Landmarc Restaurants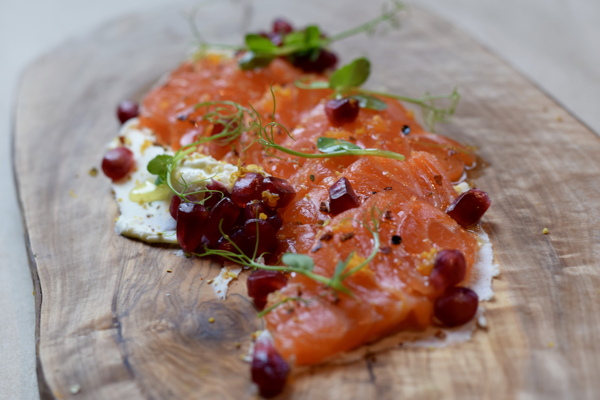 On Valentine's Day, chef Marc Murphy will be offering dinner specials at his Landmarc restaurants inthe Time Warner Center and in Tribeca  At the Uptown property, menu highlights include Oysters Rockefeller and roasted chicken for two with black truffles and a sea salt chocolate tart with strawberries, crème anglaise and St. Germain. The Downtown menu has such a la carte specials as black truffle lasagna with cipollini and  wild mushroom béchamel  and caramelized white chocolate tart with blood oranges and sea salt. Landmarc at Time Warner Center, 10 Columbus Circle, 3rd Floor. 5:00 PM to 12:00 PM. 212- 823-6123. Landmarc Tribeca,179 West Broadway. 5:00 PM — 11:00 PM. (212) 343-3883. For more information go to landmarc-restaurant.com.
Indulge in Slowly Shirley's new "Cocktails & Caviar" menu
The sexy, subterranean West Village date spot has partnered with California's Roe to create a special month long "Cocktails and Caviar" menu that will start on Valentine's Day and continue until March 15th. The menu will feature three new signature cocktails, coupled with a a Roe Caviar dish. (Bartender Jim Kearns did the pairing.)  Spirits such as champagne and absinthe are are matched with what Slowly Shirley is calling an "aphrodisiacal caviar, guaranteed to bring excitement to any romantic rendezvous." A caviar supplement is available with all cocktails for $4 (a spoonful of caviar on crushed ice in a tin or on the cocktail). The scrumptious small plates include caviar and blinis with creme fraiche; truffled deviled eggs with caviar; house-made chips and dip with caviar. 121West 10th St. Tues-Sat. 6pm till Late. (212) S-H-I-R-L-E-Y. slowlyshirley.com
Sate your Sweetooth at The Skylark
If you're looking for a setting that's both dramatic and romantic, head to the Skylark, a year-round rooftop lounge that offers knock-out skyline views of Gotham from its perch 30 floors high in the sky. For Valentine's day, the Skylark will present some pretty sweet offerings (in addition to the venue's regular menu of shared plates), like the Cupid's Shot, a spiked Strawberry shake with white Godiva and chocolate pretzel cookie, and the Coco cocktail, made with prosecco, coco mix, and floating strawberry "pearls." Order with a side of spiked mini cupcakes made with mocha Kahlua and salted caramel amaretto. The Skylark, 200 West 39th St., Valentine's Day, 4:30 PM – Midnight. 212-257-4577, theskylarknyc.com/reservations
Celebrate at an iconic New York spot: The Palm Court at The Plaza
The Palm Court at The Plaza, a hotel that's provided settings for countless movies (and novels like The Great Gatsby) will have a special Valentine's Day menu on the 14th offering guests scrumptious cocktails made for two, and a range of savory and sweet treats, such as foie gras tartlets, Ahi tuna tartare, and passion fruit and dark chocolate macaroons, all paired with a glass of Champagne. The Palm Court at The Plaza, 768 5th Ave.,  6:30AM-12:00AM, 212-546-5300. theplazany.com/dining/the-palm-court