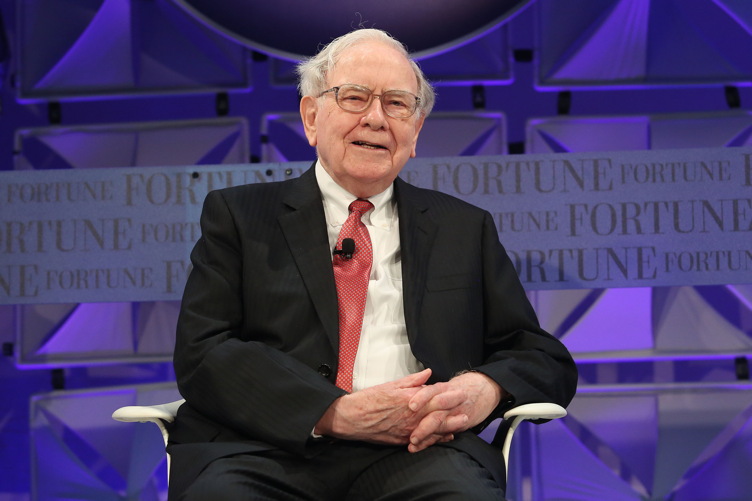 Photo Credit: Krista Kennell/Shutterstock, Inc.
Warren Buffett is anything but a typical billionaire. Although the chairman, CEO and largest shareholder of Berkshire Hathaway, a holding company behemoth with a net worth of more than $60 billion, he still lives in a modest home in his hometown of Omaha, Nebraska, drives himself to work every morning and, at the age of 86, manages to run the fourth-largest public company in the world. His down-to-earth personality and charitable nature—in an unprecedented act of philanthropy, he pledged to leave 83 percent of his substantial fortune to charity through the Bill & Melinda Gates Foundation—is at odds with the traditional idea of a ruthless businessman. This dichotomy proved fascinating for filmmaker Peter Kunhardt, who couldn't resist the lure of discovering the true Warren Buffett. The six-time Emmy winner approached HBO, with whom he had worked ten times previously, including on 2016's Emmy Award-winning film, Jim: The James Foley Story. After the network agreed, Kunhardt passed along a hand-written note through Buffett's son to gain authorization. He ultimately not only agreed, but offered unprecedented access to never-before-released home videos, family photographs, archival footage, and even family and friends, such as Bill Gates. The documentarian set about telling Becoming Warren Buffett from the beginning, tracing his ascent from first-time investor to business maven, delving into the highs and lows of his career and personal life―from becoming a father of three and the world's richest businessman, to weathering the Salomon Brothers' treasury bond trading scandal, to the loss of his wife and first love, Susie Thompson Buffett. In his film, which premiered on HBO in January, Kunhardt never shies away from sensitive topics or sharing his true feelings about the enigmatic billionaire. As he tells us, "I think learning life lessons from Warren has made all of us better human beings."
Photo Credit: HBO
What story did you originally want to tell about Warren Buffett?
I find it very interesting how people are shaped, in large part, during their childhoods. So, we wanted to understand what influenced Warren as a boy and how, as he grew up and grew successful, he never forgot the values and principles that were instilled in him. It turned out that his father had the greatest influence on Warren and the lessons that he taught him have lasted all his life.
How did that story change as you progressed?
We learned that, when he was a young man, there was a second major influence on Warren: his wife Susie. Warren was very good at business, but he was what he called "socially lopsided." He had a hard time fitting in. Susie softened him and taught him social skills that transformed the rest of his life—so much so that Warren claims that he would never have been as successful at business had it not been for Susie.
What is something you learned while working on the documentary that the public might not know?
I saw first-hand how down-to-earth and hard-working he is. Once, he told me he wanted me to read a letter his wife had written years ago. Instead of having an assistant find it for me, he himself dug through his files, made a copy and walked it downstairs to give it to me. He has shaped his working environment to fit his personality—there is no bureaucracy and he does the work himself. I found that very refreshing.
How did you handle bringing up sensitive topics?
Warren loves to teach young people and he always tells them that they can ask him any question. He did the same with me—there were no restrictions regarding what we discussed. Sometimes, he chose not to answer questions that were just too emotional for him to respond to—like the death of his father or the fact that his first wife Susie left Omaha and moved to San Francisco. But we felt that there was often more meaning in what he did not say: it showed a vulnerable side of Warren that people do not normally see.
Photo Credit: HBO
Mr. Buffett seems to be light-hearted. Was that genuine?  
Totally genuine. By the end of this project, we all came to realize that Warren is even more genuine than we thought at the start. He is who he is and he is comfortable with who he is.
How did the documentary come to be?  
I approached HBO with the idea after Warren agreed to do an interview with us. Warren's son Peter hand-delivered a letter I'd written to Warren requesting an interview and, within a week, I received a letter from Warren saying yes.
HBO touts that you have had unprecedented access into his life. Can you speak to that? How so, specifically?
Our access was incredible. Not only did Warren sit for four separate interviews, but he opened his family archive of photographs and home movies that have never been made public before. We were given unrestricted access to everything the Buffett family had stored in cardboard boxes. It was a treasure trove for us as film producers and allowed us to visually portray Warren in a very personal manner.
Has he seen the documentary? What are his thoughts?
He saw the film shortly before the New York premiere and told me that he believed it captured his story in a way that had not been told before. I think he was particularly impressed by the fact that we devoted as much time as we did to his father and his first wife, both of whom influenced his life a great deal.
How did you get access to men like Bill Gates? Did Mr. Buffett help you with this at all?
Warren made the connection with anyone whom we wanted to interview. He made it very easy to get to people who would normally be very difficult to get to. And everyone who participated wanted to because they are so fond of Warren―that tells you a lot about him.
"Becoming Warren Buffet" airs tonight at 10 p.m. on HBO