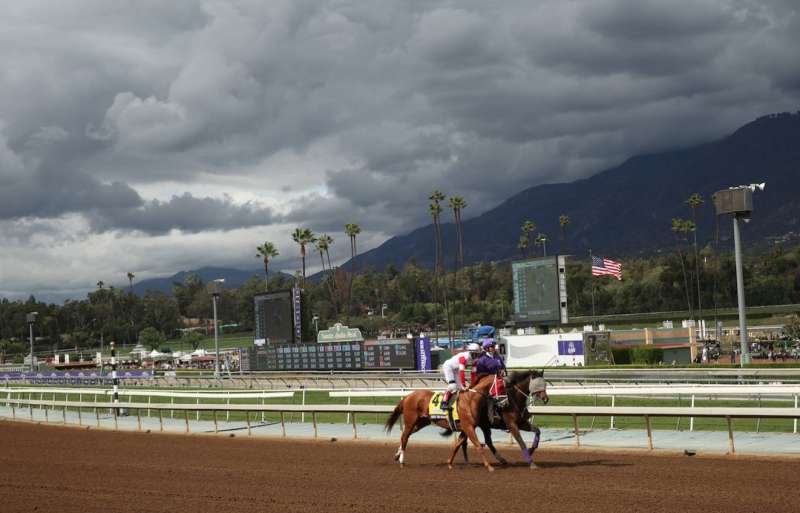 Photo Credit: Breeders' Cup
After taking a one-year hiatus, the Breeders' Cup is headed back to the west this November. This two-day, Longines-presented event, is one of thoroughbred horseracing's most prestigious international affairs, offering an exciting entertainment experience that combines the best horses, jockeys and purses in sports with world-class hospitality, high-end fashion and luxury entertainment.
The inaugural Breeders' Cup was held in 1984 at Hollywood Park and, back then, there were seven races and a purse of $10 million. Things have changed ever so slightly for 2016. Approximately 60,000 fans are expected to cheer on classic contenders California Chrome, Exaggerator, Frosted and Melatonin over the course of 13 races and bet on purses valued at the record amount of $28 million. Here is what to expect at the 33rd annual event held at Arcadia's Santa Anita Park—a playground for stars of Hollywood's Golden Age, such as Cary Grant, Fred Astaire, Betty Grable and Charlie Chaplin—November 4 and 5 for a record ninth time. And…we're off!
HORSE ART POP-UP EXHIBIT
Photo Credit: Evan Romoff 
Fans who travel to the L.A. area in the weeks leading up to the event can enjoy a pop-up community art exhibit, launched by Breeders' Cup and the Los Angeles Tourism and Convention Board in collaboration with five of California's most notable street artists. Each artist is painting a life-sized, six-foot tall horse statue in a style that reflects their own interpretation of the local culture and community. The statues will be unveiled the week of October 3 at various locations throughout Los Angeles, and will remain on display for the local community to enjoy until October 31 when they are transferred to Santa Anita Park to be displayed at the 33rd Annual Breeders' Cup World Championships. Participating artists will represent the best of Los Angeles's diverse artist community, including Man One, Andre Miripolsky, Yolanda Gonzalez, Clinton Bopp and Michael Massenburg.
ARCADIA NIGHT AND PASADENA FAN FEST
Breeders' Cup will host two community celebrations over the week leading up to the weekend event. Arcadia Night: Salute to Zenyatta will take place on Wednesday, November 2 at the nearby Gold Line Plaza. Kicking off at 5:00 p.m., the evening will include live music by Ghost in the Machine, a four-man Sting cover band, as well as signature dishes from some of Los Angeles' most iconic food trucks, including Meat the Greek, Ragin Cajun, and Paradise Fine Cookies and Ice Cream. It will conclude with the honoring of iconic racehorse Zenyatta with a dedicated star on the Walk of Champions. Additionally, distribution of the 2016 limited-edition Maker's Mark® commemorative bottle featuring Zenyatta will take place during the event. This year, all proceeds will go to Old Friends, an organization that provides dignified retirement to thoroughbreds whose racing and breeding careers have come to an end. On Friday, November 4, Breeders' Cup and the Pasadena Convention & Visitors Bureau will host Pasadena Fan Fest on the plaza of the Pasadena Civic Auditorium. The Spazmatics, a four-piece '80s cover band, will perform fan favorites, while guests enjoy local food trucks and sip on signature horse-themed cocktails. Official milliner Christine Moore will be onsite selling fascinators and offering styling tips for guests looking to elevate their look for the final day of racing.
NEW LUXURY SEATING AREAS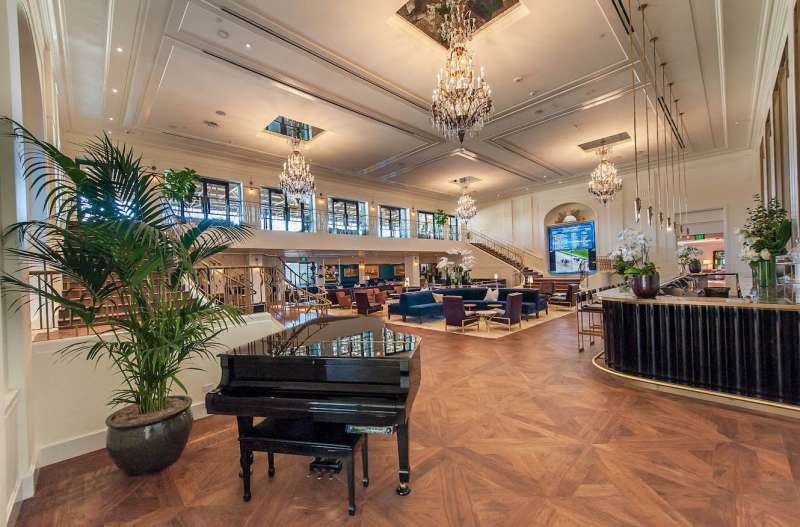 Photo Credit: Santa Anita Park 
On November 4 and 5, fans can enjoy the races from a number of brand new luxury seating areas, with curated food and beverage experiences by some of Los Angeles' top chefs. These are some of our favorite places to enjoy the races:
• The View: Located right on the rail, the lounge setting has a private bar for those who want to be in the center of the action
•Chandelier Room: This ultra-luxe experience takes place in a newly-renovated suite with its own private viewing deck, jumbo HD video screens, handicappers available to help with wagering advice, a private speakeasy room, and a taste of Chef Steven Fretz's take on modern American fare with gourmet dining and a gourmet bar.
• Silks Lawn Chalet: The new extravagant venue offers unparalleled views of the racetrack and southern Italian cuisine from Chef Steve Samson of restaurants Sotto and the upcoming RossoBlu, including his famed pastas and grilled pork meatballs.
• Trackside Marquee: Here, fans can nibble on bites from celebrity chef and owner of Redbird and Vibiana, Neal Fraser, as they experience the excitement of the stretch turn for home.
• FrontRunner Restaurant: At this eatery, located on the fifth floor of the Turf Club, fans will find dishes inspired by the vibes of southern California from Chef Jason Neroni of the Rose Café restaurant in Venice. Dishes from Chef Timothy Hollingsworth of Otium, drawing inspiration from his 13 years as a resident and chef of Napa Valley's most luxurious restaurant, The French Laundry, will be featured in the celebrity-packed Trophy Lounge and in the luxury suites.
PARTNERSHIP WITH SPROUT
Breeders' Cup has partnered with Sprout L.A., the city's premier restaurant collaboration, for the 33rd World Championships. Four award-winning Sprout L.A. chefs—the aforementioned Steve Samson of Sotto, Jason Neroni of Rose Café, Tim Hollingsworth of Otium, and Neal Fraser of Redbird and Vibiana—will curate unique food and beverage experiences for the event's attendees, while esteemed Los Angeles Chef Steve Fretz will also join forces with Breeders' Cup.
TASTE OF THE WORLD
The sixth annual Taste of the World, one of the most exclusive, highly-anticipated entertainment events surrounding the Breeders' Cup World Championships, will take place on Thursday, November 3. Celebrity chef and horseman Bobby Flay will host at the historical Warner Brothers Studios, while guests sample dishes from 15 world-renowned chefs throughout the Hollywood glamour-themed evening. They will also enjoy live entertainment from the Neil Diamond tribute band, Super Diamond. Over 1,200 of the most influential breeders and owners are expected to attend.
FASHION
Breeders' Cup announced its partnership with the new luxury footwear label designed by Christina Lombardi—daughter of Ron Lombardi, whose horse, Tightend Touchdown, placed second and sixth in the Turf Sprint race in 2013 and 2014, respectively. Attendees will have exclusive access to Lombardi's newest footwear at venues in the Langham Hotel, Santa Anita Park and at the Finish Line Celebration. The designer's eponymous collection, inspired by her travels to Italy, her family history and her passion for Italian beauty, launched earlier this year.
HIGH ROLLING
The 2016 Breeders' Cup Betting Challenge is 'real money' handicapping, meaning you need to be rolling deep to bet. Players will be required to deposit $10,000—$7,500 of which will be their bankroll for wagering during the tournament. The remaining $2,500 will be placed in the prize pool. If 400 players enter the tournament, for example, the cash prize pool will be $1,000,000. But there's more: a $3 million National Handicapping Championship Tour bonus— the largest prize ever offered in the handicapping contest world—will be awarded to any horseplayer who wins the Breeders' Cup Betting Challenge and the Daily Racing Form/NTRA.
LONGINES PRIZE OF EXCELLENCE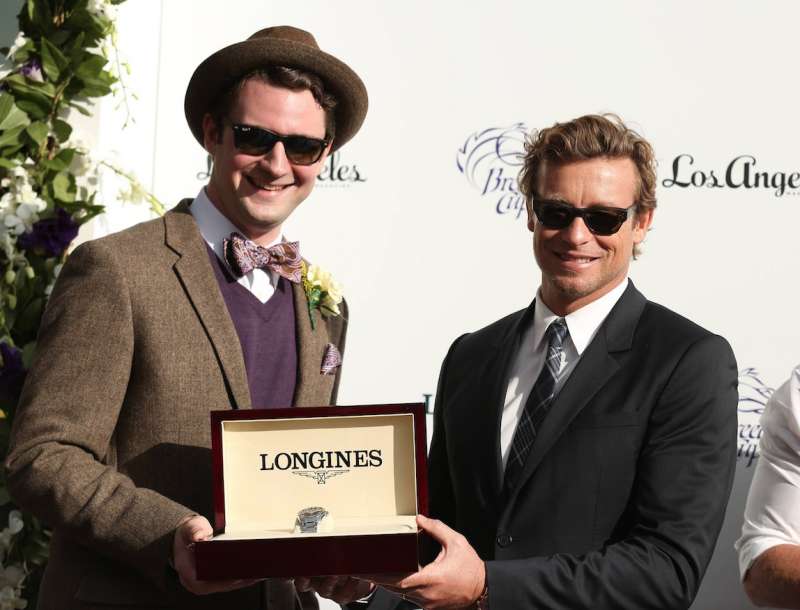 Photo Credit: Longines
The annual competition honors the best dressed men and women at the races by gifting finalists a pair of shoes, in addition to the grand prize of a Longines timepiece. The Breeders' Cup began its partnership with the Swiss watchmaker in 2014 and it has since become the official timekeeper and official watch of the event. As such, the brand will have a prominent presence throughout Santa Anita Racetrack with branded clocks and banners decorating the course.
CELEBRITIES
Expect to see stars at the Breeders' Cup! Celebrity ambassadors and frequent attendees include Elizabeth Banks, Bo Derek, Joe Torre, Simon Baker, Denver Broncos player Wes Welker, Toby Keith, Kate Upton, and Gary Player. Big-name thoroughbred owners with whom you're likely to rub elbows include Barbara Banke of Kendall Jackson Wines, Jerry and Ann Moss of A&M Records, financier George Bolton and Theory CEO Andrew Rosen.
FUN FACTS
* Kroger Floral Design Center, the official flower garland provider of the Breeders' Cup, creates each of the 13 championship race garlands. The official garland is comprised of rare combinations of beauty asters, golden asters, cremons and catteleya orchids, which have been grown exclusively for the race since 1988.
* The Breeders' Cup trophy is an authentic bronze reproduction of the original Torrie horse that was created by Florentine Giovanni da Bologna in the late 1580s. According to reports, it was originally created as a study for the equestrian statue of Duke Cosimo I of Florence and is inspired and influenced by Leonardo da Vinci, who had been working on, but never completed, a colossal equestrian monument to Giangiacomo Trivulzio.
* The highest payout in Breeders' Cup history was in 2003 when a single Pick 6 ticket rewarded $2,687,611.20. Arcangues, who surprised at 133.60-1 odds in the 1993 Classic, recorded the biggest upset in Breeders' Cup history ($269.20 on a $2 win bet).
Subscribe to discover the best kept secrets in your city