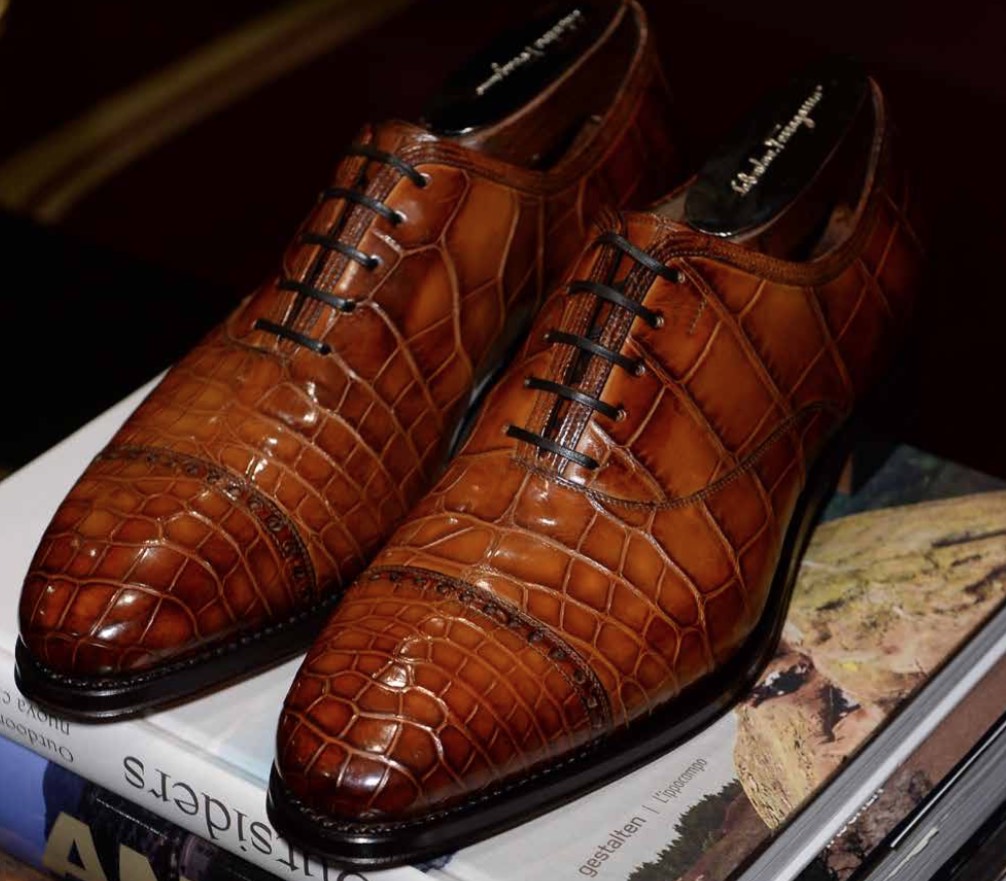 Photo Credit: Salvatore Ferragamo
In a digital world of want-it-now, where "now" is measured in nanoseconds, can a custom product that takes weeks to create attract enough customers who are willing to turn to a very last-century coping strategy—patience—before they receive it? That's one of many questions high-end brands must consider today. With luxury goods, the art is in the making, not necessarily in the speed of delivery.
"Yes, customers want everything yesterday. Everything is becoming more and more immediate, instant, disposable," says James Ferragamo, shoe and leather goods division director at Salvatore Ferragamo, the company founded by his grandfather. "Call it the Snapchat effect. For social media, that rhythm is exciting and energizing, but for luxury, we believe our customers, especially men, want something wholly their own, something they can savor—a product whose value doesn't depreciate after one season."
That insight has prompted the brand to undertake a major initiative this fall with the launch of the Tramezza Made-to-Order Men's Footwear program. Tramezza, of course, is the company's luxe handcrafted shoe line, which for the first time will include bespoke options along with a selection of new styles. Ferragamo says that the launch, while providing new choices for the company's Tramezza customers, also underscores its century-long commitment to master craftsmanship, the promotion of which, ironically in these digitally dominated times, is turning out to be a very shrewd marketing move.
Luxury brands, while ramping up their digital platforms, are finding that customers are counterbalancing tech obsessions with a fascination for historical technique. The success of this year's Met exhibition "Manus X Machina" certainly demonstrated the public's keen interest in craft, which maker culture worldwide has celebrated in recent years. Craft is so much the lifeblood of luxury that top labels like Chanel have been making strong commitments to their artisanal resources, with the iconic French label scooping up specialized firms like Lesage for its exquisite embroideries and Michel for its millinery prowess. In a similar effort to ensure that the company has a pipeline to the best maestri, Ferragamo has an active outreach program to train future generations of craftsmen and women in and around Tuscany. "There is nothing quite like the hand of Italian artisans—beyond an innate skill, it's a passion for craft and tradition," says James. "This is the land of Leonardo and Michelangelo and other incredible artistic geniuses, and while it may seem hyperbolic to compare them to the area's cobblers and leather workers, there is an inexplicable link between Tuscany and its ability to inspire people to make beautiful things."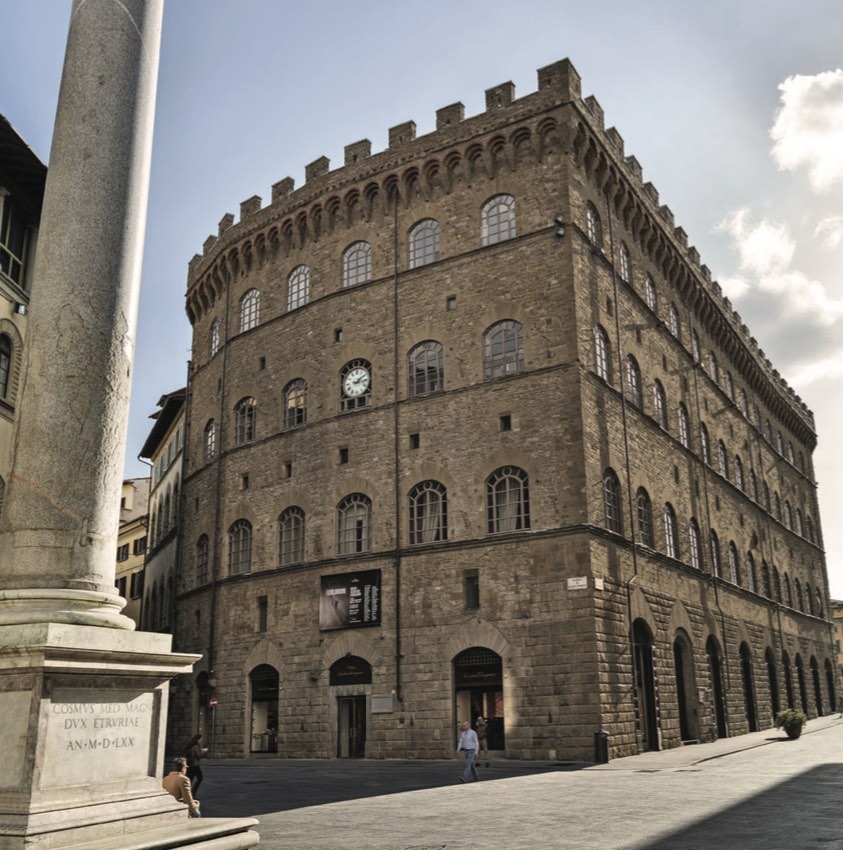 Massimo Ferragamo, chairman of the company's U.S. operations and a son of founder Salvatore, points out that while fine craftsmanship has always been at the core of the brand's DNA, the challenge today is to find better ways for the customer to connect with it. "The luxury sector must in a way reinvent itself," he says. "Experience is now complementing product. As such, shopping must become an experience and be made truly exceptional, not just be something to do." Even in an era with self-driving cars and dexterous robots, the Tramezza Made-to-Order program, he says, is right for the moment. "It's a curated, personalized experience for the client, a chance for him to be actively involved in the process. And it's a truly exclusive product. Something you can create and call your own—that no one else has—is what everyone is searching for."
I ask both Ferragamos if they feel this burgeoning interest in craft is enough to carry a bespoke line and counter a decade of casualized dress styles. There appears to be little worry. "I've seen sneaker-heads become enthralled with handcrafted dress shoes," says Massimo. "If you're passionate about style and the genesis of a product, the workmanship and tradition behind it, you will also be interested in something considered more formal." Besides, adds James, a man can wear "sneakers with a suit or dress shoes with jeans. If he has a sense of style and an appreciation for quality, he can wear what he wants when he wants and it will always be right for him."
Because of his years in the U.S., Massimo, who has been dubbed the "American Ferragamo," has a unique vantage point from which to see both the future (the fast-forward, increasingly tech-driven stateside retail market) and what is most relevant from the craft traditions that helped build his family's company, both critical in determining how the brand can leverage its history to feed its modern objectives in the brave new world of digital. While family firms are common in the Italian fashion industry, few have had a key relative rooted here for decades; Massimo's presence has given the Ferragamos an edge, a "man on the ground," so to speak, for staying on top of the ever-fluctuating needs and wants of American consumers. "Having both experiences allows me to appreciate the two cultures in a very objective way," says Massimo, who travels frequently between New Yorkand Italy. For all his time spent in America, he says he still marvels at the verve and spirit of the U.S. and the sense that "anything is possible." He defines Italy's strengths as "creativity and quality and passion and tradition and family and beauty." He won't admit to a preference for one culture over the other but says he likes to take the best from both worlds and apply them "not only to the business but to my entire approach to life."
The U.S. remains the Ferragamo brand's most important market; it also looms large in the company's fabled history. "Ever since my father got his start in Los Angeles designing shoes for the stars, there has been an incredible link with the U.S.," says Massimo. Salvatore Ferragamo's story is the stuff of legend. A genius designer from a small town in early-20th-century southern Italy—not exactly a time and place known for upward mobility—Ferragamo made his mark in Hollywood catering to early cinema stars and designing shoes for Cecil B. DeMille extravaganzas. He was also the first major proponent of "Made in Italy," a promotional concept that glorified Italian creativity and the skill of native craftsmen. In the 1920s it was a revolutionary idea, yet it was one that helped Italy chip away at France's domination of the international fashion industry, which it ruled for the first half of the last century. Ferragamo was also the first major Italian fashion figure to realize the lucrative potential of U.S. retail and easily convinced Saks Fifth Avenue to carry a line of his shoes as early as 1927. As prodigious as he was prescient about what American consumers wanted, Ferragamo created more than 20,000 shoe styles and secured 350 patents during his lifetime.
The Ferragamo company survived two world wars and the Depression but was dealt a tragic blow when Salvatore died in 1960 at the age of 62. In an era when careers weren't an option for signore per bene, his 38-year-old widow, Wanda, took the helm of the fast-growing business and never looked back. Ferruccio Ferragamo, president of the company today and her oldest son, once described his mother as the family's second pioneer. She was instrumental in making sure that the house of Ferragamo, despite its far-flung growth and status as a global and publicly traded brand, remained a family business. "Our roots and lifeblood are the family," says James, who holds the senior-most position of the third generation of Ferragamos. While his interest in the company dates to childhood, he says he and his cousins were free to choose their own careers, but he never had any doubt about wanting to be a part of the firm. He recalls the "sense of excitement and wonder" he experienced during his first time on the factory floor and the first shoes he crafted as a youngster—a pair of Varas (the classic women's flat with grosgrain bow). How did they turn out? "For a ten-year-old, not bad," he says. "I'm not sure the pair would pass our quality control today, but it certainly taught me the complexity and artistry that goes into every Vara—a wonderful shoe that exemplifies everything about the brand—elegance, timelessness, beautiful construction, and comfort."
James admits he still finds the shoe-making process an endless source of fascination and even describes the crafting of Tramezza shoes as "beautiful to behold." After Made-to-Order customers choose the material, colors, and (where applicable) buckle-finish they want for one of three classic Ferragamo footwear styles, making a pair of custom Tramezzas requires 260 steps and four days of work. The customization procedure can happen in store—or, in a perfect blending of tradition with the new, online via a special web configurator. As with all Tramezza shoes, the cushion-like layer of leather (as opposed to the more widely used cork) placed between the insole and the sole and called tramezza (meaning "something in between") helps retain the shoe's form and contributes mightily to its stylish comfort.
As the first member of the Ferragamo cousins to hold a leadership position in the company, James, widely regarded as the most likely of his generation to head it up one day, says that what he learned from his grandmother Wanda (now 94 and still a presence in the office each day) is that Salvatore's heirs must not only remember his remarkable achievements, but advance them. "The legacy of my grandfather is an extraordinary gift," he says. "If you look through the archives, you realize so many of his shoes would still be considered modern today. More than a challenge, it's our desire to continue what he started and push it forward. To do so requires bringing in the right talent and most of all honoring the past while keeping an eye on the future."
Finding that right mix is somewhat like finding the right fit, which of course the Ferragamos excel at. With this latest introduction of Tramezza Made-to-Order, it seems as if Massimo and James, along with the rest of their family, have yet again come up with an exquisitely stylish way to achieve it.
Subscribe to discover the best kept secrets in your city