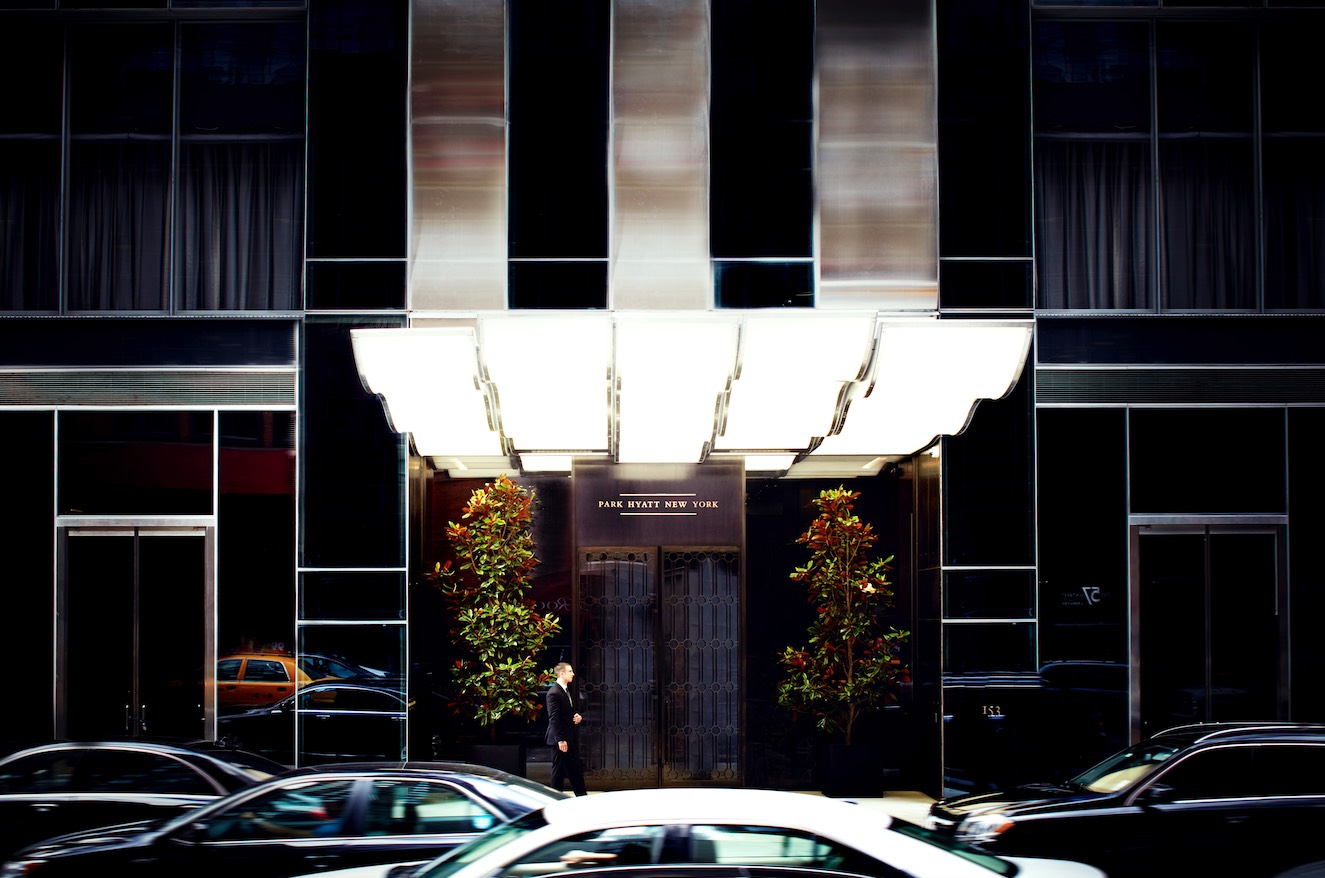 Photo Credit: Park Hyatt New Yorks
While 57th Street runs two miles long from the Hudson to the East Rivers, its nickname, Billionaire's Row, pertains (unofficially) to the glittery stretch of real estate that falls between 157 West 57th St. (the site of Manhattan's most expensive apartment building) and 57 East 57th St., where you'll find the perennial mega-mogul favorite, the Four Seasons Hotel. For the best fall shopping, dining and gallery experiences along this super-luxe street, Haute Living compiled the guide below.
One57 (157 West 57th St.; one57.com) is the ultimate billionaire's lair, where a duplex penthouse sold for more than $100 million, setting a new record for the price of a Manhattan dwelling. The 1,500-foot high building, New York's tallest apartment tower, has top-flight hotel amenities (including an indoor pool and spa) thanks to the sleek Park Hyatt New York (153 West 57th Street; newyork.park.hyatt.com) on the premises. The hotel's Back Room restaurant, noted for its healthy modern American fare, has become One57's go-to canteen. This spring Extell announced that a number of One57's rental units will go on the market, priced for mere millionaires (a furnished one bedroom at $3.45 million), who can now have a crack at this coveted address. "We recognize the demand for efficiently sized, luxury inventory below $10 million," Gary Barnett, president of Extell, told Bloomberg.com.
Across the street, Carnegie Hall (881 Seventh Ave.; carnegiehall.org) lures the city's most prominent music lovers (like major benefactor Sandy Weill) to its concerts and Opening Night Gala. This year the gala will be held on October 6th with Venezuela's Simón Bolívar Symphony Orchestra performing two of Stravinsky's masterpieces. The Russian Team Room (150 West 57th St.; russiantearoomnyc.com) is a legendary New York restaurant where celebs have flocked for more than 80 years. Enjoy menu classics like beef stroganoff and scrumptious desserts as the Czar's Gold and caviar parfait amid the Russian Imperial–style decor. Madonna famously worked here as a hat-check girl. Kingside at the Viceroy (124 West 57th; kingside-restaurant.com) is the perfect place to go if you want an Uptown restaurant with a Downtown vibe.
The fun shopping begins a block away on the Golden Quadrangle, the four corner locations at 57th and Fifth that are home to Bergdorf Goodman, Van Cleef & Arpels, Bulgari, Tiffany & Co. and Louis Vuitton. There's big news this September from Bergdorf Goodman (754 Fifth Ave.; bergdorfgoodman.com), the city's ultimate mecca for the best from new and iconic fashion labels—an entirely revamped Main Floor and entrance on 57th Street. The redesign of the floor was years in the making and one of the most-watched projects in New York's highly competitive retail sector. Bergdorf's has reorganized the space to feature a Grand Hall and Accessory Pavilion showcasing the latest leather goods collections (some in sculptural glass displays) from Celine, Tom Ford and Godard and other top labels. To celebrate the opening, there will also be exclusive accessories from Gucci, Balenciaga, Edie Parker, Dior, Givenchy, Balmain, Hayward, Fendi and other brands. The lavishly refurbished interior references classic and cool French Moderne design. There are new chandeliers to complement the store's notable vintage ones and marble floors, all set off by a sleek dove gray palette. Recover from a major shopping spree in the Grand Hall at the always chic BG Restaurant. And follow the Bergdorf blondes—and brunettes—who covet the color wizardry and styling genius of master hair guru John Barrett (john-barrett.com) to his salon located on the ninth floor of the store for a fall hair refresh.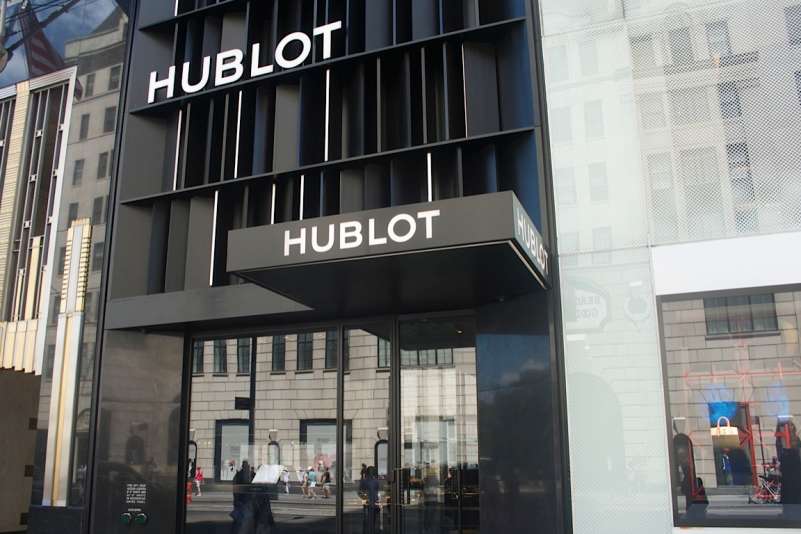 Jewelry shoppers have glorious options in the Golden Quadrangle. Van Cleef & Arpels (744 Fifth Ave.; vancleefarpels.com) where you can take in the new Bouton d'or line; and Bulgari (730 Fifth Ave.; bulgari.com), showcasing the just-released Serpenti Collection with items ranging from pink gold pendants with snakehead amethyst eyes to full-pave white gold diamond bracelets. Also new for fall: the Serpenti Incantati watches and Serpenti Viper handbags. Across the street, the Tiffany Salon at the Tiffany & Co. flagship (727 Fifth Ave.; tiffany.com) offers a very special shopping experience for top or referral customers—a chance to shop a collection of the jeweler's rarest gems and order high-end custom pieces. The by-appointment-only Salon is housed on the mezzanine level in designer Jean Schlumberger's former studio. (His clients included Jacqueline Onassis and Audrey Hepburn, of Breakfast at Tiffany's fame.) Catch the striking window displays at the Louis Vuitton store (1 East 57th Street; louisvuitton.com) before perusing the latest from the label's designer Nicolas Ghesquière, like the color-block knits, scarf-print dresses, cropped jackets, and leopard-pattern bags. This northeast section of 57th street was recently renamed Bill Cunningham Corner in honor of the famed New York Times street-fashion photographer who often shot his reportage here. (The designation is temporary, although fans of Cunningham hope to petition the city to make it permanent.) A short distance north of Louis Vuitton is the new Hublot flagship (743 Fifth Ave.; hublot.com), its largest in the US. Take in the latest from the luxe watchmaker, including the recently launched "Big Bang Unico Sapphire All Black" timepiece, after you've perused the gorgeous, Peter-Marino designed setting.
The 57th Street block between Fifth and Madison Avenues is packed with designer stores. Pick up the latest handbag at Saint Laurent Paris (3 East 57th Street; ysl.com), a cool black-and-white emporium that carries the women's, men's and accessories lines. Have a look at the fall collection's disco dresses and for men, the Hussar-style and embroidered jackets. At 5 East 57th Street (seventh floor), you'll find L'Appartement Hair Boudoir (nyclappartement.com), a high-glamour salon with a stylish interior (marble fireplace, herringbone-pattern wood floors, designer desks), where Melania Trump was recently spotted. (Makes sense since Trump Tower is just across the street.) The Tourneau TimeMachine (12 East 57th St.; tourneau.com), its facade adorned with over-sized clocks showing the time in major cities around the world, offers men's and women's watches from all the major brands (Patek Philippe, Rolex, Panerai), as well as certified pre-owned pieces.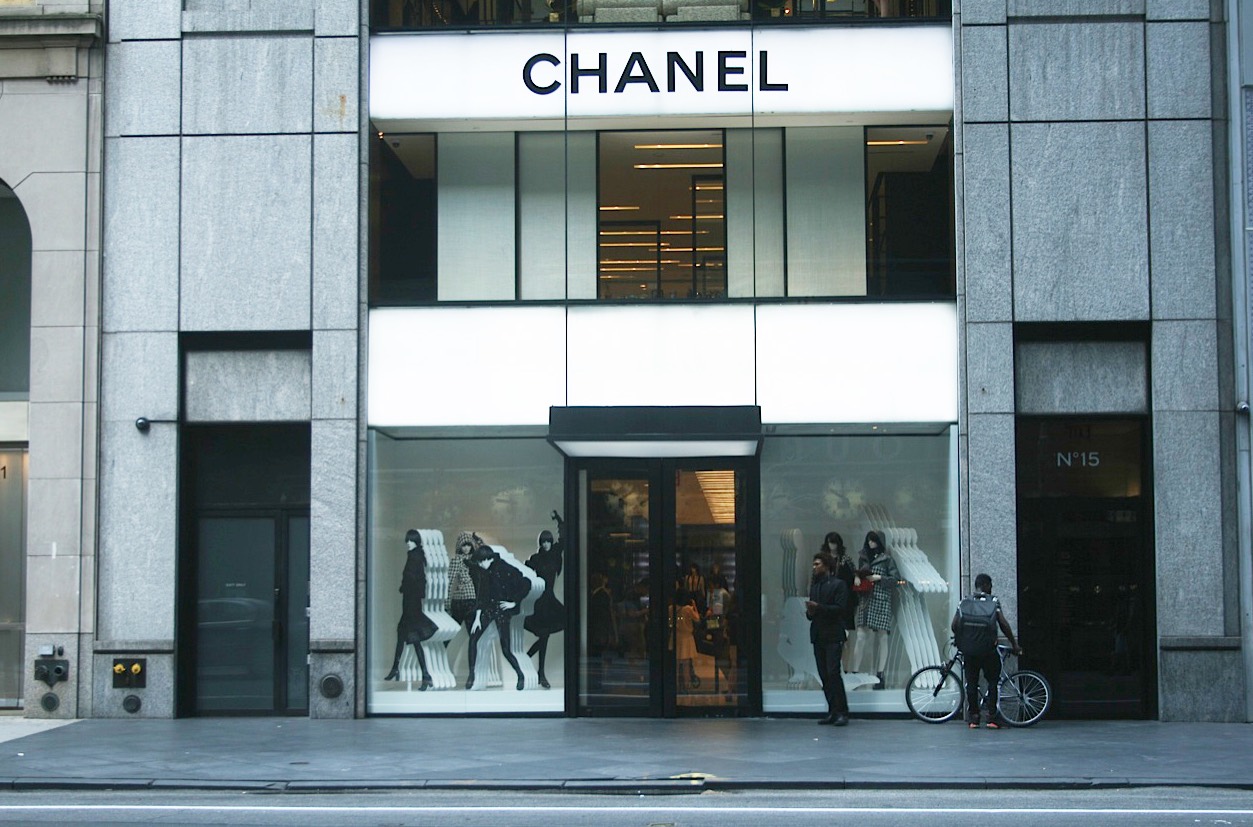 Photo Credit: Brion Matthews
At Chanel (15 East 57th St.; chanel.com) there's always a buzz over the latest from Karl, which this season includes plenty of raspberry and fuchsia-toned tweeds, long-strand layered pearls, and ethereal tulle and lace dresses. The nearby Dior store (21 East 57th St.; dior.com) is a shimmering white-jewel box carrying ready-to-wear, shoes and the latest iterations of the Lady Dior bag. This fall, there will be plenty of slender suit options for men, and for women embellished coats with off-shoulder necklines. Last year, Fendi (598 Madison Ave.; fendi.com) opened a Manhattan flagship on the corner of 57th and Madison, and it's been a happening spot ever since. Karl Lagerfeld designs the ready-to-wear and wildly inventive furs. For fall, the menswear line offers bathrobe-style coats; for women there are new takes on classic handbag styles and lots more.
Cross Madison and switch into collector's mode. You'll find major contemporary artworks at the Pace Gallery (32 East 57th St.; pacegallery.com), which features artists like Chuck Close and Sol LeWitt. Next door is the Prada store (45 East 57th St.; prada.com) where you can try on Miuccia Prada's latest conceptual fashion. This fall there's a range of new jacket and coat silhouettes in tweeds, and quiltings with fur trimmings.
Bookending Billionaire's Row is Four Seasons 57th Street (57 East 57th St.; fourseasons.com). This always in-demand spot draws Midtown financial honchos for early-morning powwows over egg-white omelettes and power lunchers nibbling on their organic Chicken Cobbs. At the same address is another one-percenter favorite, the Italian menswear label Brioni, known for its flawless tailoring. Justin O'Shea, the new creative director, is bringing a fresh, edgy vibe to the collections. Make your last stop along the Row at Phillips Auction House (450 Park Ave., corner of 57th Street; phillips.com) to preview the season's upcoming sales. Scheduled for September are The New Now, Design and New Nordic auctions.