Everyone knows that a man can throw on a nice t-shirt, some slim fit jeans and a nice watch and look fab. But if men want to take their casual game to the next level, a highly original or limited edition sneaker is in order. There are more and more limited edition kicks out there because shoe manufactures like Adidas and Nike are generating less stock, making them disappear quickly and turn into highly valued and highly priced collectible items.
Two of this year's most popular shoes have had soaring deadstock resale prices: Air Jordan 2 Just Don 'Beach' ($650) have sold for an average of $950 and Adidas Yeezy 350 Boost ($200) have sold for an average of $849. Topping the list are a pair of Maison Margiela Future High Tops which go for $1,195 at The Webster.
Make headway in the Miami fashion scene by keeping at the forefront of the latest sneaker trends; Miami's many sneak stores and boutiques make doing this easy.
At UNKNWN, where they dominate the sport of fashion, you can find Yeezys (if you are lucky), Commes de Garcons Converse Chuck Taylors, a massive assortment of Jordans and Nikes, as well as a few other funky brands. The recently departed for Cleveland, Lebron James, played a big part in visualizing and creating the concept of UNKNWN. | 19501 Biscayne Blvd, Aventura, FL 33180
The Webster on Miami Beach is a 3-story boutique that carries high-end designer wear and high-end shoes galore. You will feel like a kid in a candy shop surrounded by Maison Margiela, a number of Adidas collaborations, Givenchy, Saint Laurent, Lanvin and Marc Jacobs. | 1220 Collins Ave, Miami Beach, FL
1973 by Mr. R set its roots in Miami Beach over four decades ago and still finds itself at the top of the shoe boutique pyramid. This is no place to go if you are looking for a pair of average tennis shoes for day to day activities. This place is for the fashion conscious. Our biggest tip: If you see a pair you like, take the plunge because they most likely will not be in-store tomorrow. |  100 16th Street, Miami Beach, FL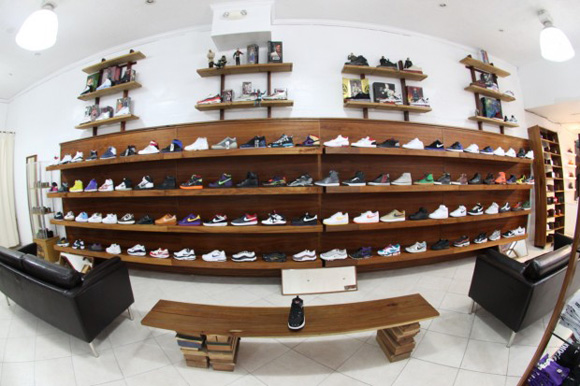 Soles, Inc. is the ultimate purveyor of Jordans. The store manages to maintain a very humble atmosphere, which is surprising considering the sheer amount of foot-traffic they get based on an incredible number of limited editions and exclusive colors being sold there. The store also gets exclusive releases from brands such as Cole Haan, Nike and Mark McNairy. |  1345 Washington Ave, Miami Beach, FL
Shoe Gallery, located in downtown Miami, is the second shoe business birthed by Abraham Wasserstein, the first having been left behind when fleeing Cuba during Fidel Castro's reign. Grandson Jamie Wasserstein now runs the business, taking it to a whole new level by turning it into a one-stop-shop with lifestyle footwear, apparel and accessories. The streetwear store carries some of the most exclusive sneaker collaborations in town and boasts a line out the door on any given day. |  244 NE 1st. Ave, Miami, FL 
By Emily Wilson and Hadley Henriette