Photo by: coeurdelaphotography
Ayesha Curry's culinary career started as many new ventures do—with a bet. She became friends with powerhouse chef Michael Mina over lunch at his namesake flagship restaurant in San Francisco, and once the two food lovers were in the kitchen, the jokes started rolling. "He invited me to come and cook with him, and we had the best time. We joked that if the Panthers made it to the Super Bowl (my husband and I are from North Carolina, so we're big Panthers fans), I would come and cook with him again." The Panthers did make it to the Super Bowl, which was held at Levi's Stadium in Santa Clara. So Curry, the dark-haired beauty who is wife to NBA all-star and Oakland Warriors MVP Stephen Curry, went to cook at Michael Mina's tailgate. "Michael kept his word and I went. I got to cook for 500 people at his pregame tailgate party. It was insane!" she says of the event. It also turned out to be important because it kicked into high gear her role as a young food personality. "After that, he said, 'You know, I really want to do something together on a larger scale,' so we came up with this idea for International Smoke," Ayesha told Haute Living on a recent Friday afternoon.
International Smoke is her first foray into the restaurant business, and it's the fourth installment of Mina's Test Kitchen pop-up, a platform where the chef tries out new dining ideas for several months. With addictive fresh corn nuts and insanely flavorful barbecued shrimp chili with coconut red curry, the pop-up produces a lighter, fresher take on typically heave barbecue. Take one bite of Curry's melt-in-your mouth al pastor-inspired ribs and you quickly realize that when it comes to the all things culinary, she means business, just as her husband commands the shots on the basketball court.
Although she has no formal training in kitchen skills, Curry has been cooking since she was a girl. "Both of my parents worked, so it was my way of helping around the house by making dinner for my family. I fell in love with it. Instead of cartoons, I was the kid who was watching Food Network, falling asleep to Emeril and Rachael Ray," she explains. Curry grew up in Canada and North Carolina and has a colorful family background—her mom is Jamaican and Chinese and her dad is Polish and African-American—which gives her an incredibly varied palate. While she grew up cooking for her family, it wasn't until she had her first child, daughter Riley, in 2012, that she realized it was a passion she wanted to pursue professionally. She started a blog, Little Lights of Mine, and began to share recipes and cooking videos as well as tidbits about her strong faith, her love of homemade beauty products, and her tips for parenting and fitness.
It's the girl next door's blog with Ayesha cooking in her sweatpants, sans makeup, dancing around the kitchen. This laid-back playfulness caught the eye of the Cooking Channel and publisher Little, Brown and Company, and both came calling with proposals. The Cooking Channel is producing her first cooking show, tentatively titled At Home With Ayesha, but it doesn't have an air date yet; for now, she says, "We are getting good feedback." Her first cookbook, with Little, Brown, is The Seasoned Life, which comes out Sept. 20, 2016.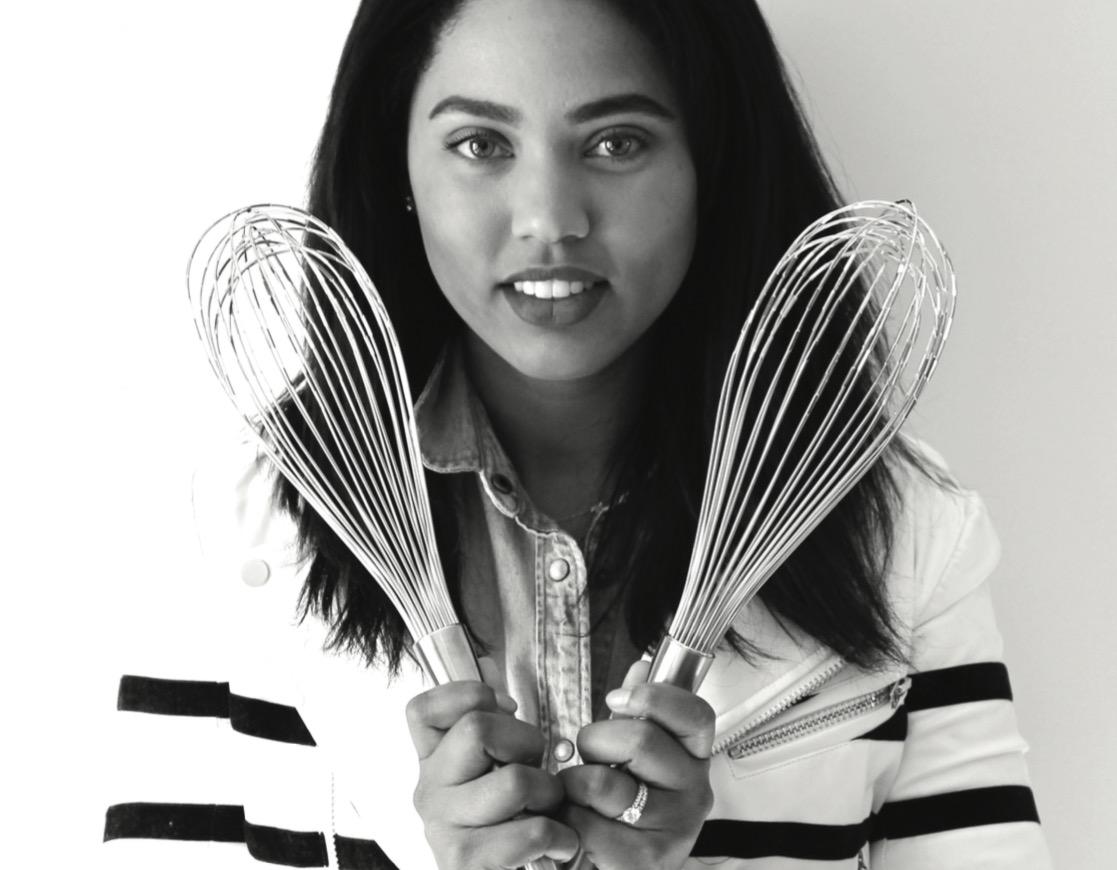 Curry's also got a slew of related projects and partnerships in the works. As she prepares for culinary stardom, she's polishing her brand. Curry has ditched the cute title of her blog, and now all of her previously created content can be found on the official Ayesha Curry website. Her line of olive oil, made from local Northern California Arbequina olives, is getting a makeover—"I'm excited for people to see the new packaging. It's the same great olive oil, just new packaging,"
she says.
She's the brand ambassador of Zupa Noma, a line of super fresh, vegan, gluten-free vegetable soups, and she's even launching her own food delivery, meal-kit service. "I've started a meal delivery service called Gather, and it's similar to that of Blue Apron and Hello Fresh," she says, excitedly. "We have elevated it and the recipes are my own. They are full of flavor. You can customize it [according to the number of servings]….For new moms and people with young babies, we have a baby food add-on, which is something that none of the other companies have." International Smoke may become a full-fledged brick-and-mortar restaurant, and she has a second concept— a dessert restaurant—in the works.
Although it's full steam ahead, she's learning to pick and choose which items to affiliate herself with. "It's hard because there is so much stuff, especially recently, coming at me," she says. "When people are waving things in your face, sometimes it's hard to say no, but I've made it a point to say no a lot more these days." Earlier this year, she teamed up with Glad to promote the prevention of food waste, and she and her husband are huge supporters of health care provider Kaiser Permanente. "For me, I just do what is true to myself and my brand. I've made it a point to be transparent on my social media and in everything that I present. I never want anyone to think that I'm too fluffy or too perfect. It's not the kind of message I'm sending out. I decided to go along with brands that I actually use in my everyday life," she says, and those are the ventures she supports.
Upping her celebrity wattage and flexing her culinary muscle do have their challenges: With the wins come the losses. As her husband led the Warriors to failure during their disheartening game seven of the NBA finals, Curry faced a backlash of negativity across social media platforms. Search her name on Google and you'll see pages of news articles describing her latest tweets—from stories about scantily clad fashionistas to an image depicting her family with Cleveland Cavaliers point guard Kyrie Irving's face photoshopped over Stephen's.
It's clear that the public is listening to what Curry has to say, and she's only just now realizing her star power. "When I started social media, people didn't pay attention as much. I didn't get so much negative backlash," she says choosing her words carefully. "In recent days, when I said some things, it wasn't attention-based at all. It was more, 'So this is how I am feeling right at this very second,' and I didn't think people would be so receptive to it. I didn't think people would feel anything about what I was saying. It caught me by surprise. I realize now that a lot of people are watching and they do care. Ultimately, it's just media, and people are going to blow things out of proportion. So I just have to pick and choose what I want to say and then be willing to stand behind what I say."
The opinionated housewife seems to have a lot to say, but when it comes to the finals' last game, she's at a loss. What do you say to your husband when he's just lost the championship? "Not much," she sighs. "It was such a long season that it was bittersweet. You do what you can. Sometimes the outcome is not what you want it to be and that's what happened in this case. But life goes on, so now he's prepping for the next season. There is always an opportunity to do it again." Her positive and optimistic outlook may come across as fake or too preachy to some, but she's genuinely and infectiously enthusiastic about life. It's hard not to smile when you're around her.
She attributes her strong faith in Christianity to keeping her and her husband grounded. "My faith is a foundation of everything that I do. It's what keeps our family strong and it's what keeps us going on a daily basis," she says. "It's what makes the losses OK. Nothing is ever really that bad. There is a bigger picture." Curry brings it all back to food: Having homemade meals with her husband and two young daughters is a way for the high-profile family to reconnect. Cooking "evokes the feeling of family and comfort and fun," she says.
Curry takes it one dish at a time. Whether she's making her signature brown sugar chicken or her hubby's favorite, chicken Parmesan, she's laughing her way through it. "I always laugh because I don't know why he always says chicken parm is his favorite. It's so simple and, funny enough, it's not in the cookbook!" she giggles. "I felt like it was so easy I didn't want to put it in there! But he loves it." Jokes aside, Curry is well on her way to becoming the next domestic goddess and culinary darling. Who would say no to an invitation to dine at the Curry house in Walnut Creek? Certainly not us.
Black and white photography by: Jaz Alexander.
Subscribe to discover the best kept secrets in your city