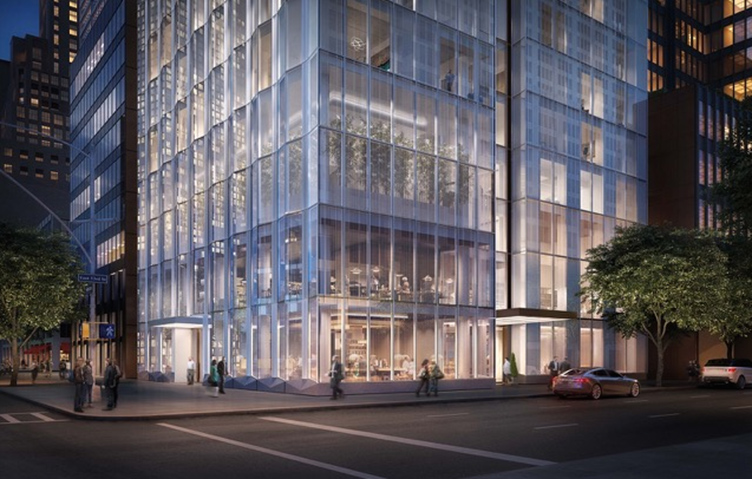 The world's of luxury real-estate and cuisine converge for what is poised to be New York's newest hotspot. RFR Holding has just announced that the internationally acclaimed Chef Joël Robuchon will helm the gourmet marketplace and world-class fine dining restaurant at their new residential development One Hundred East Fifty Third Street.
Co-founder of RFR Aby Rosen, who is behind the development of the high-end property, has put together a world-class team to execute the extremely modern tower. In partnership with Vanke, Aby Rosen has commisioned British architecture firm Foster + Partners to design One Hundred East Fifty Third Street. Award-winning architect Joseph Dirand will be responsible for designing the ground-floor food market and second level restaurant where Joël Robuchon's cuisine will be consumed. You can expect to find Dirand's quintessential style mixing minimalism with classic elegance. The noted designer has received Wallpaper's Design Award for the best new restaurant for Monsieur Bleu in Paris and the best hotel for Habita Monterrey Hotel in Mexico. In addition, Maison & Objet named him Interior Designer of the Year in 2013.
"We have assembled a best-in-class team for One Hundred East Fifty Third Street. Each of our partners was carefully selected to create an iconic tower that creates a wonderful home and enriches the lifestyle of those who choose to live there," said Aby Rosen, co-founder of RFR.
Perhaps the most iconic partner Rosen chose for the project is Joël Robuchon. The French chef has accumulated 28 Michelin stars, more than any other chef in the world. The Joël Robuchon Restaurants have been awarded the highest rating of Three Stars in cities where the Michelin Guide is represented.
We can't wait for One Hundred East Fifty Third Street to open its doors in 2017!