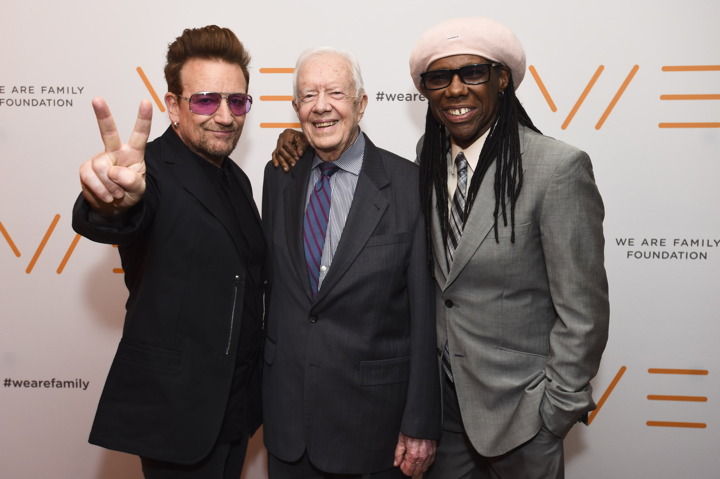 Big doings at the Manhattan Center on Friday evening.
That's when Bono and former president Jimmy Carter were honored by the We Are Family Foundation for their efforts promoting peace and cultural diversity around the world.  Bono accented this year's Humanitarian Award and Carter, the Mattie J.T. Stepanek Award, from broadcast journalist Soledad O'Brien, who served as the gala's host. WAFF's Visionary Award went to Adobe Project 1324.  
The U2 star saluted the former president, remembering how surprised he was when Carter quoted Bob Dylan in his speeches during his run for the White House. After lauding Carter Bono revved up the audience with songs like "Pride (In the Name of Love)," "Beautiful Day," and "Mysterious Ways" before making a dramatic exit worthy of a rock legend that included a jump from the stage and a walk through the star-struck crowd.  Nile Rodgers and Chic also performed with Bono.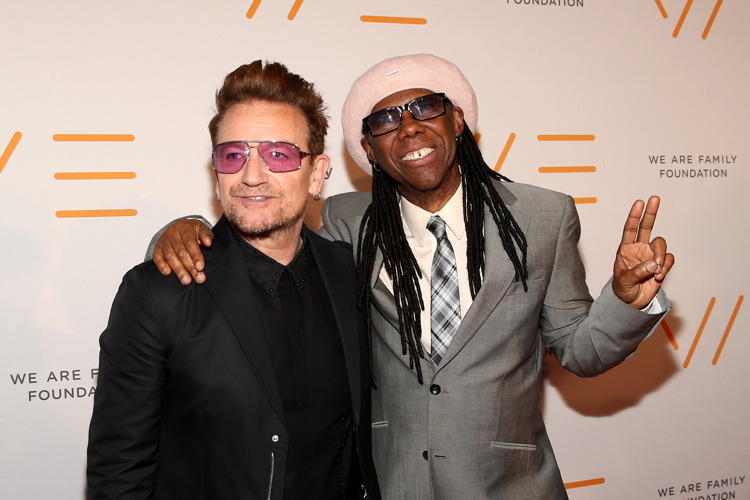 Rodgers and his wife Nancy Hunt, who founded the We Are Family Foundation after the September 11 attacks, were the driving forces behind the evening which raised over a million dollars for the charity. Rodgers guitar, which he had played for his Bowie tribute at the Grammys and was signed by such stars as Lady Gaga, received a $100,000 bid at the auction held during the gala.
The mission of the We Are Family Foundation, which was named after the now iconic song that Rogers co-wrote with his late partner Bernard Edwards (initially made famous in the 1979 Sister Sledge recording), is to promote cultural diversity around the world through programs supporting young people who can help foster change.
Also at the event were design star Alber Elbaz, Eric Buterbaugh, Sandra Lee, Bill McDermott, Lois Robbins, Rosanna Scotto, Kathy Sledge, and Marlo Thomas.