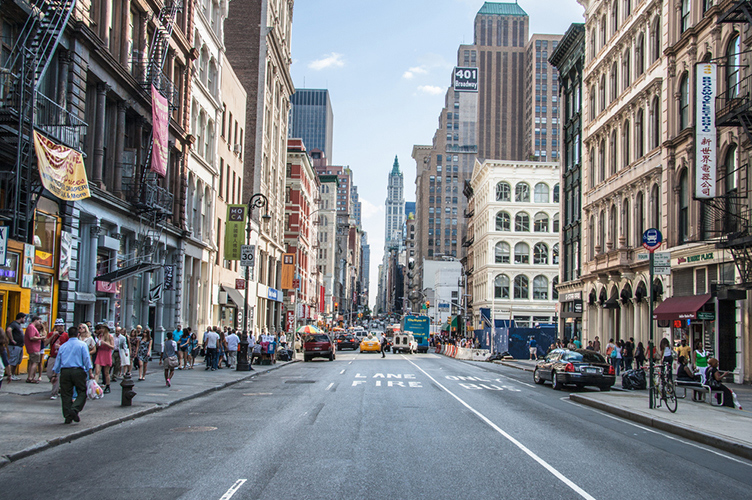 Welcome to Soho! While this trendy hood is primarily known for shopping, Soho has so much more to offer. Tucked away between the tourist laden streets are a whole host of hidden gems. From speakeasy bars to boutique hotels we are here to uncover Soho beyond Broadway.
Just a few blocks away from the hustle and bustle of central Soho is the calm and clarity of Hotel Hugo. The airy, green entryway seems to cleanse you as you enter the lobby. You feel immediately transformed and instantly relaxed. The modern style carried throughout the hotel is complimented by simplistic décor. Together they clear a cluttered mind and allow for total tranquility. A room at Hotel Hugo is focused on one main point, the incredible views. Wake up in the morning to incredible views of the Hudson River. The sleek rooftop situation however, is a trendy spot for Soho's socialites to sip during sunsets. This key amenity, along with their delectable restaurant Il Principe Cucina creates the perfect home base for your stay in Soho.
525 Greenwich St
If you're in a romantic mood whether you are single or two, Aire Ancient Baths is the move for you. This sensual and warm experience is an underground oasis of beautiful water treatments. The candle-lit ambiance and different bathing options provides for a totally relaxing and intimate occasion. From hot baths, cold baths, a steam room, Propeller-Jet Bath and the Flotarium; there are plenty of opportunities to sit and soak away your stress.
You of course have the option to just use the amenities (which trust us is reason enough to go), but you might also try some of their amazing spa services. Their Red Wine Ritual and Olive Oil Ritual are infamous for their relaxation effects. Make sure to treat yourself, or your pair, to an illustrious experience at Aire Ancient Baths.
88 Franklin St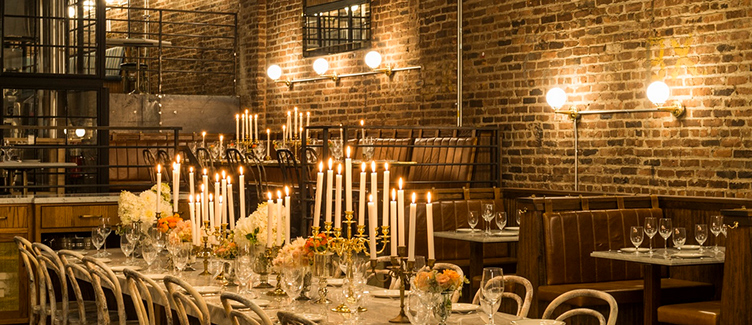 You're in New York, so naturally you're supposed to eat bagels. All five burrows have delicious bagel options, but Soho's finest has to be Sadelle's. This bagel shop sets itself apart from others by its classy ambiance. Seldom in your average bagel place will you find a candle-lit, exposed brick, art-filled situation like this one. Sadelle's is as much a scene as it is a place to find great bagels. Which by the way, they are. If it is your first time at Sadelle's you can't go wrong with their bagel and lox tower. It comes with more bagels than you can eat and all the toppings your stomach could desire. It's about time you got boozy with some bagels at one of Soho's best brunch spots.
Where to have dinner: Rintintin
There is so much to love about Rintintin. The eclectic crowd, charming design and tapas style plates are all essential to the vibe that this quaint restaurant creates. A Mediterranean Moroccan fusion fills the menu with creative options. You haven't really experienced Rintintin unless you've had their feta saganaki, zucchini chips, spicy clam bowl, and beef torpedo pita. Not to mention their homemade honey sage gelato. I mean, can you not? Pair your plates with some of their classic cognacs or traditional Turkish Raki. These elements are the perfect recipe for the beginning of a great night. That is of course, unless you want to make Rintintin a late night, in which case you can stay for their late menu until 1am.
14 Spring St
Where to go for drinks: The Ship
Potentially Soho's best kept secret, The Ship is a hidden den for crafted cocktails. While the words 'nautical theme' may remind you of a poorly decorated party, trust us when we say this is something entirely different. This is one of the sleekest designed spots in Manhattan. Designed by Robert Jamieson, the two-floor venue includes white-leather boat seats and dim lighting in what feels like a secret underground vessel. Our favorite concoction that The Ship has to offer is the Baker's Dozen with Bourbon, tawny port wine, brown sugar, chocolate bitters, stirred, served on a rock. Get on board for some nautical nights at The Ship.
158 Lafayette St
Where to gym: Y7
One of the worst feelings in the world has to be leaving the gym when you've hardly broken a sweat. At Y7, you can bet your money that you will definitely leave a hot and sweaty new you. This trendy spot for hot yoga combines a love of hip-hop and vinyasa in one intense class. You will be directed through three flow sequences, each more powerful than the last. This is not your average yoga class; this is also an incredible workout. They use pumped up hip-hop beats to get you motivated and push you through your flow. Don't worry, they also leave time for reflection and meditation so you can leave not only with less toxins, but less worries too.
430 Broome St
Where to shop:
If you've come to Soho for one specific reason, we're guessing it's to shop. While there are different options suited for every style, here is a roundup of our five favorite Soho boutiques.
1. Material Good, 120 Wooster Street, 2nd Floor
2. Evolution, 120 Spring St
3. Opening Ceremony, 35 Howard St 
4. Bloomingdale's, 504 Broadway
5. American Two Shot, 135 Grand St