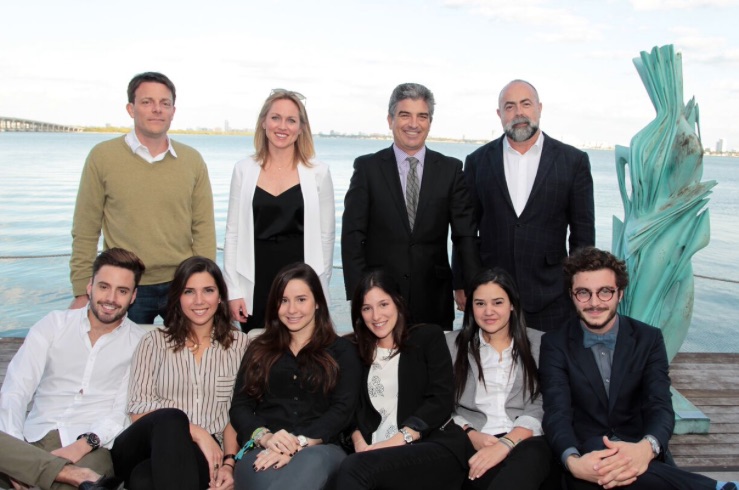 Photography by: David Heischrek / DHPA.com
The Biscayne Line connecting Edgewater to downtown Miami is one step closer to becoming a reality, thanks to real estate powerhouse, Related Group. The team has set on a mission to activate the Biscayne Line, prime real estate and soon to be home of Miami's most elite. Related has brought on team members from the University of Miami Architecture Program and ArquitectonicaGEO to accomplish this feat.
The team celebrated the groundbreaking of Gran Paraiso, the fourth and final waterfront tower of the Paraiso Bay project at the end of February. The project will offer unrivaled amenities such as on-site restaurants from the Miami Design District's renowned Chef Michael Schwartz, a private Paraiso Island which would serve as resident's private beach, with water taxi service to and from, water sports for residents, and three boat slips for yachts. This community has become the focus for the redevelopment of Edgewater, attracting many celebrities. Upon completion, MLB star Alex Rodriguez will move into his luxurious penthouse along with famed neighbors including World No. 1 tennis champion Arantxa Sánchez Vicario, NBA champion Manu Ginóbili, and DJ/ producer David Guetta.
The Biscayne Line was front and center during the groundbreaking ceremony which included a visual presentation and panel discussion of the latest progress on the initiative, which at this point, is a project worked on among the University of Miami, ArquitectonicaGEO and Related teams. Panelists included Carlos Rosso from the Related Group, Wyn Bradley from the University of Miami, and Jeremy Gauger & Robert Lloyd from ArchitectonicaGEO.
During the Fall 2015 semester, the University of Miami joined forces with ArquitectonicaGEO and Related to offer a studio course focused on the development of the Biscayne line–the proposed 12-mile waterfront linear park to connect Downtown Miami to the entire length of Edgewater, while opening up the previously inaccessible waterfront to the community for recreation. The challenging program allowed 5-year students to work on the impressive project, resolving to develop nine key sights along the Biscayne Bay line. Students were then prompted to problem solve and determine how to move and make a continuous line into Downtown Miami while avoiding obstacles and other buildings.
"The students were finally able to move out of the ethereal world of academia into real-life problem solving," Wyn Bradley said.
Subscribe to discover the best kept secrets in your city