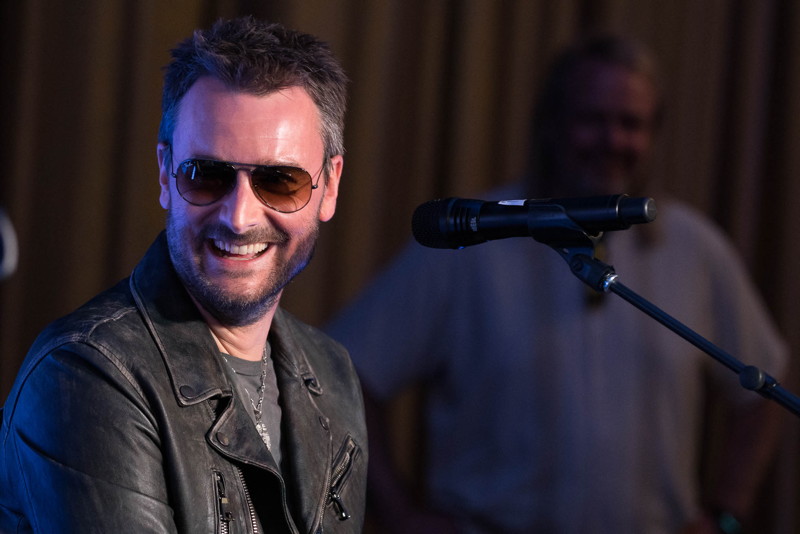 Photo Credit: Matthew Schenk, Place Productions
If you're a luxury lover who also loves Las Vegas, you should do it in the hautest way possible…right? The Mandarin Oriental, Las Vegas—a hotel which already offers the most supremely luxe experience you could ever have hoped to receive in Sin City—has now offed their game even more by hosting its inaugural #DestinationSound VIP event.
The event, a partnership between the Mandarin Oriental Hotel Group and Bowers & Wilkins, a British audio company, is a global music series aimed at curating unforgettable musical experiences in some of the world's most iconic cities with renowned performers from around the world. The inaugural event was an invitation-only performance by country music star and ACM Video of the Year winner Eric Church on April 1. A select group of VIP guests enjoyed an intimate performance from Church at the Mandarin Oriental, where they were treated to a live set from Church, who performed songs from his recent, award-winning album Mr. Misunderstood, as well as nibbles, drinks and a meet-and-greet with the country star. 
#DestinationSound may be the hotel group's latest initiative, but it's just one of many incredible experiences you'll have while staying at this haute hotel. Here are TK ways to have a totally VIP experience at the Mandarin Oriental, Las Vegas.
VIPS GET COMPLETELY TAKEN CARE OF. You won't have to worry about a thing here: the MOLA's driver, Walter (who will set your treat off right with his zen-like demeanor) will pick you up from McCarran airport in a Mercedes and whisk you to the hotel, where you won't even need to actually check in. A dedicated staffer will offer you a glass of champagne and take you straight to your room, where you can organize your trip (and pay for it) in privacy.
STAY IN A $15,000 PER NIGHT PRESIDENTIAL SUITE. There is not one but three Presidential suites here: the Taipan, Mandarin and Emperor suites. Our preference would be for the former two, as they're ever-so-slightly larger in size. The Mandarin Suite combines the classic glamour of the Art Deco era with the serenity of the Orient, using soft creams and browns, dark wood floors covered with patterned rugs as a warm yet relaxed color palette. Its piece de resistance is its main bathroom, which is a vision of designer relaxation thanks to a huge sunken bath overlooking the city as well as a large walk-in shower. This suite also comes complete with its own personal fitness area with a Technogym Kinesis Wall and exercise bike. Conversely, the Taipan suite has a slightly more contemporary feel with chic Asian touches and a sleek, modern design. Here you'll find that same Technogym, as well as the use of a separate study, powder room and, in the living room, a small cocktail bar stocked with wines, liquors and gourmet snacks.
SATE YOUR SUSHI FIX. MOZen Bistro has some of the freshest sushi in Las Vegas—which is no mean feat. The salmon sake and hamachi will melt in your mouth. If you're more of a roll aficionado, we dug the spicy big eye tuna, blended with spicy chili aioli.
TWIST IT UP. If you want a truly exceptional experience that you literally cannot get anywhere else in America, head to Twist—the only eatery in the U.S. where you can enjoy the cuisine of Pierre Gagnaire, who has garnered three Michelin stars for his eponymous restaurant in Paris. We suggest indulging in a six-course tasting menu paired with wines, given that the restaurant carries1,700 selections from around the world, including a variety of biodynamics as well as small-batch wineries from Italy and France. Don't believe us? Well, let's just say that the eatery won the 2014 Wine Spectator Best of Award of Excellence. Enough said.
THE SPA IS PURE BLISS. The Mandarin Oriental Las Vegas' spa is one of our very favorite in the world thanks to its array of completely holistic experiences based on the union of modern techniques and Eastern traditional therapies, its sheer beauty and the complete relaxation you'll feel the moment you enter. Arrive early to check out the stunning, two-floor, 17-room facility. You'll sip a cup of tea before you head to the relaxation area, where there are healthy snacks, watermelon-flavored water and teas at your disposal. Lie back on a lounger and enjoy the views of The Strip beyond from a quiet, very un-Vegas-like environment. Being Haute Living, we had to try the Diamond Brilliant Facial—90 minutes of bliss which resulted in a brightened, flawless face—perfect for our hyperpigmented skin (and which included a massage—bonus!). Afterwards, you'll be able to indulge in a steam or sauna, but the spa offers so much more than an ordinary experience: here you'll also find a hammam, a laconium, vitality pool, ladies' rhassoul and an ice fountain. We know, wow.
WHAT'S YOUR SIGN? The Mandarin Bar is offering a very, very cool experience. Enjoy a designer cocktail by your birth sign! We're not giving anything away by saying that Pisces may just have a Swedish fish floating around in its blue abyss. Otherwise, each month the menu offers a customized cocktail for someone of that birth month. Walt Disney was the inspiration behind Robins Hood, a Sagittarius drink with GlenMorangie, dried apricots, Hennessy VSOP Drambuie and Benedictine. The nibbles menu is also a must here: the poke is served with dried ice. Presentation at its best!
NO NICKLE AND DIMES. So many hotels on the Las Vegas Strip charge you for everything and it's kind of gross. Even the incredibly wealthy don't like to be taken advantage of! The Mandarin provides you with all the water you need—vastly important for a stay in the desert—Illy coffee every morning, free high-speed Wi-fi for up to 10 devices and more. Kudos on customer service!
HAVE A POOL PARTY—THE LUXE WAY. Book a cabana and indulge in the truly amazing, incredibly healthy menu from the Pool Cafe. We couldn't resist drinking our breakfast (hey, when in Vegas): a fresh-fruit watermelon mimosa, a Lemon Cheese Cake smoothie—banana, lemon, cashew nuts, medjool dates and vanilla—and The Vegas Hangover Remedy—coconut water, strawberry, pomegranate and Thai basil. OK, so we might have had a cronut too. Sue us!
A FITNESS FRENZY. If you aren't staying in one of the Presidential suites (and even if you are), you definitely need to partake in the hotel's incredible fitness program. Do yoga in the hotel's spacious studio, which overlooks the beautiful adjacent CityCenter, take a Pilates class or grab your own personal trainer: all are available here at this exceptional, A-list worthy hotel.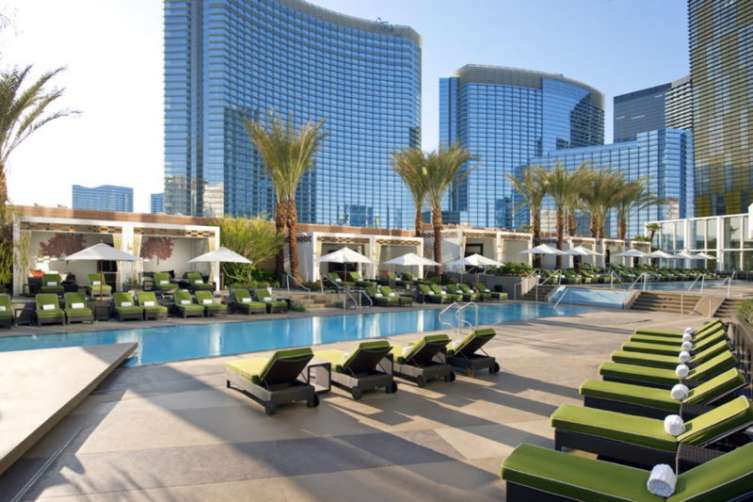 Mandarin Oriental, Las Vegas 1
Mandarin Oriental, Las Vegas Pool
Mandarin Oriental, Las Vegas 2
MOzen Bistro
Mandarin Oriental, Las Vegas 3
MOLAS Mandarin Suite Living Room
Mandarin Oriental, Las Vegas 4
MOLAS Mandarin Suite Fitness
Mandarin Oriental, Las Vegas 5
Mandarin Suite Bath
Mandarin Oriental, Las Vegas 6
Vitality Pool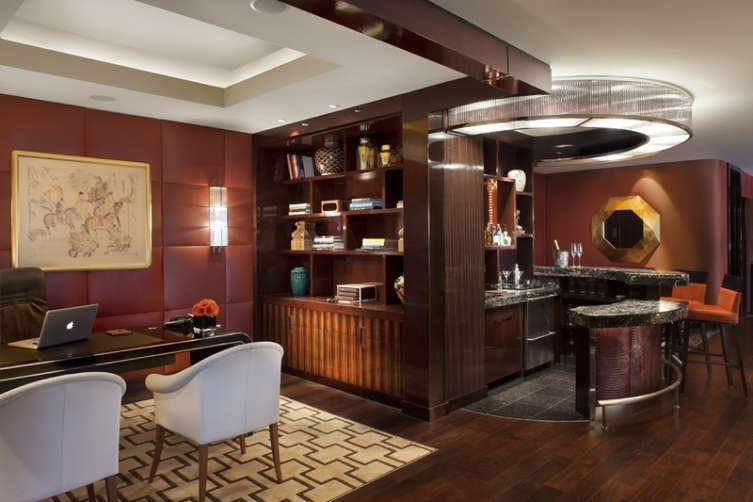 Mandarin Oriental, Las Vegas 7
MOLAS Taipan Suite Study & Bar
Mandarin Oriental, Las Vegas 8
MOLAS Mandarin Suite Wardrobe
Mandarin Oriental, Las Vegas 9
Eric Church performs
Photo Credit: Matthew Schenk, Place Productions
Mandarin Oriental, Las Vegas 10
The Destination Sound stage
Photo Credit: Matthew Schenk, Place Productions
Mandarin Oriental, Las Vegas 11
The Destination Sound experience
Photo Credit: Matthew Schenk, Place Productions
Subscribe to discover the best kept secrets in your city