Photo Credit: David Sprague/Universal Studios Hollywood
The arrival of The Wizarding World of Harry Potter is about to create some magic at Universal Studios Hollywood. 
More than five years in the making, and inspired by J.K. Rowling's compelling stories and characters that were brought to life in the Warner Bros. films, "The Wizarding World of Harry Potter" is being masterfully recreated with impeccable detail as a real-world interpretation on April 7. The land will be faithful to the visual landscape of the fiction and films, including Hogwarts castle which will serve as its iconic focal point.
From its snow-capped roofs and cobblestone streets to the historic British sensibilities that characterize the whimsical look and feel of the land, "The Wizarding World of Harry Potter" will transport guests of all ages to the very places they read about in the stories or watched on the silver screen.
Upon entering the land through the archway, Hogsmeade will bustle to life with the same vitality of a quaint local village: merchants hard at work, a train conductor welcoming new arrivals and a pub packed to the gills with hungry patrons, but with the added element of enthusiastic guests intent on experiencing them all, including the land's signature ride, "Harry Potter and the Forbidden Journey," and the family outdoor coaster, "Flight of the Hippogriff."
Harry Potter and the Forbidden Journey will make also makes its U.S. debut. Visitors will experience a multidimensional thrill ride that features a robotics ride system fused with elaborate filmed action sequences and immersive visceral effects. In this updated adaptation of the ride, guests will sport Quidditch-inspired 3D goggles as they venture through journeys experienced by Harry and his friends, spiraling and pivoting 360-degrees along an elevated ride track on a whirlwind adventure of a lifetime.
Other Potter-specific items guests can experience include Flight of the Hippogriff, which will open as Universal Studios Hollywood's first outdoor roller coaster.; multiple food and beverage items found in the books and films including Three Broomsticks and Hog's Head pub, as well as Magic Neep and Butterbeer carts. There are eight more venues and locations, including Honeydukes, Ollivanders, Owl Post, Zonko's Joke Shop, Wiseacre's Wizarding Equipment, Dervish and Banges, Gladrags Wizardwear and Filch's Emporium of Confiscated Goods.
We had the great pleasure of experiencing Harry's special world prior to the park's opening next week, and thought we'd answer your burning questions. Here are 15 ways that Harry Potter is creating magic at Universal Studios Hollywood.
Photo Credit: David Sprague/Universal Studios Hollywood
How many different types of wands are sold? What is the most expensive? There are 68 different types of wands in Ollivanders. Interactive wands are $47.95 and Harry Potter character replica wands are $39.95.
How many interactive places can you cast 'magic' spells? Guests can cast 13 spells at 11 windows in The Wizarding World of Harry Potter.
How many times will you see Harry? In Harry Potter and the Forbidden Journey, guests will encounter Harry Potter five times.
Are there any secret items hanging around the park like the secret spots at Disney? There are plenty of details for guests to discover in the land.
What is the most expensive item sold at the store? You'll find a chess set that's nearly $400
How many years did it take to complete the park? Five years
How many cast members will be at the VIP opening on April 5? Tom Felton (portrays Draco Malfoy), Evanna Lynch (portrays Luna Lovegood), Warwick Davis (portrays Professor Flitwick), and James and Oliver Phelps (portray Fred and George Weasley)
 What surprise items should guests look out for in the closed shop windows? There are many details and surprises for guests to discover throughout the land. For example, the window in front of Gladrags Wizardwear features a replica of Hermione's Yule Ball gown
 How many different types of candy from the books/film are sold in the shop? Honeydukes offers 103 candy items, including Chocolate Frogs and Bertie Bott's Every Flavour Beans.
How many different Weasley toys can you purchase? Zonko's offer more than 20 items, including Extendable Ears, Decoy Detonators, Sneakoscopes and Pygmy Puffs.
 How many British-made items are carried in the store? Some of the Hogwarts sweaters were made in Scotland.
How many speciality Potter-specific beers are carried at the Three Broomsticks? Hog's Head pub features original draught beers and spirits created exclusively for the land, including Hog's Head Brew, Dragon's Scale, Wizard's Brew and Fire Whisky.
How many different meals are offered at the Three Broomsticks? Breakfast menu features seven items; lunch menu features 25 items.
How many times a day does the Frog Choir perform? Are the songs ever different? The Frog Choir performs at least six times a day. The group performs a total of seven songs.
How many times a day does the Triwizard Spirit Rally happen? The Triwizard Spirit Rally occurs at least 6 times a day.
 How many artifacts from the actual film can you find onsite here? What are they and where are they? There are many actual props from the Harry Potter films in The Wizarding World of Harry Potter. For example, Gladrag's Wizardwear features the actual dress Cho Chang wore to the Yule Ball in Harry Potter and the Goblet of Fire.
Photo Credit: David Sprague/Universal Studios Hollywood
The Wizarding World of Harry Potter at Universal Studios Hollywood 1
A peak inside the window of Wiseacre's Wizarding Equipment
Photo Credit: David Sprague/Universal Studios Hollywood
The Wizarding World of Harry Potter at Universal Studios Hollywood 2
The Mirror of Erised located in Hogwarts castle
Photo Credit: David Sprague/Universal Studios Hollywood
The Wizarding World of Harry Potter at Universal Studios Hollywood 3
Entering the Oxford Corridor towards the Griffin Statue located in Hogwarts castle
Photo Credit: David Sprague/Universal Studios Hollywood
The Wizarding World of Harry Potter at Universal Studios Hollywood 4
A view of the snow-capped Hogsmeade village
Photo Credit: David Sprague/Universal Studios Hollywood
The Wizarding World of Harry Potter at Universal Studios Hollywood 5
Hogsmeade village, and the Butterbeer cart
Photo Credit: David Sprague/Universal Studios Hollywood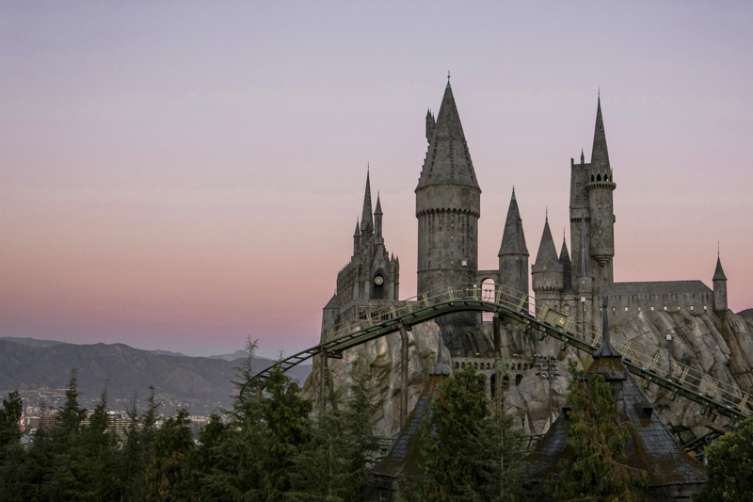 The Wizarding World of Harry Potter at Universal Studios Hollywood 6
Hogwarts castle, with a view of Flight of the Hippogriff, Universal Studios Hollywood's first outdoor roller coaster
Photo Credit: David Sprague/Universal Studios Hollywood
The Wizarding World of Harry Potter at Universal Studios Hollywood 7
A dragon skeleton located inside the Defence Against the Dark Arts classroom within Hogwarts castle
Photo Credit: David Sprague/Universal Studios Hollywood
The Wizarding World of Harry Potter at Universal Studios Hollywood 8
Items inside the Defence Against the Dark Arts classroom within Hogwarts castle
Photo Credit: David Sprague/Universal Studios Hollywood
The Wizarding World of Harry Potter at Universal Studios Hollywood 9
Items inside the Defence Against the Dark Arts classroom within Hogwarts castle
Photo Credit: David Sprague/Universal Studios Hollywood