Luxury brands, particularly those of European persuasion, continue to recognize that the closets of San Franciscans contain more than hoodies and Lululemon yoga pants. A bevy of boutiques have opened their doors in and around Union Square in hopes of enticing locals and visitors. We take a look at six of the hautest new free-standing stores to open in the last 12 months. And just think how much better the shopping will be after Shreve & Co. unveils its new permanent location this fall, Tiffany finishes its renovations in time for the holidays, Dior debuts in early April and Harry Winston, Moncler and Suitsupply open later in 2016.
HUBLOT
174 GEARY ST.
(415) 981-2200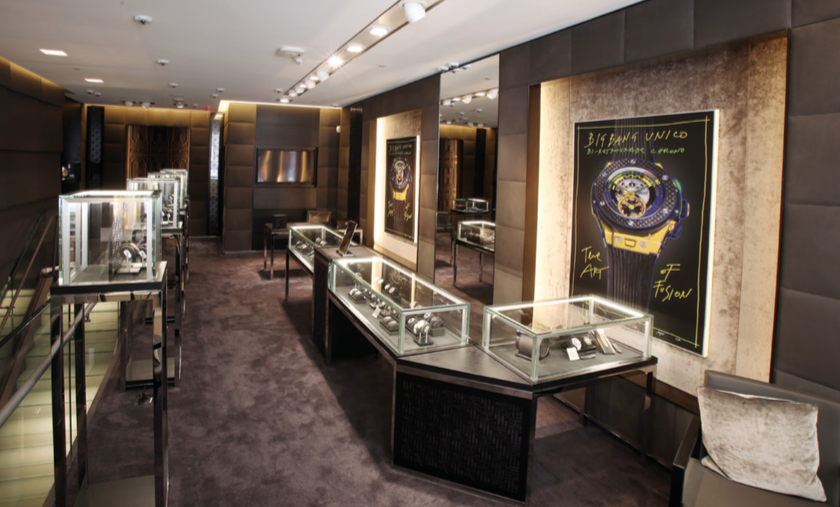 San Franciscans are fortunate that Hublot, the luxury Swiss watch brand founded in 1980, has selected their fair city as the location for its 12th freestanding boutique in the U.S. Whether you're in the market for an opulent timepiece or not, you owe it to your inner James Bond to take a peek. The 1,500-square foot, two-story space exhibits the brand's DNA of luxury and innovation, combined with the Art of Fusion. This store oozes sleek with its black stone and metal nishes and graphite-hued walls and furniture. A VIP room for private shopping—complete with a bar— provide the ultimate experience. With bold images of new watch models and brand ambassadors on the walls, not to mention a football signed by quarterback Colin Kaepernick, Hublot radiates a cool vibe. Hublot made its mark in 2003 when it's Big Bang Chronograph hit the market. Find the entire line, including the Classic Fusion and Ferrari, artfully displayed in this urbane setting.
DOLCE&GABBANA
100 GRANT AVE.
(415) 430-0067
Dolce&Gabbana finally arrived in December with its men's and women's boutique at Grant Avenue and Geary Street. The design house's aesthetic has always emphasized contrasts – masculine vs. feminine, sensual vs. austere – and the new digs are no exception. Modern design juxtaposes with the historic building location; black lacquer shelves display the goods and charcoal basaltina stone oors accent the plush burgundy velvet drapes and Murano glass chandelier. A 'see-through' transparent façade and furnishings allow for a complete and clear street view of the entire boutique. Two levels house separate areas for the men's and women's ready-to-wear collections, the Alta Sartoria made to measure line, and evening wear. Accessories and jewelry take center stage on both levels.
LA PERLA
170 GEARY ST.
(415) 445-0108
La Perla's Union Square location showcases its lacy and luxe lingerie amidst the work of Italian architect Roberto Baciocchi who has blended the brand's history with references to great Italian architecture. Overwhelmingly enchanting with marble arches and hand painted walls, the seductive space echoes the intimacy of its indulgent products. Fitting rooms feature backlit tulle paneling, and service bells for hailing sales staff. Muted tones of pale blue, dusky pink and daffodil yellow drape the silk tub armchairs and walls. VIP customers can escape to the privacy of the espace privé. La Perla's delicate offerings are displayed in transparent cases, on velvet-lined trays, and on gilded metal hangers. If Hublot is the quintessential male hang-out, La Perla is its feminine counterpart.
MAISON MARGIELA
134 MAIDEN LANE
(415) 917-2101
This conceptual and avant garde Paris fashion house opened its first San Francisco boutique last spring, only the second in California. Décor in the 2,900 square foot space is as surreal as the design house's current creative director John Galliano. The women's floor features dégradé effects on floor and walls and a Salvador Dali inspired sofa provides rest for the shopping weary. The men's floor is highlighted by tromp l'oeil inflections. Leather wrapped hand rails and backward mounted picture frames accentuate the staircase. Fitting rooms are wallpapered with an effect resembling a film negative. Fusing masculine and feminine, the brand is recognized for its unique approach to modern elegance with an aesthetic that is conceptual, enigmatic and mysterious.
MARNI
77 MAIDEN LANE
(415) 549-8140
Marni creative director Consuelo Castiglioni and her interior designer Luz Maria Jaramillo approached the design of their Maiden Lane store with the same aesthetic they impart to their clothing. It's about the combination of shape, contrasts and new materials. The stark white storefront belies the colorful energy inside, where diverse geometries and materials embody the brand. The 3,500 square foot boutique retains the building's original architectural features, such as the high ceilings that provide a spacious feel. A granite and glass staircase leads to the basement, where marble accents and bold chromatic elements meet colorful display and counter surfaces. The women's collections are displayed on the ground floor, where a chromatic spectrum of white, green and grey delineate the collections. Geometric carpets and plush ottomans in sage-green velvet beckon those who simply want to sit and take it all in.
BARNEYS NEW YORK SAN FRANCISCO MEN'S
2 STOCKTON ST.
(415) 268-3500
Barneys New York is bigger and better than ever after last month's opening of a 19,000 square-foot standalone men's store that is connected to its women's store. Divided into two floors connected by a grand staircase, the sleek men's store houses accessories and leather goods on the street level, and ready-to-wear and shoes on the lower level. Formalwear, a dedicated dress shirt alcove, a made-to-measure section and a personal shopping suite for a more private experience are just a few of the highlights. You'll find Exclusively Ours (XO) collections from Public School, Hood by Air, Russell Westbrook x Tim Coppens, NSF and Fear of God. Other offerings include luxury tailoring and sportswear labels Isaia, Sartorio, Boglioli and Luciano Barbera, as well as creations from Givenchy, Saint Laurent, Valentino, Lanvin, Balenciaga, Balmain, Fendi, Rick Owens, Thom Browne and San Francisco-based Westward Leaning. Women, don't worry. Barneys hasn't forgotten about you. Your newly-designed section will be ready in spring 2017 and will include a Freds at Barneys New York, the retailer's iconic contemporary Italian restaurant.